Ad blocker interference detected!
Wikia is a free-to-use site that makes money from advertising. We have a modified experience for viewers using ad blockers

Wikia is not accessible if you've made further modifications. Remove the custom ad blocker rule(s) and the page will load as expected.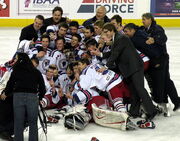 The Mac's World Invitational AAA Midget Hockey Tournament is a prestigious ice hockey tournament held annually for midget aged players in Calgary, Alberta, Canada. First held in 1978 as the CP Challenge Cup, the tournament features 25 male and 15 female teams from across Canada, the United States and Europe.
In 2008, the Calgary Buffaloes captured the male title; the first host team to win the title since 1998, while the Swift Current Wildcats won their second consecutive female championship.
The Mac's tourney is held every year beginning on Boxing Day, and concluding with the male and female championship games on New Years Day at the Pengrowth Saddledome. The championship game has been held in front of as many as 10,000 spectators, while tournament games see as many as 3,000 fans per game, the largest crowds many of the players will have played in front of at that point of their careers. Overall, the tournament draws as many as 100,000 spectators over seven days.
Match games are played at several Calgary arenas with the Max Bell Centre being the primary facility. Games are also held at Father David Bauer Olympic Arena, and Centennial Arena.
Many participants of the Mac's tourney have gone on to play in the National Hockey League. These players are recognized by Mac's tourney officials by having their photos added to the tournaments wall of fame at the Max Bell Centre.
On January 2, 1989, Petr Nedved, playing for a Litvínov based team, left his hotel room in the middle of the night and walked into a Calgary police station declaring his intention to defect from Czechoslovakia.
Tournament format
Edit
The Mac's tourney is broken into five pools of five teams in the male division, and three pools of Five teams in the female division. Teams face each of their opponents in their pool in a round robin format before moving to a single elimination knockout format to determine a champion. In the male division, each pool winner, plus three wild cards advance to the quarter-finals. In the female division, each pool winner plus one wild card advances to the semi-finals.
Each pool is "hosted" by a Calgary area team. All five male teams - the Calgary Flames, Royals, Northstars and Buffaloes, as well as the Strathmore UFA Bisons play league games in the Alberta Midget Hockey League. The three female hosts are the Calgary Bruins, Chaos and Flyers. The remaining teams are invited to participate from midget leagues across Canada, the United States and Europe for a total of 40 participants.
Champions
Edit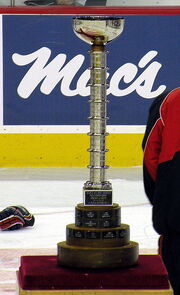 Male division
Edit
1987: Calgary North Stars
1986: Calgary Buffaloes
1985: Detroit Little Caesars
1984: Calgary Buffaloes
1983: Detroit Compuserve
1982: Don Mills Flyers
1981: Eclaireurs du Richelieu
1980: Notre Dame Hounds
1979: North York Flames
1978: Red Deer Optimist Chiefs
Female division
Edit
The female division was added in 2004.
2008: Swift Current Wildcats
2007: Swift Current Wildcats
2006: Notre Dame Hounds
2005: Notre Dame Hounds
2004: Notre Dame Hounds
Wall of Fame
Edit
The following is a partial list of Mac's tourney alumni who have gone on to play in the NHL.
References
Edit
2006 Mac's Tourney program
The Breakaway - the Mac's Tourney official game sheet