Lucie Povova
Position
Forward
Shoots
Left
Height
Weight
5 ft 9 in (1.75 m)
146 lb (66 kg)
NA Prep
NCAA Team
Wyoming Seminary
Northeastern Huskies
Born
September 16, 1992,
Kadan, Czech Republic
Pro Career
2011 – present
Lucie Povova won a gold medal with the Czech Republic at the 2011 IIHF Division II Worlds.
Playing career
Edit
Povova participated in ice hockey for four years at Wyoming Seminary in Pennsylvania. In addition, she was a goaltender on the Wyoming Seminary soccer team for four years, including two as captain.
Czech Republic
Edit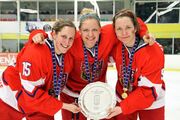 On January 8, 2008, Povova scored in an 11-2 loss to Canada at the 2008 Under 18 IIHF Women's World Championships. [1] Povova was member of the Czech women's national team that won the gold medal at the 2011IIHF Division II World Championships in Caen, France. She was fourth in scoring with two goals and three assists. Two of her teammates on the Czech Republic gold medal winning team also attended Wyoming Seminary in Pennsylvania. Alena Polenska and Nikola Tomigova, were both former graduates of the school. All three Wyoming Seminary graduates played on the same line, and were called the American line. [2]
Povova competed with the Czech Republic at the 2013 IIHF Women's World Championships. It had marked the first time that the Czech Republic competed at the Women's Worlds.
Awards and honors
Edit
2010 IIHF Under 18 Womens Worlds Player of the Game (Czech Republic vs. USA)[3]
Career stats
Edit
Czech Republic
Edit
| | | | | | | |
| --- | --- | --- | --- | --- | --- | --- |
| Year | Event | GP | G | A | Pts | Pim |
| 2008 | IIHF Under 18 WWC | 5 | 2 | 1 | 3 | 10 |
[4]
Awards and honors
Edit
Hockey East Co-Rookie of the Week (Week of October 24, 2011)[5]
In the summer, Povova teaches hockey at the Czech International Hockey School. [6]
References
Edit
Ad blocker interference detected!
Wikia is a free-to-use site that makes money from advertising. We have a modified experience for viewers using ad blockers

Wikia is not accessible if you've made further modifications. Remove the custom ad blocker rule(s) and the page will load as expected.