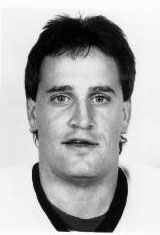 Louis J. Crawford (born November 5, 1962 in Belleville, Ontario) is a retired professional ice hockey player who played 26 games in the National Hockey League. He played with the Boston Bruins.
He played junior hockey for the Cornwall Royals and the Kitchener Rangers, winning the Memorial Cup in 1982 with the latter team. Undrafted by the NHL, Crawford was signed by the Buffalo Sabres in 1984 after two seasons with the Rochester Americans.
Despite the signing, and another by the Detroit Red Wings in 1988, Crawford never made it to the NHL until he joined the Boston Bruins in 1989. Even then, he only played 7 games in 1988-89 and 19 in 1991-92, scoring a total of 2 goals and 1 assist.
He retired in 1994.
Crawford joined his hometown Belleville Bulls as an assistant coach right away, becoming the head coach in 1997. In 2000 the St. John's Maple Leafs hired him as their coach, a post that he held until 2003.
References
Edit
Ad blocker interference detected!
Wikia is a free-to-use site that makes money from advertising. We have a modified experience for viewers using ad blockers

Wikia is not accessible if you've made further modifications. Remove the custom ad blocker rule(s) and the page will load as expected.