Ad blocker interference detected!
Wikia is a free-to-use site that makes money from advertising. We have a modified experience for viewers using ad blockers

Wikia is not accessible if you've made further modifications. Remove the custom ad blocker rule(s) and the page will load as expected.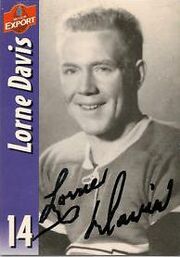 Lorne Austin Davis (July 30, 1930 – December 20, 2007) was an ice hockey scout for the National Hockey League's Edmonton Oilers, and a former right winger with four NHL teams. He was born in Regina, Saskatchewan.
Playing career
Edit
Davis spent most of his fifteen-year pro career playing for minor-league teams, with occasional call-ups to the Montreal Canadiens -- with whom he won a Stanley Cup in 1953 -- Chicago Black Hawks, Detroit Red Wings, and Boston Bruins. In 1964–65, he player-coached the Muskegon Zephyrs of the International Hockey League. After his retirement, he went on to coach his former junior team, the Western Hockey League's Regina Pats, before becoming a scout for the Oilers. He received five more Stanley Cup rings for his work as a scout with the dynasty Oilers 1984–85–87–88–90, and his name was put on the Stanley Cup in 1985, 1987, 1990. Davis remained employed by the club until his death in late 2007.
Career statistics
Edit
 
 
Regular Season
 
Playoffs
Season
Team
League
GP
G
A
Pts
PIM
GP
G
A
Pts
PIM
1950–51
Victoria Cougars
PCHL
3
1
1
2
0
--
--
--
--
--
1950–51
Montreal Royals
QSHL
50
14
17
31
4
7
5
1
6
4
1951–52
Vancouver Canucks
PCHL
55
11
10
21
4
--
--
--
--
--
1951–52
Buffalo Bisons
AHL
48
19
19
38
18
3
1
0
1
0
1951–52
Montreal Canadiens
NHL
3
1
1
2
2
--
--
--
--
--
1952–53
Buffalo Bisons
AHL
64
33
34
67
49
--
--
--
--
--
1952–53
Montreal Canadiens
NHL
--
--
--
--
--
7
1
1
2
2
1953–54
Montreal Royals
QHL
37
13
22
35
25
--
--
--
--
--
1953–54
Montreal Canadiens
NHL
37
6
4
10
2
11
2
0
2
8
1954–55
Montreal Royals
QHL
1
0
2
2
0
--
--
--
--
--
1954–55
Detroit Red Wings
NHL
22
0
5
5
2
--
--
--
--
--
1954–55
Chicago Black Hawks
NHL
8
0
0
0
4
--
--
--
--
--
1954–55
Edmonton Flyers
WHL
29
11
5
16
10
9
7
4
11
2
1954–55
Edmonton Flyers
Ed-Trophy
7
3
2
5
6
--
--
--
--
--
1955–56
Hershey Bears
AHL
45
19
21
40
42
--
--
--
--
--
1955–56
Boston Bruins
NHL
15
0
1
1
0
--
--
--
--
--
1956–57
Hershey Bears
AHL
64
16
24
40
55
7
1
0
1
2
1957–58
Hershey Bears
AHL
68
18
16
34
36
11
0
0
0
12
1958–59
Providence Reds
AHL
70
22
24
46
65
--
--
--
--
--
1959–60
Providence Reds
AHL
54
19
32
51
24
--
--
--
--
--
1959–60
Boston Bruins
NHL
10
1
1
2
10
--
--
--
--
--
1959–60
Calgary Spurs
Al-Cup
3
1
0
1
0
--
--
--
--
--
1960–61
Winnipeg Warriors
WHL
70
22
22
44
18
--
--
--
--
--
1962–63
Regina Capitals
SSHL
20
14
16
30
14
7
3
11
14
8
1963–64
Regina Capitals
SSHL
37
43
47
90
4
1
1
0
1
0
1964–65
Muskegon Zephyrs
IHL
67
20
39
59
30
--
--
--
--
--
1965–66
Regina Capitals
SSHL
11
8
19
27
0
--
--
--
--
--
1964–65
Team Canada
WEC-A
7
1
0
1
2
--
--
--
--
--
1966–67
Regina Capitals
SSHL
33
22
22
44
17
--
--
--
--
--
NHL Totals
95
8
12
10
32
18
3
1
4
10
Awards & Achievements
Edit
External links
Edit