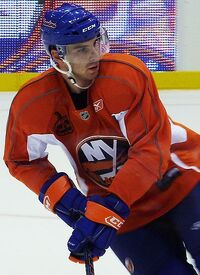 The NHL Entry Draft, originally known as the NHL Amateur Draft, is a collective meeting in which the franchises of the National Hockey League (NHL) systematically select the rights to available amateur players who meet the eligibility requirements to play professional hockey in the NHL. First held in 1963, the draft prior to 1969 was a shorter affair. Any amateur player who was 17 years of age and older and was not already sponsored by an NHL club was eligible to be drafted. In 1969 the rules were changed so that any amateur player between the ages of 17 and 20 was eligible to be drafted.[1] The draft has grown and in 2009 211 players were selected over seven rounds.[2]
A total of 48 different players have been selected first. Of those, all but 11 have been Canadian in nationality. The Montreal Canadiens have had the most first overall picks of any other team, selecting five players first between 1963 and 1980. Five players have come from the London Knights of the Ontario Hockey League, more than any other team. Eight players have won the Calder Memorial Trophy as the NHL's rookie of the year, and five have been inducted into the Hockey Hall of Fame.
First overall choices
Edit
Key
See also
Edit
References
Edit
General
Specific
Ad blocker interference detected!
Wikia is a free-to-use site that makes money from advertising. We have a modified experience for viewers using ad blockers

Wikia is not accessible if you've made further modifications. Remove the custom ad blocker rule(s) and the page will load as expected.