Ad blocker interference detected!
Wikia is a free-to-use site that makes money from advertising. We have a modified experience for viewers using ad blockers

Wikia is not accessible if you've made further modifications. Remove the custom ad blocker rule(s) and the page will load as expected.
This is a complete list of ice hockey players who have played for the Washington Capitals in the National Hockey League (NHL). It includes players that have played at least one game, either in the NHL regular season or in the NHL playoffs.
As of January 31, 2008, 37 goaltenders and 394 skaters (forwards and defensemen) have appeared in at least one regular-season and/or playoff game with the Washington Capitals since the team joined the league in the 1974–75 NHL season. The 431 all-time members of the Capitals are listed below, with statistics complete through the end of the 2006–07 season.
Four former Washington Capitals players are enshrined in the Hockey Hall of Fame: Mike Gartner, Rod Langway, Larry Murphy, and Scott Stevens. Jim Carey and Olaf Kolzig won the Vezina Trophy as the NHL's top goaltender while playing for Washington. Kolzig also won the King Clancy Memorial Trophy. Alexander Ovechkin won the Calder Memorial Trophy as NHL rookie of the year while playing for the Capitals. Doug Jarvis won the Frank J. Selke Trophy as the league's best defensive forward. Rod Langway won the James Norris Memorial Trophy, which is awarded to the league's top overall defenceman.
The "Seasons" column lists the first year of the season of the player's first game and the last year of the season of the player's last game. For example, a player who played one game in the 2000–01 season would be listed as playing with the team from 2000–01, regardless of what calendar year the game occurred within.
      Retired jersey and/or elected to the Hockey Hall of Fame
      Has played for the Capitals during the 2007–08 season
Abbreviations

| | |
| --- | --- |
| Nat | Nationality |
| GP | Games played |
* - Save percentage did not become an official NHL statistic until the 1982–83 season. Therefore, goaltenders who played before 1982 do not have official save percentages.
Goaltenders
Edit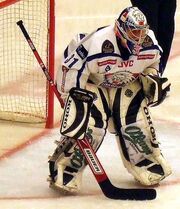 Nat
Seasons
Regular season
Playoffs
Notes
GP
W
P
PIM
GAA
SV%
GP
W
P
PIM
GAA
SV%
Adams, John
1974—1975
8
0
0
2
6.90
—
—
—
—
—
—
—
Beaupre, Don
1988—1994
269
124
3
114
3.05
.887
36
18
—
6
2.98
.896
Bedard, Jim
1977—1979
73
17
2
10
3.94
—
—
—
—
—
—
—
Belhumeur, Michel
1974—1976
42
0
3
10
5.32
—
—
—
—
—
—
—
Billington, Craig
1999—2003
47
11
1
0
2.94
.894
1
0
—
0
3.00
.833
Boutin, Rollie
1978—1981
22
7
1
6
3.96
—
—
—
—
—
—
—
Brochu, Martin
1998—1999
2
0
0
2
3.00
.891
—
—
—
—
—
—
Carey, Jim
1994—1997
139
70
1
8
2.37
.904
10
2
—
4
4.62
.816
VT, 1995—96
Cassivi, Frederic
2005—2008
5
0
0
0
3.03
.872
—
—
—
—
—
—
Charpentier, Sebastien
2001—2004
24
6
0
0
2.93
.902
—
—
—
—
—
—
Crozier, Roger
1976—1977
3
1
0
0
1.17
—
—
—
—
—
—
—
Dafoe, Byron[1]
1992—1995
10
3
0
0
3.45
.867
3
0
—
0
2.61
.857
Hirsch, Corey
2000—2001
1
1
0
0
0.00
1.000
—
—
—
—
—
—
Hrivnak, Jim
1989—1993
59
28
4
0
3.52
.878
—
—
—
—
—
—
Huet, Cristobal
2008
First season in Washington
Inness, Gary
1978—1981
54
16
2
8
3.64
—
—
—
—
—
—
—
Jensen, Al
1981—1987
173
94
3
44
3.26
.866[2]
12
5
—
4
3.21
.893[3]
JT, 1983—84
Johnson, Brent
2005—2008
56
15
1
18
3.53
.885
—
—
—
—
—
—
Kolzig, Olaf
1989—1990
1992—2004
2005—2008
657
276
15
105
2.69
.907
45
20
—
8
2.14
.927
VT, 1999—00
Liut, Mike
1989—1992
64
27
1
2
3.51
.871
11
4
—
0
3.46
.874
Low, Ron
1974—1977
145
30
0
10
4.86
—
—
—
—
—
—
—
Malarchuk, Clint
1987—1989
96
40
3
26
3.31
.881
4
0
—
2
4.66
.842
Mason, Bob
1983—1987
1989—1990
76
37
1
4
3.16
.889
4
2
—
0
1.75
.937
Moore, Robbie
1982—1983
1
0
0
0
3.00
.875
—
—
—
—
—
—
Neuvirth, Michal
Ouellet, Maxime
2003—2004
6
2
1
0
3.12
.910
—
—
—
—
—
—
Palmateer, Mike
1980—1982
60
20
9
23
4.03
—
—
—
—
—
—
—
Parro, Dave
1980—1984
77
21
2
6
4.09
—
—
—
—
—
—
—
Peeters, Pete
1985—1989
139
70
6
42
3.04
.890
30
15
—
10
3.14
.889
Ranford, Bill
1996—1998
40
15
2
7
2.52
.905
—
—
—
—
—
—
Raymond, Alain
1987—1988
1
0
0
0
3.00
.900
—
—
—
—
—
—
Riggin, Pat
1982—1986
143
67
1
12
3.02
.883
10
2
—
2
2.91
.883
JT, 1983—84
Rosati, Mike
1998—1999
1
1
0
0
0.00
1.000
—
—
—
—
—
—
Smith, Gary
1977—1978
17
2
0
6
4.16
—
—
—
—
—
—
—
Stana, Rastislav
2003—2004
6
1
0
0
3.13
.890
—
—
—
—
—
—
Stephenson, Wayne
1979—1981
76
22
2
24
3.65
—
—
—
—
—
—
—
Tabaracci, Rick
1992—1995
1998—1999
69
21
1
14
2.71
.899
6
1
—
4
2.89
.905
Theodore, Jose
Wolfe, Bernie
1975—1979
120
20
1
17
4.17
—
—
—
—
—
—
—
Varlamov, Semyon
Yeats, Matthew
2003—2004
5
1
0
2
3.02
.903
—
—
—
—
—
—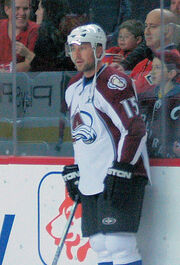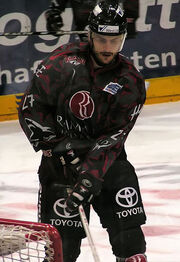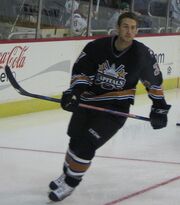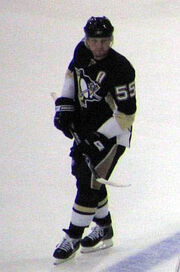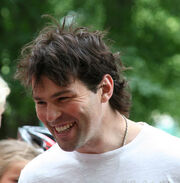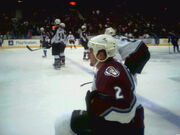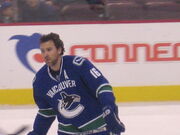 Nat
Pos
Seasons
Regular season
Playoffs
Notes
GP
G
A
P
PIM
GP
G
A
P
PIM
<span id="A"/>Acton, Keith
C
1993—1994
6
0
0
0
21
—
—
—
—
—
Adams, Greg
F
1983—1988
331
55
98
153
694
36
2
11
13
132
Allison, Jason
C
1993—1997
86
7
22
29
33
—
—
—
—
—
Anderson, Murray
D
1974—1975
38
0
1
1
68
—
—
—
—
—
Anderson, Ron
F
1974—1975
28
9
7
16
8
—
—
—
—
—
Anderson, Shawn
D
1992—1994
110
2
15
17
30
14
1
0
1
12
Andersson, Peter
D
1983—1986
160
9
33
42
77
5
0
1
1
2
Angelstad, Mel
LW
2003—2004
2
0
0
0
2
—
—
—
—
—
Arnason, Chuck
RW
1978—1979
13
0
2
2
4
—
—
—
—
—
Atkinson, Steve
RW
1974—1975
46
11
4
15
8
—
—
—
—
—
Augusta, Patrik
LW
1998—1999
2
0
0
0
0
—
—
—
—
—
<span id="B"/>Babcock, Bob
D
1990—1991
1992—1993
2
0
0
0
2
—
—
—
—
—
Backstrom, Nicklas
C
2007—2008
First season in Washington
Bailey, Garnet
LW
1974—1978
207
43
71
114
162
—
—
—
—
—
Barrett, John
D
1985—1987
69
2
5
7
55
9
2
1
3
35
Battaglia, Bates
LW
2003—2004
66
4
6
10
38
—
—
—
—
—
Baumgartner, Nolan
D
1995—1996
1997—2000
18
0
2
2
2
1
0
0
0
10
Bawa, Robin
RW
1989—1990
5
1
0
1
6
—
—
—
—
—
Beaudoin, Yves
D
1985—1988
11
0
0
0
5
—
—
—
—
—
Beech, Kris
C
2000—2001
2005—2007
73
18
8
26
52
—
—
—
—
—
Bellows, Brian
RW
1997—1999
87
23
22
45
32
21
6
7
13
6
Benda, Jan
C
1997—1998
9
0
3
3
6
—
—
—
—
—
Bennett, Harvey
C
1975—1977
67
14
16
30
73
—
—
—
—
—
Berezin, Sergei
LW
2002—2003
9
5
4
9
4
6
0
1
1
0
Bergeron, Michel
RW
1978—1979
30
7
6
13
7
—
—
—
—
—
Bergland, Tim
RW
1989—1992
1993—1994
104
8
18
26
58
26
2
2
4
22
Berry, Rick
D
2002—2004
108
2
7
9
195
—
—
—
—
—
Berube, Craig
LW
1993—1999
2000—2001
419
26
38
64
1220
38
1
0
1
90
Bidner, Todd
C
1981—1982
12
2
1
3
7
—
—
—
—
—
Biron, Mathieu
D
2005—2006
52
4
9
13
50
—
—
—
—
—
Black, James
D
1998—2001
166
25
28
53
24
—
—
—
—
—
Blomqvist, Timo
D
1981—1985
223
4
51
5
264
13
0
0
0
8
Bloom, Mike
LW
1974—1975
67
7
19
26
84
—
—
—
—
—
Blum, John
D
1986—1987
67
2
8
10
133
6
0
1
1
4
Boileau, Patrick
D
1996—1997
1998—1999
2001—2002
7
0
1
1
4
—
—
—
—
—
Bolonchuk, Larry
D
1975—1978
59
3
9
12
91
—
—
—
—
—
Bondra, Peter
RW
1990—2004
961
472
353
825
679
73
30
26
56
54
Bouchard, Pierre
D
1978—1982
106
8
16
24
54
—
—
—
—
—
Boumedienne, Josef[4]
D
2002—2004
43
3
12
15
30
—
—
—
—
—
Bradley, Matt
RW
2005—2008
131
11
21
32
119
—
—
—
—
—
Bragnalo, Rick
C
1975—1979
145
15
35
50
46
—
—
—
—
—
Brashear, Donald
LW
2006—2008
77
4
9
13
156
—
—
—
—
—
Brooks, Gord
RW
1974—1975
38
1
10
11
25
—
—
—
—
—
Brossart, Willie
D
1974—1976
61
1
8
9
54
—
—
—
—
—
Brown, Jeff
D
1997—1998
9
0
6
6
6
2
0
2
2
0
Brunette, Andrew
LW
1995—1998
62
18
22
40
24
6
1
3
4
0
Bulis, Jan
C
1997—2001
181
26
62
88
80
—
—
—
—
—
Bulley, Ted
LW
1982—1983
39
4
9
13
47
1
0
0
0
0
Burridge, Randy
LW
1991—1995
150
48
61
109
125
17
1
3
4
12
Burton, Nelson
LW
1991—1995
8
1
0
1
21
—
—
—
—
—
<span id="C"/>Calder, Eric
D
1981—1983
2
0
0
0
0
—
—
—
—
—
Camazzola, Tony
LW
1981—1982
3
0
0
0
4
—
—
—
—
—
Carlson, Kent
D
1988—1989
2
1
0
1
0
—
—
—
—
—
Carpenter, Bobby
C
1981—1987
1992—1993
490
188
207
395
462
32
10
13
23
53
Carroll, Greg
C
1978—1979
24
5
6
11
12
—
—
—
—
—
Carter, Anson
C
1996—1997
2003—2004
38
8
7
15
13
—
—
—
—
—
Cassels, Andrew
C
2005—2006
31
4
8
12
14
—
—
—
—
—
Cassolato, Tony
RW
1979—1982
23
1
6
7
4
—
—
—
—
—
Cavallini,Paul
D
1986—1988
1992—1993
101
7
13
20
120
6
0
2
2
18
Chambers, Shawn
D
1991—1992
2
0
0
0
2
—
—
—
—
—
Charron, Eric
D
1995—1997
29
1
2
3
24
6
0
0
0
8
Charron, Guy
C
1976—1981
320
118
156
274
54
—
—
—
—
—
C, 1978—79
Chasse, Denis
D
1995—1996
3
0
0
0
5
—
—
—
—
—
Chorske, Tom
LW
1998—1999
17
0
2
2
4
—
—
—
—
—
Christian, Dave
RW
1983—1990
503
193
224
417
107
49
17
20
36
17
Church, Brad
LW
1997—1998
2
0
0
0
0
—
—
—
—
—
Ciccarelli, Dino
RW
1988—1992
223
112
97
209
278
32
21
14
35
54
Ciccone, Enrico
D
1993—1994
1998—1999
89
3
1
4
277
—
—
—
—
—
Ciernik, Ivan
LW
2001—2004
60
9
12
21
26
2
0
1
1
6
Clark, Chris
RW
2005—2008
152
50
43
93
176
—
—
—
—
—
C, 2006—present
Clement, Bill
C
1975—1976
46
10
17
27
20
—
—
—
—
—
C, 1975—76
Clippingdale, Steve
LW
1979—1980
3
0
0
0
0
—
—
—
—
—
Clymer, Ben
D
2005—2007
143
23
30
53
116
—
—
—
—
—
Cooke, Matt
LW
2008
First season in Washington
Collins, Bill
C
1976—1978
128
21
23
44
44
—
—
—
—
—
Corrinet, Chris
W
2001—2002
8
0
1
1
6
—
—
—
—
—
Corriveau, Yvon
LW
1985—1990
146
23
18
41
220
18
1
5
6
32
Cote, Alain
D
1989—1990
2
0
0
0
7
—
—
—
—
—
Cote, Sylvain
D
1991—1998
2000—2003
622
75
195
270
336
40
6
14
20
30
Coulis, Tim
F
1979—1980
19
1
2
3
27
—
—
—
—
—
Courtnall, Geoff
LW
1988—1990
159
77
77
154
216
21
6
14
20
44
Cowick, Bruce
F
1974—1975
65
5
6
11
41
—
—
—
—
—
Crawford, Bob
RW
1986—1987
12
0
0
0
0
—
—
—
—
—
Cronin, Shawn
D
1988—1989
1
0
0
0
0
—
—
—
—
—
Curran, Brian
D
1993—1994
26
1
0
1
61
—
—
—
—
—
Currie, Glen
LW
1979—1985
307
38
77
115
91
12
1
3
4
4
Cutta, Jakub
D
2000—2004
8
0
0
0
0
—
—
—
—
—
<span id="D"/>Dahlen, Ulf
RW
1999—2002
217
53
85
138
22
11
0
2
2
4
Doig, Jason
D
2002—2004
120
5
14
19
213
6
0
1
1
6
Doull, Doug
LW
2005—2006
2
0
0
0
19
—
—
—
—
—
Druce, John
RW
1988—1992
240
57
64
121
199
34
16
4
20
32
Duchesne, Gaetan
LW
1981—1987
451
87
138
225
251
33
10
6
16
39
Dupere, Denis
LW
1974—1975
53
20
15
35
8
—
—
—
—
—
<span id="E"/>Eagles, Mike
LW
1994—2000
266
13
22
35
206
25
1
5
6
6
Edberg, Rolf
C
1978—1981
184
45
58
103
24
—
—
—
—
—
Egers, Jack
RW
1974—1976
26
6
5
11
16
—
—
—
—
—
Elomo, Miika
LW
1999—2000
2
0
1
1
2
—
—
—
—
—
Elynuik, Pat
RW
1992—1994
84
23
36
59
66
6
2
3
5
19
Eminger, Steve
D
2002—2004
2005—2008
192
6
35
41
213
—
—
—
—
—
Engblom, Brian
D
1982—1984
79
5
23
28
67
4
0
2
2
2
Erickson, Bryan
F
1983—1985
102
27
30
57
39
8
2
3
5
7
Erskine, John
D
2006—2008
29
1
6
7
69
—
—
—
—
—
Evans, Daryl
LW
1985—1986
6
0
1
1
0
—
—
—
—
—
Evason, Dean
C
1983—1985
17
3
4
7
4
—
—
—
—
—
<span id="F"/>Farrell, Mike
RW
2001—2003
12
0
0
0
2
—
—
—
—
—
Fata, Rico
RW
2005—2007
31
4
4
8
10
—
—
—
—
—
Fedorov, Sergei
C
2008
First season in Washington
Fehr, Eric
RW
2005—2007
25
2
1
3
10
—
—
—
—
—
Felix, Chris
D
1987—1991
35
1
12
13
10
2
0
1
1
0
Ferner, Mike
D
1989—1991
9
0
1
1
4
—
—
—
—
—
Ferraro, Chris
C
2001—2002
1
0
1
1
0
—
—
—
—
—
Ferarro, Peter
RW
2001—2002
4
0
1
1
0
—
—
—
—
—
Fleischmann, Tomáš
LW
2005—2008
43
4
6
10
8
—
—
—
—
—
Forbes, Colin
W
2001—2004
2005—2006
54
5
3
8
17
—
—
—
—
—
Forbes, Dave
LW
1977—1979
79
11
12
23
121
—
—
—
—
—
Forsyth, Alex
F
1976—1977
1
0
0
0
0
—
—
—
—
—
Fortin, Jean-Francois
D
2001—2004
71
1
4
5
42
—
—
—
—
—
Franceschetti, Lou
RW
1981—1982
1983-1989
327
36
58
94
562
33
2
1
3
83
Friesen, Jeff
LW
2005—2006
33
3
4
7
24
—
—
—
—
—
Fullan, Larry
F
1974—1975
4
1
0
1
0
—
—
—
—
—
Fussey, Owen
LW
2003—2004
4
0
1
1
0
—
—
—
—
—
<span id="G"/>Galley, Garry
D
1986—1988
76
8
33
41
54
15
2
4
6
13
Gardner, Paul
C
1984—1985
12
2
4
6
6
—
—
—
—
—
Gartner, Mike
RW
1979—1989
758
397
392
789
770
47
16
27
43
61
HHOF, 2001
Gendron, Martin
RW
1994—1996
28
4
2
6
10
—
—
—
—
—
Gibson, Doug
C
1977—1978
11
2
1
3
0
—
—
—
—
—
Gilbertson, Stan
LW
1974—1976
56
24
21
45
18
—
—
—
—
—
Girard, Bob
F
1977—1980
132
18
29
47
42
—
—
—
—
—
Giroux, Alexandre
C
2006—2007
9
2
2
4
2
—
—
—
—
—
Godin, Eddy
RW
1977—1979
27
3
6
9
12
—
—
—
—
—
Gonchar, Sergei
D
1994—2004
654
144
272
416
517
51
13
18
31
48
Gordon, Boyd
RW
2003—2004
2005—2008
137
8
28
36
26
—
—
—
—
—
Gould, Bobby
F
1981—1989
600
134
142
276
474
50
12
12
24
50
Grand-Pierre, Jean-Luc
D
2003—2004
13
1
0
1
14
—
—
—
—
—
Gratton, Benoit
C
1997—1999
22
4
4
8
22
—
—
—
—
—
Green, Josh
LW
2002—2003
21
1
2
3
7
—
—
—
—
—
Green, Mike
D
2005—2008
92
3
12
15
54
—
—
—
—
—
Green, Rick
D
1976—1982
377
31
127
158
381
—
—
—
—
—
Greenlaw, Jeff
LW
1986—1988
1990—1993
53
3
5
8
106
1
0
0
0
2
Grier, Mike
RW
2002—2004
150
23
29
52
68
6
1
1
2
2
Gruden, John
D
2003—2004
11
1
0
1
6
—
—
—
—
—
Gryp, Bob
F
1974—1976
73
11
13
24
33
—
—
—
—
—
Gustafsson, Bengt-Ake
F
1979—1989
629
196
359
555
196
18
5
9
15
10
<span id="H"/>Hajt, Chris
D
2003—2004
5
0
0
0
2
—
—
—
—
—
Halpern, Jeff
F
1999—2004
2005—2006
438
87
127
214
351
17
4
5
9
19
C, 2005—06
Halverson, Trevor
LW
1998—1999
17
0
4
4
28
—
—
—
—
—
Hangsleben, Alan
D
1979—1982
130
16
27
43
262
—
—
—
—
—
Harlock, David
D
1997—1998
6
0
0
0
4
—
—
—
—
—
Hatcher, Kevin
D
1984—1994
685
149
277
426
999
84
16
32
48
224
C, 1993—94
Haworth, Alan
C
1982—1987
346
129
139
268
249
32
8
11
19
24
Hay, Dwayne
LW
1997—1998
2
0
0
0
2
—
—
—
—
—
Hebling, Timo
D
2006—2007
2
0
0
0
2
—
—
—
—
—
Henderson, Archie
RW
1980—1981
7
1
0
1
28
—
—
—
—
—
Henry, Alex
D
2002—2003
38
0
0
0
80
—
—
—
—
—
Herr, Matt
C
1998—1999
2000—2001
52
4
5
9
25
—
—
—
—
—
Heward, Jamie
D
2005—2007
123
11
33
44
81
—
—
—
—
—
Hextall, Dennis
LW
1978—1980
41
3
10
13
92
—
—
—
—
—
Hicks, Doug
D
1981—1983
18
0
1
1
18
—
—
—
—
—
Hidi, Andre
F
1983—1985
7
2
1
3
9
2
0
0
0
0
Hogue, Benoit
LW
2001—2002
9
0
1
1
4
—
—
—
—
—
Holt, Randy
D
1981—1983
123
2
14
16
525
4
0
1
1
20
Houlder, Bill
D
1987—1990
79
2
16
18
42
—
—
—
—
—
Housley, Phil
D
1996—1998
141
17
54
71
48
18
0
4
4
4
Houston, Ken
D
1982—1984
75
25
14
39
97
4
1
0
1
4
Hrycuik, Jim
F
1974—1975
21
5
5
10
12
—
—
—
—
—
Hunt, Jamie
D
2006—2007
1
0
0
0
0
—
—
—
—
—
Hunter, Dale
C
1987—1999
872
181
375
556
2003
100
25
47
72
370
C, 1994—99
Hunter, Mark
F
1992—1993
7
0
0
0
14
—
—
—
—
—
Huscroft, Jamie
D
1999—2000
7
0
0
0
11
—
—
—
—
—
<span id="I"/>Iafrate, Al
D
1990—1994
256
58
118
176
616
23
11
5
16
40
<span id="J"/>Jagr, Jaromir
RW
2001—2004
190
83
118
201
94
6
2
5
7
2
Jarvis, Doug
C
1982—1986
265
31
81
112
70
17
3
4
7
8
ST, 1983—84
Jarvis, Wes
F
1979—1982
144
21
41
62
56
—
—
—
—
—
Jennings, Grant
D
1987—1988
0
0
0
0
0
1
0
0
0
0
Jensen, David
F
1985—1988
56
9
9
18
16
11
0
0
0
2
Johansson, Calle
D
1988—2003
984
113
361
474
449
95
12
42
54
42
Johansson, Jonas
RW
2005—2006
1
0
0
0
2
—
—
—
—
—
Johnson, Craig
LW
2003—2004
15
0
6
6
8
—
—
—
—
—
Johnson, Jim
D
1993—1996
121
2
17
19
89
13
0
2
2
14
Johnston, Jay
D
1980—1982
8
0
0
0
13
—
—
—
—
—
Joly, Greg
D
1974—1976
98
9
24
33
72
—
—
—
—
—
Jones, Keith
RW
1992—1997
258
62
65
127
454
26
4
5
9
75
Jones, Ron
D
1974—1976
21
1
1
2
16
—
—
—
—
—
Joyce, Bob
LW
1989—1991
41
8
11
19
12
14
2
1
3
9
Juneau, Joe
C
1993—1999
312
62
172
234
98
44
13
28
41
22
Jurcina, Milan
D
2006—2008
30
2
7
9
12
—
—
—
—
—
<span id="K"/>Kaminski, Kevin
C
1993—1997
132
3
10
13
483
8
0
0
0
52
Kane, Boyd
LW
2005—2006
5
0
1
1
2
—
—
—
—
—
Kastelic, Ed
RW
1985—1988
73
2
1
3
234
6
1
0
1
32
Kaszycki, Mike
F
1979—1980
28
7
10
17
10
—
—
—
—
—
Kelly, Bob
LW
1980—1982
96
26
40
66
169
—
—
—
—
—
Khristich, Dmitri
RW
1990—1995
2000—2002
419
140
161
301
218
45
9
17
26
33
Kindrachuk, Orest
C
1981—1982
4
1
0
1
2
—
—
—
—
—
Kinsella, Brian
RW
1975—1977
10
0
1
1
0
—
—
—
—
—
Klee, Ken
D
1994—2003
570
43
68
111
608
34
1
5
3
38
Kleinendorst
D
1988—1990
18
1
4
5
26
3
0
0
0
0
Klepis, Jakub
C
2005—2007
66
4
10
14
36
—
—
—
—
—
Konowalchuk, Steve
LW
1991—2004
693
146
196
342
619
39
5
12
17
44
C, 2001—03
Kordic, John
D
1990—1991
7
0
0
0
101
—
—
—
—
—
Kozlov, Viktor
RW
2007—2008
First season in Washington
Krygier, Todd
LW
1991—1994
1995—1998
318
49
75
124
306
35
8
4
12
36
Kryskow, Dave
F
1974—1975
51
9
15
24
83
—
—
—
—
—
Kucera, Frantisek
D
2001—2002
56
1
13
14
12
—
—
—
—
—
Kwiatkowski, Joel
D
2002—2004
114
6
9
15
101
6
0
0
0
2
Kypreos, Nick
LW
1989—1992
175
18
19
37
484
16
1
1
2
53
<span id="L"/>Labre, Yvon
D
1974—1981
334
12
84
96
756
—
—
—
—
—
C, 1976—78
Laframboise, Pete
LW
1974—1975
45
5
10
15
22
—
—
—
—
—
Laich, Brooks
C
2003—2004
2005—2008
150
15
25
40
55
—
—
—
—
—
Lalonde, Ron
F
1974—1979
291
35
58
93
90
—
—
—
—
—
Lalor, Mike
D
1990—1992
132
6
12
18
125
10
1
2
3
22
Lampman, Mike
LW
1975—1977
49
13
17
30
32
—
—
—
—
—
Lane, Gord
D
1975—1980
235
10
43
53
614
—
—
—
—
—
Lang, Robert
C
2002—2004
145
51
92
143
46
6
2
1
3
2
Langway, Rod
D
1982—1993
726
25
177
202
502
78
2
16
18
55
HHOF, 2002
NT, 1982—84
Larter, Tyler
C
1989—1990
1
0
0
0
0
—
—
—
—
—
Laughlin, Craig
RW
1982—1988
428
110
173
283
284
27
6
4
10
18
Leach, Steve
RW
1985—1991
246
43
54
97
322
38
6
5
11
28
Ledyard, Grant
D
1987—1989
82
7
14
21
57
14
1
0
1
30
Lefebvre, Patrice
RW
1998—1999
3
0
0
0
2
—
—
—
—
—
Lehtonen, Antero
F
1979—1980
65
9
12
21
14
—
—
—
—
—
Leinonen, Mikko
F
1984—1985
3
0
1
1
2
1
0
0
0
0
Lemieux, Jean
D
1975—1978
64
13
25
38
4
—
—
—
—
—
Lepisto, Sami
D
2007—2008
First season in Washington
Leschyshyn, Curtis
D
1996—1997
2
0
0
0
2
—
—
—
—
—
Lesuk, Bill
LW
1974—1975
79
8
11
19
77
—
—
—
—
—
Linden, Trevor
C
2000—2002
28
4
3
7
14
6
0
4
4
14
Lofthouse, Mark
RW
1977—1981
141
31
30
61
42
—
—
—
—
—
Lovsin, Ken
D
1990—1991
1
0
0
0
0
—
—
—
—
—
Lowdermilk, Dwayne
D
1980—1981
2
0
1
1
2
—
—
—
—
—
Lundrigan, Joe
D
1974—1975
3
0
0
0
2
—
—
—
—
—
Lynch, Jack
D
1974—1979
233
18
57
75
202
—
—
—
—
—
<span id="M"/>MacDermid, Paul
RW
1991—1993
87
11
13
24
123
7
0
1
1
22
MacKinnon, Paul
D
1979—1984
147
5
23
28
91
—
—
—
—
—
Majesky, Ivan
D
2005—2006
57
1
8
9
66
—
—
—
—
—
Malgunas, Stewart
D
1995—1999
25
0
0
0
20
—
—
—
—
—
Maltais, Steve
W
1989—1991
15
0
0
0
4
1
0
0
0
0
Marshall, Jason
D
2000—2001
5
0
0
0
17
—
—
—
—
—
Marson, Mike
F
1974—1979
193
24
24
48
228
—
—
—
—
—
Martin, Grant
C
1985—1987
20
0
1
1
10
1
1
0
1
2
Maruk, Dennis
F
1978—1983
343
182
249
431
365
4
1
1
2
2
Mathieson, Jim
D
1989—1990
2
0
0
0
4
—
—
—
—
—
May, Alan
LW
1989—1994
345
27
42
69
1189
39
1
2
3
80
McAdam, Gary
F
1983—1984
24
1
5
6
12
—
—
—
—
—
McEwen, Mike
D
1984—1985
56
11
27
38
42
5
0
1
1
4
McGeough, Jim
C
1981—1982
1984—1985
15
3
0
3
12
—
—
—
—
—
McKechnie, Walt
C
1977—1978
16
4
1
5
0
—
—
—
—
—
McKenzie, Jim
LW
1999—2000
30
1
2
3
16
1
0
0
0
0
McLean, Don
D
1975—1976
9
0
0
0
6
—
—
—
—
—
McTaggart, Jim
D
1980—1982
71
3
10
13
205
—
—
—
—
—
Meehan, Gerry
LW
1975—1979
208
65
79
144
33
—
—
—
—
—
Melanson, Dean
D
2001—2002
4
0
0
0
4
—
—
—
—
—
Metropolit, Glen
C
1999—2003
101
10
37
47
26
3
0
0
0
2
Mikkelson, Bill
D
1974—1975
1976—1977
60
3
7
10
54
—
—
—
—
—
Millar, Mike
RW
1988—1989
18
6
3
9
4
—
—
—
—
—
Miller, Kelly
LW
1986—1999
940
162
246
408
436
100
17
30
47
59
Miller, Kevin
RW
1992—1993
10
0
3
3
35
—
—
—
—
—
Miller, Kip
C
2002—2004
138
21
60
81
26
5
0
2
2
2
Mink, Graham
RW
2003—2004
2005—2006
5
0
0
0
2
—
—
—
—
—
Mironov, Dmitri
D
1998—2001
155
8
38
46
114
4
0
0
0
4
Mohns, Doug
D
1974—1975
75
2
19
21
54
—
—
—
—
—
C, 1974—75
Monahan, Hartland
F
1975—1977
159
40
56
96
72
—
—
—
—
—
Moore, Barrie
LW
1999—2000
1
0
0
0
0
—
—
—
—
—
Morrison, Lew
RW
1974—1975
18
4
4
6
—
—
—
—
—
Morrisonn, Shaone
D
2003—2004
2005—2008
161
4
23
27
197
—
—
—
—
—
Muir, Bryan
D
2005—2007
98
11
22
33
114
—
—
—
—
—
Mulhern, Ryan
RW
1997—1998
3
0
0
0
0
—
—
—
—
—
Mulvey, Paul
LW
1978—1981
187
29
37
66
487
—
—
—
—
—
Murphy, Joe
RW
1999—2001
43
6
13
19
73
5
0
0
0
8
Murphy, Larry
D
1983—1989
453
85
259
344
332
42
9
17
26
51
HHOF, 2004
Murray, Rob
C
1989—1991
58
2
10
12
77
9
0
0
0
18
Murray, Terry
D
1981—1982
74
3
22
25
60
—
—
—
—
—
Myhres, Brantt
LW
2000—2001
5
0
0
0
29
—
—
—
—
—
<span id="N"/>Nelson, Jeff
C
1994—1996
43
1
7
8
18
3
0
0
0
4
Nelson, Todd
D
1993—1994
2
1
0
1
2
4
0
0
0
0
Nicholson, Paul
LW
1974—1977
62
4
8
12
18
—
—
—
—
—
Nikolishin, Andrei
C
1996—2002
407
58
113
171
174
32
1
15
16
18
Noel, Claude
F
1979—1980
7
0
0
0
0
—
—
—
—
—
Norton, Brad
D
2003—2004
16
0
1
1
17
—
—
—
—
—
Norwood, Lee
D
1981—1983
34
7
11
18
139
—
—
—
—
—
Novotny, Jiri
C
2006—2007
18
0
2
2
6
—
—
—
—
—
Novy, Milan
F
1982—1983
73
18
30
48
16
2
0
0
0
0
Nycholat, Lawrence
D
2006—2007
18
2
6
8
12
—
—
—
—
—
Nylander, Michael
C
2002—2004
2007—2008
74
17
41
58
44
6
3
2
5
8
<span id="O"/>Oates, Adam
C
1996—2002
387
73
290
363
126
32
6
14
20
12
C, 1999—01
Ovechkin, Alexander
LW
2005—2008
163
98
100
198
104
—
—
—
—
—
CT, 2005—06
<span id="P"/>Paddock, John
F
1975—1976
8
1
1
2
12
—
—
—
—
—
Paradise, Bob
D
1975—1977
70
0
13
13
62
—
—
—
—
—
Patey, Doug
F
1976—1979
45
4
2
6
8
—
—
—
—
—
Patrick, Craig
C
1976—1979
75
9
18
27
6
—
—
—
—
—
Paynter, Kent
D
1989—1991
14
1
2
3
33
4
0
0
0
10
Peake, Pat
RW
1993—1998
134
28
41
69
105
13
2
2
4
20
Pearson, Rob
RW
1994—1995
32
0
6
6
96
3
1
0
1
17
Peat, Stephen
RW
2001—2004
2005—2006
130
8
2
10
234
—
—
—
—
—
Peloffy, Andre
F
1974—1975
9
0
0
0
0
—
—
—
—
—
Pettersson, Jorgen
F
1985—1986
47
8
16
24
10
8
1
2
3
2
Pettinger, Matt
LW
2000—2008
334
52
47
99
169
—
—
—
—
—
Picard, Robert
D
1977—1980
230
42
114
156
308
—
—
—
—
—
Pivonka, Michal
C
1986—1999
825
181
417
598
478
95
19
36
55
86
Poapst, Steve
D
1995—1996
1998—1999
25
1
0
1
8
6
0
0
0
0
Pocza, Harvie
LW
1979—1980
1981—1982
3
0
0
0
2
—
—
—
—
—
Podkonicky, Andrej
LW
2003—2004
2
0
0
0
0
—
—
—
—
—
Polis, Greg
LW
1978—1980
47
13
11
24
25
—
—
—
—
—
Pothier, Brian
D
2006—2008
72
3
25
28
44
—
—
—
—
—
Poti, Tom
D
2007—2008
First season in Washington
Poulin, Dave
C
1993—1995
92
10
24
34
62
13
2
2
4
19
Pronovost, Jean
RW
1980—1982
90
23
38
61
65
—
—
—
—
—
Purves, John
RW
1990—1991
7
1
0
1
0
—
—
—
—
—
Pyatt, Nelson
C
1974—1976
93
32
27
59
35
—
—
—
—
—
<span id="Q"/>Quenneville, Joel
D
1990—1991
9
1
0
1
0
—
—
—
—
—
<span id="R"/>Rausse, Errol
LW
1979—1982
31
7
3
10
0
—
—
—
—
—
Reekie, Joe
D
1993—2002
515
11
64
75
688
48
3
4
7
57
Ribble, Pat
D
1979—1982
98
5
22
27
147
—
—
—
—
—
Richard, Mike
C
1987—1988
1989—1990
7
0
2
2
2
—
—
—
—
—
Ridley, Mike
C
1986—1994
588
218
329
547
250
76
19
41
60
40
Riley, Bill
W
1974—1975
1976—1979
125
28
28
56
313
—
—
—
—
—
Rissling, Gary
LW
1978—1980
37
3
4
7
176
—
—
—
—
—
Robertson, Torrie
LW
1980—1983
62
10
13
23
208
—
—
—
—
—
Robitaille, Louis
LW
2005—2006
2
0
0
0
5
—
—
—
—
—
Rohloff, Todd
D
2001—2002
2003—2004
51
0
4
4
32
—
—
—
—
—
Rouse, Bob
D
1988—1991
130
9
33
42
224
21
4
3
7
51
Rowe, Tom
RW
1976—1980
1981—1982
191
56
58
114
315
—
—
—
—
—
<span id="S"/>Sabourin, Ken
D
1990—1992
47
1
4
5
129
11
0
0
0
34
Sacco, Joe
RW
1999—2002
213
14
30
44
149
11
0
0
0
6
Salomonsson, Andreas
LW
2002—2003
32
1
4
5
14
—
—
—
—
—
Sampson, Gary
F
1983—1987
105
13
22
35
25
12
1
0
1
0
Savage, Reggie
RW
1990—1991
1992—1993
17
2
3
5
12
—
—
—
—
—
Scamurra, Peter
D
1975—1977
1978—1980
132
8
25
33
59
—
—
—
—
—
Schlegel, Brad
D
1991—1993
22
0
2
2
6
7
0
1
1
2
Schofield, Dwight
D
1985—1986
50
1
2
3
127
3
0
0
0
14
Schultz, Jeff
D
2006—2008
38
0
3
3
16
—
—
—
—
—
Seftel, Steve
LW
1990—1991
4
0
0
0
2
—
—
—
—
—
Seiling, Rod
D
1974—1975
1
0
0
0
0
—
—
—
—
—
Self, Steve
RW
1976—1977
3
0
0
0
0
—
—
—
—
—
Semin, Alexander
LW
2003—2004
2006—2008
129
48
47
95
126
—
—
—
—
—
Shand, David
D
1983—1985
85
5
16
21
158
8
0
1
1
13
Shaw, Brad
D
1998—1999
4
0
0
0
4
—
—
—
—
—
Sheehy, Neil
D
1988—1991
131
4
9
13
470
21
0
1
1
130
Siltala, Mike
RW
1981—1982
3
1
0
1
2
—
—
—
—
—
Simon, Chris
LW
1996—2003
320
72
79
151
66
28
3
1
4
54
Sirois, Bob
RW
1975—1980
282
91
120
211
38
—
—
—
—
—
Slaney, John
D
1993—1995
63
7
12
19
33
11
1
1
2
2
Smith, Dennis
D
1989—1990
4
0
0
0
0
—
—
—
—
—
Smith, Gord
D
1974—1979
286
9
30
39
276
—
—
—
—
—
Smith, Greg
D
1985—1988
113
1
18
19
108
25
2
1
3
43
Smith, Rick
D
1980—1981
40
5
4
9
36
—
—
—
—
—
Stapleton, Brian
RW
1975—1976
1
0
0
0
0
—
—
—
—
—
Steckel, Dave
C
2005—2008
12
0
0
0
2
—
—
—
—
—
Stevens, Scott
D
1982—1990
601
98
331
429
1628
67
9
44
53
180
HHOF, 2007
Stewart, Blair
F
1974—1979
163
26
29
55
257
—
—
—
—
—
Stoltz, Roland
D
1981—1982
14
2
2
4
14
—
—
—
—
—
Stroshein, Garret
W
2003—2004
3
0
0
0
14
—
—
—
—
—
Sundstrom, Peter
F
1987—1989
111
12
19
31
48
14
2
0
2
6
Sutherby, Brian
C
2001—2004
2005—2007
259
26
35
61
281
5
0
0
0
10
Svejkovsky, Jaroslav
LW
1996—2000
84
18
14
32
28
1
0
0
0
2
Svensson, Leif
D
1978—1980
121
6
40
46
49
—
—
—
—
—
Sykora, Petr
C
2005—2006
10
2
2
4
6
—
—
—
—
—
<span id="T"/>Tatarinov, Mikhail
D
1990—1991
65
8
15
23
82
—
—
—
—
—
Taylor, Mark
F
1984—1986
39
3
2
5
6
3
0
0
0
0
Tenute, Joey
C
2005—2006
1
0
0
0
0
—
—
—
—
—
Tezikov, Alexei
D
1998—2000
28
1
1
2
2
—
—
—
—
—
Theberge, Greg
D
1979—1984
153
15
63
78
73
4
0
1
1
0
Thomson, Jim
RW
1986—1987
1988—1989
24
2
0
2
88
—
—
—
—
—
Tikkanen, Esa
LW
1997—1998
20
2
10
12
2
21
3
3
6
20
Tinordi, Mark
D
1994—1999
264
16
40
56
449
28
1
2
3
60
Tippett, Dave
LW
1990—1992
91
8
19
27
40
17
2
4
6
8
Tocchet, Rick
RW
1996—1997
13
5
5
10
31
—
—
—
—
—
Toms, Jeff
LW
1997—2000
74
5
11
16
14
1
0
0
0
0
Tookey, Tim
C
1980—1982
57
18
21
39
53
—
—
—
—
—
Tremblay, Brent
D
1978—1980
10
1
0
1
6
—
—
—
—
—
Tucker, John
C
1989—1990
38
9
19
28
10
12
1
7
8
0
Turcotte, Alfie
C
1989—1991
10
1
3
4
0
—
—
—
—
—
Tutt, Brian
D
1989—1990
7
1
0
1
2
—
—
—
—
—
Tvrdon, Roman
LW
2003—2004
9
0
1
1
4
—
—
—
—
—
<span id="U"/>Ulanov, Igor
D
1994—1995
3
0
1
1
2
2
0
0
0
4
Ustorf, Stefan
C
1995—1997
54
7
10
17
16
5
0
0
0
0
<span id="V"/>Valentine, Chris
F
1981—1984
105
43
52
95
127
2
0
0
0
4
Veitch, Darren
D
1980—1986
319
25
118
143
181
10
0
2
2
19
Verot, Darcy
LW
2003—2004
37
0
2
2
135
—
—
—
—
—
Ververgaert, Dennis
RW
1980—1981
79
14
27
41
40
—
—
—
—
—
Volchkov, Alexandre
RW
1999—2000
3
0
0
0
0
—
—
—
—
—
<span id="W"/>Walker, Howard
D
1980—1982
80
2
12
14
126
—
—
—
—
—
Walter, Ryan
C
1978—1982
307
114
163
277
468
—
—
—
—
—
C, 1979—82
Watson, Bryan
D
1976—1979
155
4
26
30
294
—
—
—
—
—
White, Tony
F
1974—1978
158
37
28
65
100
—
—
—
—
—
Whitfield, Trent
C
1999—2004
143
9
11
20
83
14
0
0
0
12
Wickenheiser, Doug
C
1988—1990
43
3
13
16
24
5
0
0
0
2
Williams, Tom
F
1974—1976
107
30
49
79
18
—
—
—
—
—
Willsie, Brian
RW
2003—2004
2005—2006
131
29
27
56
95
—
—
—
—
—
Witt, Brendan
D
1995—2004
2005—2006
626
20
63
83
1035
31
4
0
4
26
C, 2001—02
Woolley, Jason
D
1991—1994
37
1
4
5
14
4
1
0
1
4
<span id="Y"/>Yake, Terry
C
1999—2001
47
6
8
14
20
3
0
0
0
0
Yonkman, Nolan
D
2001—2002
2003—2004
2005—2006
50
1
7
8
90
—
—
—
—
—
<span id="Z"/>Zednik, Richard
RW
1995—2001
2006—2007
289
69
65
134
213
22
7
3
10
21
Zettler, Rob
D
1999—2002
90
1
10
11
130
11
0
0
0
2
Zezel, Peter
C
1990—1991
20
7
5
12
10
—
—
—
—
—
Zinger, Dwayne
D
2003—2004
7
0
1
1
9
—
—
—
—
—
Zubrus, Dainius
RW
2000—2004
2005—2007
331
86
130
216
260
12
2
2
4
6
External links
Edit