Ad blocker interference detected!
Wikia is a free-to-use site that makes money from advertising. We have a modified experience for viewers using ad blockers

Wikia is not accessible if you've made further modifications. Remove the custom ad blocker rule(s) and the page will load as expected.
The Vancouver Canucks are a team in the National Hockey League (NHL). As of March 24, 2009, 51 goaltenders and 421 skaters (forwards and defencemen) have appeared in at least one regular-season and/or playoff game with the Canucks since the team joined the NHL in the inaugural 1970–71 season. The 472 all-time members of the Canucks are listed below, with statistics complete through the end of the 2007–08 NHL season. It includes players that have played at least one regular season or playoff game for the Vancouver Canucks since the franchise was established in 1970.
The "Seasons" column lists the first year of the season of the player's first game and the last year of the season of the player's last game. For example, a player who played one game in the 2000–01 NHL season would be listed as playing with the team from 2000–2001, regardless of what calendar year the game occurred within.
Note: This list does not include data from the Vancouver Canucks of the Pacific Coast Hockey League or Western Hockey League.
  †  Appeared in a Canucks game during the 2008–09 NHL season

  *  Retired jersey or elected to the Hockey Hall of Fame
Goaltenders
Edit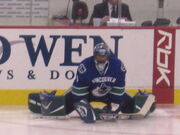 Nat
Seasons
Regular season
Playoffs
Notes
GP
W
L
T1
OTL1
SO
GAA
SV%
GP
W
L
SO
GAA
SV%
Auld, Alex
2001–2006
81
39
31
2
6
1
2.75
.907
4
1
2
0
2.48
.892
Bannerman, Murray
1977–1978
1
0
0
0
—
0
0.00
1.000
—
—
—
—
—
—
Brochu, Martin
2001–2002
6
0
3
0
—
0
4.17
.856
—
—
—
—
—
—
Brodeur, Richard
1980–1988
377
126
172
62
—
6
3.87
—
29
12
17
1
3.28
—
Bromley, Gary
1978–1981
73
25
27
14
—
3
3.63
—
7
2
5
0
4.17
—
Bullock, Bruce
1972–1977
16
3
9
3
—
0
4.79
—
—
—
—
—
—
—
Burke, Sean
1997–1998
16
2
9
4
—
0
3.51
.876
—
—
—
—
—
—
Caprice, Frank
1982–1988
102
31
47
11
—
1
4.20
.859
—
—
—
—
—
—
Caron, Jacques
1973–1974
10
2
5
1
—
0
4.90
—
—
—
—
—
—
—
Cloutier, Dan
2000–2006
208
109
68
23
1
14
2.42
.906
25
10
15
0
3.31
.872
Dyck, Ed
1971–1974
49
8
28
5
—
1
4.35
—
—
—
—
—
—
—
Ellacott, Ken
1982–1983
12
2
3
4
—
0
4.43
.867
—
—
—
—
—
—
Essensa, Bob
2000–2001
39
18
12
3
—
1
2.68
.892
2
0
2
0
2.95
.897
Fountain, Mike
1996–1997
6
2
2
0
—
1
3.43
.896
—
—
—
—
—
—
Gamble, Troy
1986–1992
72
22
29
9
—
1
3.61
.875
4
1
3
0
3.86
.880
Gardner, George
1970–1972
42
9
22
4
—
0
3.84
—
—
—
—
—
—
—
Garrett, John
1982–1985
56
22
21
5
—
1
4.11
.864
3
1
0
0
3.08
—
Hanlon, Glen
1977–1982
137
43
66
16
—
5
3.56
—
2
0
0
0
3.00
—
Hedberg, Johan
2003–2004
21
8
6
2
—
3
2.51
.900
2
1
1
0
2.45
.922
Heinz, Rick
1981–1982
3
2
1
0
—
1
3.00
—
—
—
—
—
—
—
Hirsch, Corey
1995–1998
101
32
42
13
—
4
3.13
.896
6
2
3
0
3.74
.873
Hodge, Charlie
1970–1971
35
15
13
5
—
0
3.42
—
—
—
—
—
—
—
Irbe, Arturs
1997–1998
41
14
11
6
—
2
2.73
.907
—
—
—
—
—
—
LaBarbera, Jason †
2008–2009
Made Canucks debut during 2008–09 NHL season
Lockett, Ken
1974–1976
55
13
15
8
—
2
3.35
—
1
0
1
0
6.00
—
Luongo, Roberto †
2006–2009
149
82
51
—
15
11
2.33
.919
12
5
7
0
1.77
.941
Captain, 2008–present
MacIntyre, Drew
2007–2008
2
0
1
—
0
0
2.95
.864
—
—
—
—
—
—
Maniago, Cesare
1976–1978
93
27
45
17
—
2
3.68
—
—
—
—
—
—
—
Mason, Bob
1990–1991
6
2
4
0
—
0
4.93
.846
—
—
—
—
—
—
McKichan, Steve
1990–1991
1
0
0
0
—
0
6.00
.750
—
—
—
—
—
—
McLean, Kirk
1987–1998
516
211
228
62
—
20
3.28
.887
68
34
34
6
2.84
.907
McLelland, Dave
1972–1973
2
1
1
0
—
0
5.00
—
—
—
—
—
—
—
McVicar, Rob
2005–2006
1
0
0
—
0
0
0.00
1.000
—
—
—
—
—
—
Michaud, Alfie
1999–2000
2
0
1
0
—
0
4.35
.815
—
—
—
—
—
—
Moss, Tyler
2002–2003
1
0
0
0
—
0
2.73
.929
—
—
—
—
—
—
Noronen, Mika
2005–2006
4
1
1
—
0
0
3.52
.870
—
—
—
—
—
—
Ouellet, Maxime
2005–2006
4
0
2
—
0
0
3.25
.894
—
—
—
—
—
—
Potvin, Felix
1999–2001
69
26
30
10
—
1
2.84
.897
—
—
—
—
—
—
Ridley, Curt
1975–1980
96
25
44
16
—
1
3.80
—
2
0
2
0
4.00
—
Sabourin, Dany
2006–2007
9
2
4
—
1
0
2.63
.906
2
0
0
0
4.28
.909
Sanford, Curtis †
2007–2009
16
4
3
—
1
0
2.83
.898
—
—
—
—
—
—
Schneider, Cory †
2008–2009
Made Canucks debut during 2008–09 NHL season
Schwab, Corey
1999–2000
6
2
1
1
—
0
3.57
.861
—
—
—
—
—
—
Skudra, Peter
2001–2003
46
19
13
8
—
2
2.57
.902
2
0
1
0
3.13
.891
Smith, Gary
1973–1976
189
72
81
23
—
11
3.32
—
4
1
3
0
3.27
—
Snow, Garth
1997–2000
109
33
52
11
—
6
2.87
.901
—
—
—
—
—
—
Weekes, Kevin
1998–2000
31
6
15
5
—
1
3.20
.887
—
—
—
—
—
—
Weeks, Steve
1987–1991
66
19
34
11
—
0
3.44
.885
3
1
1
0
3.43
.899
Whitmore, Kay
1992–1995
74
36
28
6
—
1
3.39
.877
1
0
0
0
6.00
.900
Wilson, Dunc
1970–1973
1978–1979
148
34
86
12
—
2
3.92
—
—
—
—
—
—
—
Young, Wendell
1985–1987
30
5
15
4
—
0
3.99
.874
1
0
1
0
5.00
.844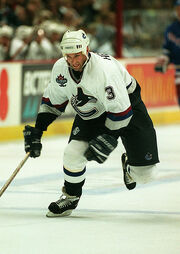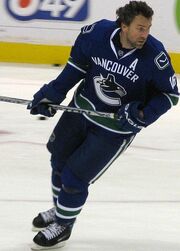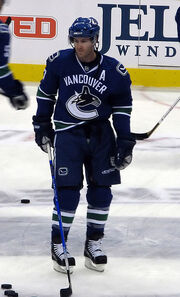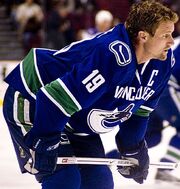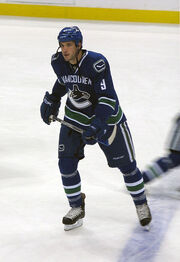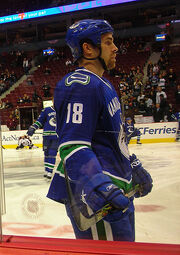 Nat
Pos
Seasons
Regular season
Playoffs
Notes
GP
G
A
P
PIM
GP
G
A
P
PIM
<span id="A"/>Adams, Greg C.
LW
1988–1989
12
4
2
6
35
7
0
0
0
21
Adams, Greg D.
LW
1987–1995
489
179
190
369
154
53
15
19
34
16
Affleck, Bruce
D
1979–1980
5
0
1
1
0
—
—
—
—
—
Agnew, Jim
D
1986–1992
65
0
1
1
189
4
0
0
0
6
Alexander, Claire
D
1977–1978
32
8
18
26
6
—
—
—
—
—
Allen, Bryan
D
2000–2006
216
14
18
32
288
7
0
0
0
6
Antoski, Shawn
LW
1990–1995
70
1
2
3
265
16
0
1
1
36
Arbour, John
D
1970–1971
13
0
0
0
12
—
—
—
—
—
Arvedson, Magnus
LW
2003–2004
41
8
7
15
12
—
—
—
—
—
Ashton, Brent
LW
1979–1981
124
23
25
48
68
7
1
0
1
8
Aucoin, Adrian
D
1994–2001
341
49
71
120
245
10
1
0
1
2
<span id="B"/>Babych, Dave
D
1991–1998
409
23
131
154
290
60
9
18
27
42
Bakovic, Peter
LW
1987–1988
10
2
0
2
48
—
—
—
—
—
Balej, Jozef
RW
2005–2006
1
0
1
1
0
—
—
—
—
—
Balon, Dave
LW
1971–1973
116
22
21
43
43
—
—
—
—
—
Baron, Murray
D
1998–2003
383
10
34
44
375
24
0
5
5
20
Bartell, Robin
D
1986–1987
40
0
1
1
14
—
—
—
—
—
Baumgartner, Nolan
D
2002–2003
2003–2005
87
6
34
40
36
2
0
0
0
0
Bawa, Robin
RW
1991–1992
2
0
0
0
0
1
0
0
0
0
Beech, Kris
C
2007–2008
4
1
1
2
0
—
—
—
—
—
Belanger, Jesse
C
1995–1996
9
3
0
3
4
3
0
2
2
2
Belland, Neil
D
1981–1986
106
13
31
44
54
21
2
9
11
23
Benning, Jim
D
1986–1990
241
15
55
70
172
3
0
0
0
0
Beranek, Josef
C
1994–1996
98
14
27
41
88
14
3
2
5
12
Berehowsky, Drake
D
2000–2002
39
2
3
5
39
4
0
0
0
12
Bergevin, Marc
D
2003–2004
9
0
2
2
2
3
0
0
0
2
Bernier, Steve †
RW
2008–2009
Made Canucks debut during 2008–09 NHL season
Berry, Ken
1987–1989
27
4
4
8
11
—
—
—
—
—
Bertuzzi, Todd
RW
1997–2006
518
188
261
449
822
24
6
8
14
82
Bieksa, Kevin †
D
2005–2009
154
14
46
60
301
9
0
0
0
20
Blight, Rick
RW
1975–1981
324
96
125
221
168
5
0
5
5
2
Block, Ken
D
1970–1971
1
0
0
0
0
—
—
—
—
—
Boddy, Gregg
D
1971–1976
273
23
44
67
263
12
0
2
2
19
Bodger, Doug
D
1999–2000
13
0
1
1
4
—
—
—
—
—
Bohonos, Lonny
RW
1995–1998
70
13
13
26
14
—
—
—
—
—
Boldirev, Ivan
C
1979–1983
216
80
104
184
105
22
9
6
15
4
Bolduc, Alexandre †
C
2008–2009
Made Canucks debut during 2008–09 NHL season
Bolonchuk, Larry
D
1972–1973
15
0
0
0
6
—
—
—
—
—
Bonni, Ryan
D
1999–2000
3
0
0
0
0
—
—
—
—
—
Bordeleau, Paulin
C
1973–1976
183
33
56
89
47
5
2
1
3
0
Bouck, Tyler
RW
2003–2007
36
2
3
5
60
1
0
0
0
0
Boudrias, Andre
C
1970–1976
458
121
267
388
140
6
1
0
1
0
Captain, 1975–1976
Bourdon, Luc
D
2006–2008
36
2
0
2
24
—
—
—
—
—
Boyd, Randy
D
1987–1989
62
7
17
24
64
—
—
—
—
—
Bozek, Steve
LW
1988–1991
191
46
44
90
118
10
0
2
2
4
Bradley, Brian
C
1987–1991
193
51
81
132
155
7
3
4
7
10
Brasar, Per-Olov
LW
1979–1982
181
37
63
100
21
13
1
2
3
0
Brashear, Donald
LW
1996–2002
388
50
53
103
1159
4
0
0
0
0
Bridgman, Mel
C
1988–1989
15
4
3
7
10
7
1
2
3
10
Brookbank, Wade
D
2003–2006
52
3
2
5
176
—
—
—
—
—
Brown, Cam
LW
1990–1991
1
0
0
0
7
—
—
—
—
—
Brown, Jeff
D
1993–1996
72
10
44
54
44
29
7
12
19
39
Brown, Mike
2000–2002
16
0
0
0
77
—
—
—
—
—
Brown, Mike †
RW
2007–2009
39
1
1
2
140
—
—
—
—
—
Brown, Sean
D
2005–2006
12
0
0
0
8
—
—
—
—
—
Bruce, David
LW
1985–1989
143
23
18
41
245
1
0
0
0
0
Bubla, Jiri
D
1981–1986
256
17
101
118
202
6
0
0
0
7
Bulis, Jan
C
2006–2007
79
12
11
23
70
12
1
1
2
2
Bure, Pavel
RW
1991–1998
428
254
224
478
328
60
34
32
66
72
Calder Trophy — 1992
Burrows, Alexandre †
LW
2005–2009
206
22
30
52
333
11
1
0
1
14
Buskas, Rod
D
1989–1990
17
0
3
3
36
—
—
—
—
—
Butcher, Garth
D
1981–1991
610
33
107
140
1668
14
2
1
3
24
Butenschon, Sven
D
2005–2006
8
0
0
0
10
—
—
—
—
—
Butler, Jerry
1979–1982
128
19
20
39
96
7
1
0
1
2
<span id="C"/>Callander, Drew
C
1978–1980
21
3
1
4
2
—
—
—
—
—
Campbell, Colin
D
1980–1982
89
1
16
17
206
19
2
3
5
98
Capuano, Dave
LW
1989–1991
88
16
36
52
52
6
1
1
2
5
Capuano, Jack
D
1990–1991
3
0
0
0
0
—
—
—
—
—
Carney, Keith
D
2005–2006
18
0
2
2
14
—
—
—
—
—
Carriere, Larry
D
1976–1978
56
1
12
13
66
—
—
—
—
—
Carson, Jimmy
C
1993–1994
34
7
10
17
22
2
0
1
1
0
Carter, Anson
RW
2005–2006
81
33
22
55
41
—
—
—
—
—
Cassels, Andrew
C
1999–2002
198
40
128
168
48
6
2
1
3
0
Charbonneau, Jose
RW
1988–1995
46
8
8
16
55
3
1
0
1
4
Chouinard, Marc
C
2006–2007
42
2
2
4
10
—
—
—
—
—
Christie, Mike
D
1980–1981
9
1
1
2
0
—
—
—
—
—
Chubarov, Artem
C
1999–2004
228
25
33
58
40
27
0
4
4
4
Ciccone, Enrico
D
1997–1998
13
0
1
1
47
—
—
—
—
—
Cochrane, Glen
D
1985–1987
63
0
3
3
177
2
0
0
0
5
Connelly, Wayne
RW
1971–1972
53
14
20
34
12
—
—
—
—
—
Convery, Brandon
C
1997–1999
19
2
9
11
8
—
—
—
—
—
Cook, Bob
RW
1970–1971
2
0
0
0
0
—
—
—
—
—
Cooke, Matt
LW
1998–2008
566
83
120
203
625
32
8
4
12
30
Corrigan, Mike
LW
1970–1972
95
24
32
56
130
—
—
—
—
—
Coulombe, Patrick
D
2006–2008
7
0
1
1
4
—
—
—
—
—
Courtnall, Geoff
LW
1990–1995
292
102
144
246
495
65
26
35
61
121
Courtnall, Russ
RW
1994–1997
141
39
72
111
68
17
5
11
16
23
Courville, Larry
LW
1995–1998
33
1
2
3
16
—
—
—
—
—
Cowan, Jeff
LW
2006–2008
88
7
4
11
203
10
2
0
2
2
Coxe, Craig
C
1984–1988
1989–1991
177
10
21
31
535
3
0
0
0
2
Craven, Murray
LW
1992–1994
88
15
50
65
42
34
8
15
23
22
Crawford, Marc
LW
1981–1987
176
19
31
50
229
20
1
2
3
44
Crowder, Troy
RW
1996–1997
30
1
2
3
52
—
—
—
—
—
Cullen, Ray
C
1970–1971
70
12
21
33
42
—
—
—
—
—
Cullimore, Jassen
D
1994–1997
64
2
3
5
62
11
0
0
0
12
Currie, Tony
RW
1981–1984
38
9
7
16
4
3
0
0
0
10
<span id="D"/>Daigneault, J.J.
D
1984–1986
131
9
46
55
114
3
0
2
2
0
Dailey, Bob
D
1973–1977
257
38
93
131
417
7
2
4
6
14
Davison, Rob †
D
2008–2009
Made Canucks debut during 2008–09 NHL season
Delorme, Ron
RW
1981–1985
210
17
20
37
383
23
1
2
3
49
DeMarco Jr., Ab
D
1974–1976
95
13
22
35
23
2
0
0
0
0
Demitra, Pavol †
RW
2008–2009
Made Canucks debut during 2008–09 NHL season
Derlago, Bill
C
1978–1980
63
15
19
34
29
—
—
—
—
—
Diduck, Gerald
D
1990–1995
265
17
55
72
553
47
6
9
15
55
Dirk, Robert
D
1990–1994
217
9
18
27
401
28
0
0
0
39
Doak, Gary
D
1970–1972
82
2
11
13
135
—
—
—
—
—
Dowd, Jim
C
1995–1996
38
1
6
7
6
1
0
0
0
0
Druken, Harold
C
1999–2003
118
27
29
56
30
4
0
1
1
0
Dunbar, Dale
D
1985–1986
1
0
0
0
2
—
—
—
—
—
Dunn, Dave
D
1973–1975
69
11
22
33
87
—
—
—
—
—
<span id="E"/>Edler, Alexander †
D
2006–2009
97
9
14
23
48
3
0
0
0
2
Eisenhut, Neil
C
1993–1994
13
1
3
4
21
—
—
—
—
—
Eldebrink, Anders
D
1981–1983
43
2
9
11
21
13
0
0
0
10
Eriksson, Roland
C
1978–1979
35
2
12
14
4
—
—
—
—
—
<span id="F"/>Fedorov, Fedor
C
2002–2004
15
0
2
2
8
—
—
—
—
—
Fergus, Tom
C
1991–1993
80
19
29
48
37
13
5
3
8
6
Fitzgerald, Zack
D
2007–2008
1
0
0
0
0
—
—
—
—
—
Fitzpatrick, Rory
D
2006–2007
58
1
6
7
46
3
0
0
0
6
Flockhart, Rob
LW
1976–1979
43
1
2
3
12
—
—
—
—
—
Folco, Peter
D
1973–1974
2
0
0
0
0
—
—
—
—
—
Fortier, Dave
D
1976–1977
58
1
3
4
125
—
—
—
—
—
Fraser, Curt
LW
1978–1983
348
92
114
206
651
27
4
9
13
108
<span id="G"/>Gagner, Dave
C
1998–1999
33
2
12
14
24
—
—
—
—
—
Gassoff, Brad
LW
1975–1979
122
19
17
36
163
3
0
0
0
0
Gelinas, Martin
LW
1993–1998
258
90
81
171
173
33
6
6
12
26
Gibson, Don
D
1990–1991
14
0
3
3
20
—
—
—
—
—
Gillis, Jere
LW
1977–1981
1983–1985
309
63
75
138
210
5
2
2
4
0
Gloor, Danny
C
1973–1974
2
0
0
0
0
—
—
—
—
—
Glynn, Brian
D
1993–1994
16
0
0
0
12
17
0
3
3
10
Goodenough, Larry
D
1976–1980
113
7
21
28
75
1
0
0
0
2
Gordon, Robb
C
1998–1999
4
0
0
0
2
—
—
—
—
—
Goren, Lee
RW
2005–2007
30
1
2
3
30
—
—
—
—
—
Gould, John
LW
1973–1977
218
82
76
158
53
7
3
2
5
0
Gould, Larry
LW
1973–1974
2
0
0
0
0
—
—
—
—
—
Gradin, Thomas
C
1978–1986
613
197
353
550
280
38
17
21
38
20
Graves, Hilliard
RW
1976–1979
196
42
61
103
49
—
—
—
—
—
Green, Josh
LW
2005–2007
90
6
7
13
39
9
0
1
1
12
Gregg, Randy
D
1991–1992
21
1
4
5
24
7
0
1
1
8
Grenier, Martin
D
2003–2004
7
1
0
1
9
—
—
—
—
—
Grisdale, John
D
1974–1979
199
3
32
35
266
10
0
1
1
15
Guevremont, Jocelyn
D
1971–1975
227
44
88
132
124
—
—
—
—
—
Guy, Kevan
D
1988–1991
114
5
13
18
105
1
0
0
0
0
<span id="H"/>Hall, Murray
RW
1970–1972
109
27
44
71
28
—
—
—
—
—
Hall, Taylor
RW
1983–1987
34
7
9
16
25
—
—
—
—
—
Halward, Doug
D
1980–1987
324
45
118
163
389
26
6
5
11
71
Hammond, Ken
D
1991–1992
—
—
—
—
—
2
0
0
0
6
Hansen, Jannik †
LW
2007–2009
5
0
0
0
2
10
0
1
1
4
Hargreaves, Jim
D
1970–1973
66
1
7
8
105
—
—
—
—
—
Hatoum, Ed
RW
1970–1971
26
1
3
4
21
—
—
—
—
—
Hawgood, Greg
D
1999–2001
95
7
22
29
32
—
—
—
—
—
Hawkins, Todd
LW
1988–1990
8
0
0
0
15
—
—
—
—
—
Hazlett, Steve
LW
1979–1980
1
0
0
0
0
—
—
—
—
—
Hedican, Bret
D
1993–1999
310
17
85
102
281
41
1
9
10
32
Helmer, Bryan
D
2000–2003
62
7
9
16
71
6
0
0
0
0
Hendrickson, Darby
C
1998–2000
67
7
6
13
36
—
—
—
—
—
Hlavac, Jan
LW
2001–2003
55
10
13
23
16
5
0
1
1
0
Hlinka, Ivan
C
1981–1983
137
42
81
123
28
16
3
10
13
8
Hodgson, Dan
C
1986–1989
74
16
33
49
52
—
—
—
—
—
Holden, Josh
C
1998–2001
46
4
9
13
12
—
—
—
—
—
Holloway, Bruce
D
1984–1985
2
0
0
0
0
—
—
—
—
—
Holt, Randy
D
1978–1979
22
1
3
4
80
—
—
—
—
—
Homenuke, Ron
1972–1973
1
0
0
0
0
—
—
—
—
—
Hordichuk, Darcy †
LW
2008–2009
Made Canucks debut during 2008–09 NHL season
Huber, Willie
D
1987–1989
35
4
10
14
40
—
—
—
—
—
Hubick, Greg
D
1979–1980
5
0
1
1
0
—
—
—
—
—
Hughes, John
D
1979–1980
52
2
11
13
181
4
0
0
0
10
Hunter, Tim
RW
1992–1996
176
8
10
18
512
46
0
0
0
74
Hurlburt, Bob
LW
1974–1975
1
0
0
0
2
—
—
—
—
—
Huscroft, Jamie
D
1997–1999
33
0
2
2
118
—
—
—
—
—
<span id="I"/>Isbister, Brad
RW
2007–2008
55
6
5
11
38
—
—
—
—
—
<span id="J"/>Jackson, Dane
RW
1993–1995
15
6
1
7
13
6
0
0
0
10
Jaffray, Jason †
LW
2007–2009
19
2
4
6
19
—
—
—
—
—
Johnson, Dan
C
1970–1972
77
16
14
30
16
—
—
—
—
—
Johnson, Ryan †
C
2008–2009
Made Canucks debut during 2008–09 NHL season
Jokela, Mikko
D
2002–2003
1
0
0
0
0
—
—
—
—
—
Joseph, Chris
D
1996–1997
1999–2000
101
5
22
27
68
—
—
—
—
—
Jovanovski, Ed
D
1998–2006
434
57
177
234
536
31
9
10
19
36
<span id="K"/>Kannegiesser, Sheldon
D
1977–1978
42
1
7
8
36
—
—
—
—
—
Kariya, Steve
RW
1999–2002
65
9
18
27
32
—
—
—
—
—
Kavanagh, Pat
RW
2000–2004
6
2
0
2
2
3
0
0
0
2
Keane, Mike
RW
2003–2004
64
8
9
17
20
7
0
0
0
4
Kearns, Dennis
D
1971–1981
677
31
290
321
386
11
1
2
3
8
Kesa, Dan
RW
1993–1994
19
2
4
6
18
—
—
—
—
—
Kesler, Ryan †
C
2003–2009
238
39
42
81
214
1
0
0
0
0
Kidd, Ian
D
1987–1989
20
4
7
11
25
—
—
—
—
—
King, Jason
LW
2002–2004
55
12
11
23
8
1
0
0
0
0
Kirton, Mark
C
1982–1985
119
23
14
37
27
4
1
2
3
7
Klatt, Trent
RW
1998–2003
313
51
60
111
87
8
5
4
9
2
Kocur, Joe
RW
1995–1996
7
0
1
1
19
1
0
0
0
0
Komarniski, Zenith
D
1999–2003
19
1
1
2
10
—
—
—
—
—
Korab, Jerry
D
1973–1974
31
4
7
11
64
—
—
—
—
—
Kozak, Don
LW
1978–1979
28
2
5
7
30
3
1
0
1
0
Krajicek, Lukas
D
2006–2008
117
5
22
27
100
12
0
2
2
12
Krog, Jason †
C
2008–2009
Made Canucks debut during 2008–09 NHL season
Kron, Robert
C
1990–1993
144
24
33
57
37
11
1
2
3
2
Krutov, Vladimir
LW
1989–1990
61
11
23
34
20
—
—
—
—
—
Kucera, Frantisek
D
1995–1997
26
1
0
1
10
6
0
1
1
0
Kulak, Stu
RW
1982–1987
32
2
2
4
37
—
—
—
—
—
Kurtenbach, Orland
C
1970–1974
229
62
101
163
200
—
—
—
—
—
Captain, 1970–1974
Kurtz, Justin
D
2001–2002
27
3
5
8
14
—
—
—
—
—
Kurvers, Tom
D
1990–1991
32
4
23
27
20
6
2
2
4
12
<span id="L"/>Lachance, Scott
D
2000–2002
157
4
21
25
96
8
1
2
3
6
LaFayette, Nathan
C
1993–1995
38
5
5
10
6
20
2
7
9
4
Lalonde, Bobby
C
1971–1977
353
72
117
189
185
6
0
0
0
2
Lampman, Mike
LW
1973–1974
14
1
0
1
0
—
—
—
—
—
Langdon, Darren
LW
2002–2003
45
0
1
1
143
—
—
—
—
—
Lanthier, Jean-Marc
RW
1983–1988
105
16
16
32
29
—
—
—
—
—
Lanz, Rick
D
1980–1987
417
56
171
227
331
14
2
5
7
6
Larionov, Igor *
C
1989–1992
210
51
92
143
88
19
4
7
11
10
HHOF — 2008
Lawless, Paul
LW
1987–1988
13
0
1
1
0
—
—
—
—
—
LeBlanc, John
LW
1986–1988
43
13
10
23
18
—
—
—
—
—
Ledyard, Grant
D
1997–1998
49
2
13
15
14
—
—
—
—
—
Leeb, Brad
RW
1999–2002
4
0
0
0
2
—
—
—
—
—
Leeman, Gary
RW
1994–1995
10
2
0
2
0
—
—
—
—
—
Lemay, Moe
LW
1981–1987
279
70
92
162
367
4
0
0
0
12
Lemieux, Richard
C
1971–1974
192
29
61
90
68
—
—
—
—
—
Lenardon, Tim
C
1989–1990
8
1
0
1
4
—
—
—
—
—
Letowski, Trevor
RW
2001–2003
120
18
24
42
51
12
0
2
2
8
Lever, Don
LW
1972–1980
593
186
221
407
354
10
2
2
4
6
Captain, 1977–1979
Levie, Craig
D
1986–1987
9
0
1
1
13
—
—
—
—
—
Lidster, Doug
D
1983–1993
666
65
242
307
526
41
2
10
12
36
Captain, 1990–1991
Linden, Trevor *
C/RW
1988–1998
2001–2008
1141
318
415
732
730
118
34
61
95
90
Captain, 1990–1997
King Clancy Trophy — 1997
NHL Foundation Award — 20082
Ret — #16
Lindgren, Lars
D
1978–1984
335
23
99
122
292
25
3
6
9
14
Lindgren, Mats
C
2002–2003
54
5
9
14
18
—
—
—
—
—
Logan, Dave
D
1979–1981
40
1
5
6
122
4
0
0
0
0
Loney, Brian
RW
1995–1996
12
2
3
5
6
—
—
—
—
—
Lowry, Dave
LW
1985–1988
165
19
21
40
357
3
0
0
0
0
Lumme, Jyrki
D
1989–1998
579
83
238
321
379
72
9
31
40
36
Lunde, Len
LW
1970–1971
20
1
3
4
2
—
—
—
—
—
Lupul, Gary
LW
1979–1986
293
70
75
145
243
25
4
7
11
13
<span id="M"/>MacAdam, Al
RW
1984–1985
80
14
20
34
27
—
—
—
—
—
MacDonald, Blair
RW
1980–1983
88
26
28
54
32
8
0
3
3
2
MacDonald, Brett
D
1987–1988
1
0
0
0
0
—
—
—
—
—
Mair, Jim
D
1972–1975
23
2
4
6
8
—
—
—
—
—
Maki, Wayne
LW
1970–1973
180
50
73
123
148
—
—
—
—
—
Malik, Marek
D
2002–2004
147
10
27
37
97
21
1
1
2
20
NHL Plus-Minus Award — 20043
Malkoc, Dean
D
1995–1996
41
0
2
2
136
—
—
—
—
—
Manery, Kris
LW
1979–1980
21
2
1
3
15
—
—
—
—
—
Manno, Bob
LW
1976–1981
163
13
55
68
115
10
1
1
2
12
Marois, Mario
D
1980–1981
50
4
12
16
115
—
—
—
—
—
Martin, Grant
C
1983–1985
24
0
3
3
45
—
—
—
—
—
Martin, Pit
C
1977–1979
131
27
45
72
60
3
0
1
1
2
Maxwell, Brad
D
1986–1987
30
1
7
8
28
—
—
—
—
—
May, Brad
LW
1997–2000
2002–2004
225
29
27
56
380
20
1
0
1
21
Mazur, Jay
RW
1988–1992
47
11
7
18
20
6
0
1
1
8
McAllister, Chris
D
1997–1999
64
2
3
5
169
—
—
—
—
—
McBain, Andrew
RW
1989–1992
45
5
10
15
54
—
—
—
—
—
McCabe, Bryan
D
1997–1999
95
8
25
33
—
—
—
—
—
McCarthy, Kevin
D
1978–1984
352
51
148
199
388
11
2
2
4
12
Captain, 1979–1982
McCarthy, Steve
D
2005–2006
51
2
4
6
43
—
—
—
—
—
McCord, Dennis
D
1973–1974
3
0
0
0
6
—
—
—
—
—
McDonnell, Joe
D
1981–1982
7
0
1
1
12
—
—
—
—
—
McIlhargey, Jack
D
1976–1980
167
6
18
24
403
3
0
0
0
2
McIntyre, John
C
1993–1995
90
3
10
13
75
24
0
1
1
16
McIver, Nathan
D
2006–2008
18
0
0
0
59
—
—
—
—
—
McNab, Peter
LW
1983–1985
88
24
31
55
20
3
0
0
0
0
McSheffrey, Bryan
LW
1972–1974
87
13
7
20
44
—
—
—
—
—
Meehan, Gerry
LW
1974–1975
57
10
15
25
4
—
—
—
—
—
Melnyk, Larry
D
1987–1990
190
5
16
21
246
4
0
0
0
2
Messier, Mark *
C
1997–2000
207
52
110
162
121
—
—
—
—
—
Captain, 1997–2000
HHOF — 2007
Miller, Aaron
D
2007–2008
57
1
8
9
32
—
—
—
—
—
Minor, Gerry
C
1979–1984
140
11
21
32
176
12
1
3
4
25
Mitchell, Willie †
D
2006–2009
134
3
20
23
126
12
0
1
1
12
Mogilny, Alexander
RW
1995–2000
312
139
169
308
144
6
1
8
9
8
Mojzis, Tomas
D
2005–2006
7
0
1
1
12
—
—
—
—
—
Molin, Lars
LW
1981–1984
172
33
65
98
37
19
2
9
11
7
Momesso, Sergio
LW
1990–1995
269
68
73
141
655
66
9
13
22
157
Monahan, Garry
C
1974–1978
287
58
82
140
166
7
1
0
1
4
Moran, Brad
C
2006–2007
3
0
1
1
2
—
—
—
—
—
Morin, Stephane
C
1992–1994
6
1
2
3
6
—
—
—
—
—
Morrison, Brendan
C
1999–2008
543
136
257
393
326
49
8
19
27
48
Morrison, Dave
LW
1984–1985
8
0
0
0
0
—
—
—
—
—
Muckalt, Bill
LW
1998–2000
106
20
28
48
115
—
—
—
—
—
Murphy, Rob
C
1987–1992
73
6
4
10
100
4
0
0
0
2
Murray, Bob
D
1974–1977
90
3
10
13
42
6
0
1
1
13
Murzyn, Dana
D
1990–1999
452
23
66
89
900
40
3
4
7
92
<span id="N"/>Namestnikov, Evgeny
D
1993–1997
35
0
8
8
18
2
0
0
0
2
Naslund, Markus
LW
1995–2008
884
346
410
756
614
45
13
20
33
46
Captain, 2000–2008
Lester Pearson Award — 2003
Nedved, Petr
LW
1990–1993
222
63
61
124
152
28
3
8
11
18
Neely, Cam *
RW
1983–1986
201
51
53
104
320
4
2
0
2
2
HHOF — 2005
Nemchinov, Sergei
C
1996–1997
6
2
3
5
4
—
—
—
—
—
Nill, Jim
RW
1981–1984
124
17
23
40
219
20
4
3
7
73
Noonan, Brian
RW
1996–1998
98
14
23
37
68
—
—
—
—
—
Nordmark, Robert
D
1988–1991
169
10
52
62
194
7
3
2
5
8
Nycholat, Lawrence †
D
2008–2009
14
0
1
1
6
—
—
—
—
—
<span id="O"/>O'Brien, Shane †
D
2008–2009
Made Canucks debut during 2008–09 NHL season
O'Flaherty, Gerry
RW
1972–1978
435
98
95
193
166
7
2
2
4
6
O'Neil, Paul
C
1973–1974
5
0
0
0
0
—
—
—
—
—
O'Sullivan, Chris
D
1999–2000
11
0
5
5
2
—
—
—
—
—
Oddleifson, Chris
RW
1973–1981
469
85
180
265
439
14
1
6
7
8
Captain, 1976–1977
Odjick, Gino
LW
1990–1998
444
46
52
98
2127
29
3
1
4
95
Ohlund, Mattias †
D
1997–2009
688
87
213
300
651
42
8
17
25
49
Oksiuta, Roman
RW
1994–1996
68
21
25
46
44
10
2
3
5
0
Ouellet, Michel †
RW
2008–2009
Made Canucks debut during 2008–09 NHL season
<span id="P"/>Paiement, Rosaire
C
1970–1972
147
44
47
91
269
—
—
—
—
—
Park, Richard
C
2005–2006
60
8
10
18
29
—
—
—
—
—
Peca, Michael
C
1993–1995
37
6
6
12
32
5
0
1
1
8
Pederson, Barry
C
1986–1990
233
60
137
197
174
—
—
—
—
—
Pederson, Denis
C
1999–2002
102
8
15
23
98
4
0
1
1
4
Peterson, Brent
RW
1985–1987
146
15
38
53
171
3
2
0
2
9
Petit, Michel
D
1982–1988
226
24
57
81
373
1
0
0
0
0
Pettinger, Matt
LW
2007–2008
20
4
2
6
11
—
—
—
—
—
Plavsic, Adrien
D
1989–1995
182
13
52
65
147
13
1
7
8
4
Popiel, Poul
D
1970–1972
116
11
23
34
97
—
—
—
—
—
Pratt, Tracy
D
1973–1976
176
9
30
39
261
5
0
0
0
5
Primeau, Kevin
C
1980–1981
2
0
0
0
4
—
—
—
—
—
Pronger, Sean
C
2003–2004
3
0
1
1
4
—
—
—
—
—
Pyatt, Taylor †
RW
2006–2009
155
39
35
74
102
12
2
4
6
6
<span id="Q"/>Quinn, Dan
C
1989–1991
101
34
49
83
73
—
—
—
—
—
Captain, 1990–1991
Quinn, Pat
D
1970–1972
133
4
14
18
212
—
—
—
—
—
<span id="R"/>Ratushny, Dan
D
1992–1993
1
0
1
1
2
—
—
—
—
—
Raymond, Mason †
RW
2007–2009
49
9
12
21
2
—
—
—
—
—
Reaume, Marc
D
1970–1971
27
0
2
2
4
—
—
—
—
—
Reid, Brandon
C
2002–2007
13
2
4
6
0
10
0
2
2
0
Reinhart, Paul
D
1988–1990
131
24
90
114
74
7
2
3
5
4
Richardson, Glen
LW
1975–1976
24
3
6
9
19
—
—
—
—
—
Richter, Dave
D
1986–1988
127
4
19
23
396
—
—
—
—
—
Ridley, Mike
C
1995–1997
112
26
47
73
71
5
0
0
0
2
Ritchie, Byron
C
2007–2008
72
3
8
11
80
—
—
—
—
—
Rizzuto, Garth
C
1970–1971
37
3
4
7
16
—
—
—
—
—
Roberts, David
LW
1996–1998
71
11
18
29
55
—
—
—
—
—
Robertsson, Bert
D
1997–1999
69
4
6
10
37
—
—
—
—
—
Robitaille, Mike
D
1974–1977
174
10
50
60
121
7
0
1
1
4
Rochefort, Leon
C
1974–1976
87
18
14
32
2
5
0
2
2
0
Rohlicek, Jeff
C
1987–1989
9
0
0
0
8
—
—
—
—
—
Rohlin, Leif
D
1995–1997
96
8
24
32
40
5
0
0
0
0
Ronning, Cliff
C
1990–1996
366
112
216
328
183
72
24
34
58
48
Rota, Darcy
LW
1979–1984
289
120
116
236
453
30
10
5
15
82
Rucinsky, Martin
LW
2003–2004
13
1
2
3
10
7
1
1
2
6
Ruuttu, Christian
C
1994–1995
25
5
6
11
23
9
1
1
2
0
Ruutu, Jarkko
RW
1999–2006
267
23
28
51
453
24
1
3
4
32
Ryan, Prestin
D
2005–2006
1
0
0
0
2
—
—
—
—
—
Rypien, Rick †
C
2005–2009
29
2
2
4
50
—
—
—
—
—
<span id="S"/>Salo, Sami †
D
2002–2009
342
48
103
151
134
29
2
6
8
6
Sanderson, Derek
C
1976–1977
16
7
9
16
30
—
—
—
—
—
Sanderson, Geoff
LW
1997–1998
2003–2004
22
3
7
10
8
7
1
1
2
4
Sandlak, Jim
RW
1985–1993
1995–1996
509
104
117
221
789
33
7
10
17
30
Santala, Tommi
C
2006–2007
30
1
5
6
24
1
0
0
0
0
Saunders, David
LW
1987–1988
56
7
13
20
10
—
—
—
—
—
Scatchard, David
C
1997–2000
179
26
28
54
329
—
—
—
—
—
Schaefer, Peter
LW
1998–2001
178
36
39
75
50
3
0
0
0
0
Schella, John
D
1970–1972
115
2
18
20
224
—
—
—
—
—
Schliebener, Andy
D
1981–1985
84
2
11
13
74
6
0
0
0
0
Schmautz, Bobby
RW
1970–1974
1980–1981
285
108
104
212
428
3
0
0
0
0
Schultz, Jesse
RW
2006–2007
2
0
0
0
0
—
—
—
—
—
Sedin, Daniel †
LW
2000–2009
560
148
232
380
228
43
5
13
18
12
Sedin, Henrik †
C
2000–2009
564
87
291
378
322
43
10
10
20
24
Sedlbauer, Ron
LW
1974–1980
325
108
69
177
170
10
0
1
1
19
Seguin, Danny
LW
1970–1974
26
1
5
6
46
—
—
—
—
—
Semak, Alexander
C
1996–1997
18
2
1
3
2
—
—
—
—
—
Semenov, Anatoli
C
1992–1993
62
10
34
44
28
12
1
3
4
0
Shannon, Ryan
C
2007–2008
27
5
8
13
24
—
—
—
—
—
Sharifijanov, Vadim
LW
1999–2000
17
2
1
3
14
—
—
—
—
—
Sillinger, Mike
C
1995–1998
138
28
32
60
65
6
0
0
0
2
Skriko, Petri
LW
1984–1991
472
171
202
373
221
10
1
5
6
0
Slegr, Jiri
D
1992–1995
2003–2004
154
12
65
77
235
5
0
3
3
4
Sly, Darryl
D
1970–1971
31
0
2
2
10
—
—
—
—
—
Smith, Brad
LW
1978–1980
21
1
3
4
52
—
—
—
—
—
Smith, Doug
C
1988–1990
40
6
8
14
76
4
0
0
0
6
Smith, Nathan
C
2003–2007
4
0
0
0
0
4
0
0
0
0
Smolinski, Bryan
C
2006–2007
20
4
3
7
8
12
2
2
4
8
Smyl, Stan *
RW
1978–1991
896
262
411
673
1556
41
16
17
33
64
Captain, 1982–1990
Ret — #12
Snepsts, Harold
D
1974–1984
1988–1990
781
35
160
195
1446
44
1
9
10
99
Sobchuk, Gene
LW
1973–1974
1
0
0
0
0
—
—
—
—
—
Sopel, Brent
D
1998–2004
2006–2007
322
33
97
130
139
42
2
9
11
10
Speck, Fred
C
1971–1972
18
1
2
3
0
—
—
—
—
—
Spruce, Andy
LW
1976–1977
51
9
6
15
37
—
—
—
—
—
Staios, Steve
D
1996–1999
143
3
12
15
208
—
—
—
—
—
Stanley, Daryl
D
1987–1990
100
6
9
15
192
—
—
—
—
—
Stapleton, Mike
C
2000–2001
18
1
2
3
8
—
—
—
—
—
Stern, Ronnie
RW
1987–1991
97
5
6
11
480
3
0
1
1
17
Stevens, Mike
LW
1984–1985
6
0
3
3
6
—
—
—
—
—
Stewart, Ralph
C
1970–1971
1976–1978
53
8
12
20
4
—
—
—
—
—
Stewart, Ron
C
1971–1972
42
3
1
4
10
—
—
—
—
—
Stojanov, Alex
RW
1994–1996
62
0
1
1
136
5
0
0
0
2
Stone, Steve
RW
1973–1974
2
0
0
0
0
—
—
—
—
—
Strudwick, Jason
D
1997–2002
243
4
15
19
367
2
0
0
0
0
Summanen, Raimo
LW
1986–1988
19
6
7
13
2
—
—
—
—
—
Sundin, Mats †
C
2008–2009
Made Canucks debut during 2008–09 NHL season
Sundstrom, Patrik
LW
1982–1987
374
133
209
342
181
11
1
1
2
9
Sutter, Rich
RW
1986–1990
291
61
61
122
533
7
2
1
3
12
<span id="T"/>Tallon, Dale
D
1970–1973
222
44
93
137
219
—
—
—
—
—
Tambellini, Steve
C
1985–1988
161
42
45
87
34
—
—
—
—
—
Tannahill, Don
RW
1972–1974
111
30
33
63
25
—
—
—
—
—
Tanti, Tony
RW
1982–1990
531
250
220
470
489
18
1
9
10
15
Taylor, Ted
LW
1970–1972
125
20
29
49
141
—
—
—
—
—
Tezikov, Alexei
D
2001–2002
2
0
0
0
0
—
—
—
—
—
Tikkanen, Esa
LW
1995–1997
100
25
39
64
80
6
3
2
5
2
Tremblay, Yannick
D
2006–2007
12
1
2
3
12
—
—
—
—
—
Tudor, Rob
C
1978–1980
26
4
4
8
19
3
0
0
0
0
<span id="V"/>Vaananen, Ossi †
D
2008–2009
Made Canucks debut during 2008–09 NHL season
Vaic, Lubomir
C
1997–2000
9
1
1
2
2
—
—
—
—
—
Vaive, Rick
LW
1979–1980
47
13
8
21
111
—
—
—
—
—
Valk, Gary
LW
1990–1993
172
24
35
59
200
16
0
1
1
37
Vasiljevs, Herberts
C
2001–2002
18
3
2
5
2
—
—
—
—
—
Ververgaert, Dennis
RW
1973–1979
409
139
165
304
177
3
1
0
1
4
Veysey, Sid
C
1977–1978
1
0
0
0
0
—
—
—
—
—
Vilgrain, Claude
RW
1987–1988
6
1
1
2
0
—
—
—
—
—
<span id="W"/>Walker, Scott
D
1994–1998
197
10
34
44
466
—
—
—
—
—
Walter, Ryan
C
1991–1993
92
9
11
20
59
13
0
3
3
8
Walton, Mike
C
1975–1978
115
44
69
113
71
2
0
0
0
5
Ward, Dixon
RW
1992–1994
103
28
31
59
119
9
2
3
5
0
Ward, Ron
D
1971–1972
71
2
4
6
4
—
—
—
—
—
Warriner, Todd
LW
2001–2003
44
6
10
16
34
6
1
0
1
2
Washburn, Steve
C
1998–1999
8
0
0
0
2
—
—
—
—
—
Weaver, Mike
D
2007–2008
55
0
1
1
33
—
—
—
—
—
Weinrich, Eric
D
2005–2006
16
0
0
0
8
—
—
—
—
—
Wellwood, Kyle †
C
2008–2009
Made Canucks debut during 2008–09 NHL season
Wickenheiser, Doug
C
1987–1988
80
7
19
26
36
—
—
—
—
—
Wilcox, Barry
LW
1972–1975
33
3
2
5
15
—
—
—
—
—
Wiley, Jim
C
1975–1977
36
4
6
10
6
—
—
—
—
—
Wilkins, Barry
D
1970–1975
256
21
69
90
458
—
—
—
—
—
Williams, Tiger
LW
1979–1984
312
83
82
165
1324
31
4
10
14
181
Wiste, Jim
C
1970–1971
23
1
2
3
0
—
—
—
—
—
Woodley, Dan
C
1987–1988
5
2
0
2
17
—
—
—
—
—
Wotton, Mark
D
1994–1998
42
3
6
9
25
5
0
0
0
4
Wright, John
C
1972–1974
91
13
30
43
43
—
—
—
—
—
<span id="Y"/>York, Harry
C
1998–2000
103
11
22
33
40
—
—
—
—
—
Young, Howie
D
1970–1971
11
0
2
2
25
—
—
—
—
—
<span id="Z"/>Zetterstrom, Lars
D
1978–1979
14
0
1
1
2
—
—
—
—
—
Zezel, Peter
C
1997–1999
66
11
20
31
18
—
—
—
—
—
References
Edit
General
Specific