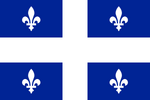 Quebec University Athletic Association (QUAA)
Edit
The QUAA was formed when the OSLC, OIAA, and QOAA folded after the 1970-71 season. Loyola College, UQTR Patriotes, Bishop's Gaiters, University of Sherbrooke, RMC Paladins, and Sir George Williams Georgians came from the OSLC. McGill University and University of Montreal came from the QOAA. The remaining QOAA, OSLC, and OIAA teams were from Ontario and joined the OUAA.
List of seasons
Edit
Note - The remaining QUAA teams (UQTR, Ottawa, McGill, and Concordia) joined the OUA in 1987-88.
Table of Champions
Edit
Teams Claiming QUAA/QSSF/RSEQ National Berths After Conference Folded
Edit
Commencing in the 2014-15 season the University Cup went to an 8-team format.
National links:
Western links:
Atlantic links:
Ontario-Quebec links:
College links:
Ad blocker interference detected!
Wikia is a free-to-use site that makes money from advertising. We have a modified experience for viewers using ad blockers

Wikia is not accessible if you've made further modifications. Remove the custom ad blocker rule(s) and the page will load as expected.