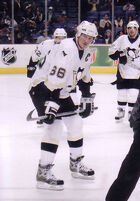 This is a list of Pittsburgh Penguins owners. There have been 10 ownership groups for the Penguins franchise since the team's founding in 1967. The Penguins' current owner is Mario Lemieux, who was purchased of the Penguins in 1999 and brought the club out of bankruptcy. Lemieux Group LP also worked out a deal with the city of Pittsburgh in 2007 for a new multi-purpose arena, ensuring that the franchise remains in Pittsburgh. [1]
Ownerships
Edit
References
Edit
Ad blocker interference detected!
Wikia is a free-to-use site that makes money from advertising. We have a modified experience for viewers using ad blockers

Wikia is not accessible if you've made further modifications. Remove the custom ad blocker rule(s) and the page will load as expected.