List of Philadelphia Quakers (NHL) players
Talk

0
Share
Ad blocker interference detected!
Wikia is a free-to-use site that makes money from advertising. We have a modified experience for viewers using ad blockers

Wikia is not accessible if you've made further modifications. Remove the custom ad blocker rule(s) and the page will load as expected.
This is a complete list of ice hockey players who played for the Philadelphia Quakers in the National Hockey League (NHL). It includes players that played at least one match, either in the NHL regular season or in the NHL playoffs. Granted a franchise by the NHL in 1925, the Pittsburgh Pirates played in Pittsburgh from 1925 to 1930 and then moved to Philadelphia and became the Quakers. After their only season in Philadelphia, the franchise was cancelled due to financial problems. Both cities were awarded expansion teams over a quarter of a century later (the Flyers and Penguins).
The seasons column lists the first year of the season of the player's first game and the last year of the season of the player's last game. For example, a player who played one game in the 2000–01 season would be listed as playing with the team from 2000–2001, regardless of what calendar year the game occurred within.
      Player was inducted into the Hockey Hall of Fame
Abbreviations

| | |
| --- | --- |
| Nat | Nationality |
| GP | Games Played |
Goaltenders
Edit
Name
Nat
Seasons
Regular Season
Playoffs
Notes
GP
W
L
T
SO
GAA
SV%
GP
W
L
SO
GAA
SV%
Cude, Wilf
1930–1931
30
2
25
3
1
4.22
.878
—
—
—
—
—
—
Forbes, Jake
1930–1931
2
0
2
0
0
3.50
.896
—
—
—
—
—
—
Miller, Joe
1930–1931
12
2
9
1
0
3.81
.883
—
—
—
—
—
—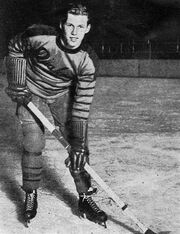 Name
Nat
Pos
Seasons
Regular Season
Playoffs
Notes
GP
G
A
P
PIM
GP
G
A
P
PIM
Barton, Cliff
W
1930–1931
43
6
7
13
18
—
—
—
—
—
Coulson, D'Arcy
D
1930–1931
28
0
0
0
103
—
—
—
—
—
Crossett, Stanley
D
1930–1931
21
0
0
0
10
—
—
—
—
—
Darragh, Harold
RW
1930–1931
10
1
1
2
2
—
—
—
—
—
Drury, Herbert1
D/LW
1930–1931
24
0
2
2
10
—
—
—
—
—
Fraser, Gord
D
1930–1931
5
0
0
0
22
—
—
—
—
—
Howe, Syd
F
1930–1931
44
9
11
20
20
—
—
—
—
—
HHOF-1965
Hutton, Bill
D/RW
1930–1931
21
1
1
2
4
—
—
—
—
—
Jarvis, James
W
1930–1931
43
5
7
12
30
—
—
—
—
—
Kilrea, Wally
F
1930–1931
44
8
12
20
22
—
—
—
—
—
Lowrey, Gerry
LW/C
1930–1931
42
13
14
27
27
—
—
—
—
—
Lyons, Ron
W
1930–1931
22
2
4
6
8
—
—
—
—
—
Manners, Rennison
C/RW
1930–1931
4
0
0
0
0
—
—
—
—
—
McCalmon, Eddie
RW
1930–1931
16
3
0
3
6
—
—
—
—
—
McKinnon, Johnny
D
1930–1931
39
1
1
2
46
—
—
—
—
—
Milks, Hib
LW/D/C
1930–1931
44
17
6
23
42
—
—
—
—
—
Shields, Allan
D
1930–1931
43
7
3
10
98
—
—
—
—
—
Smith, Rodger
D
1930–1931
9
0
0
0
0
—
—
—
—
—
Webster, Aubrey
RW
1930–1931
1
0
0
0
0
—
—
—
—
—
White, Wilfred
RW
1930–1931
9
3
0
3
2
—
—
—
—
—
References
Edit