List of Philadelphia Flyers team captains
Talk

0
Share
Ad blocker interference detected!
Wikia is a free-to-use site that makes money from advertising. We have a modified experience for viewers using ad blockers

Wikia is not accessible if you've made further modifications. Remove the custom ad blocker rule(s) and the page will load as expected.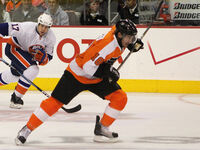 The Philadelphia Flyers are a professional ice hockey team based in Philadelphia, Pennsylvania. They are members of the Atlantic Division of the National Hockey League's (NHL) Eastern Conference. The Flyers were founded in 1967 as one of six expansion teams, increasing the size of the NHL at that time to 12 teams.[1]
Since the franchise was established, the team has had 18 team captains,[2] including Bobby Clarke, who led the Flyers to two Stanley Cups in 1974 and 1975. Clarke served the longest single stint, 7 seasons, as Flyers team captain and 9 seasons total while Eric Lindros and Dave Poulin each served 6 seasons as team captain. Claude Giroux is the current team captain.
In the NHL, each team may select a captain. Along with the two alternate captains, they have the "privilege of discussing with the referee any questions relating to interpretation of rules which may arise during the progress of a game".[3][4] Captains are required to wear the letter "C" on their uniform for identification, which is 3 inches (7.6 cm) high.[3]
Team captains
Edit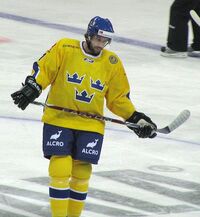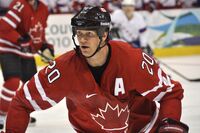 #
Captain
Position
Seasons
Reason for end of captaincy
Notes

1

Lou Angotti
Center
1 (1967–68)
Traded to the St. Louis Blues on June 11, 1968.[5]

2

Ed Van Impe
Defense
5 (1968–73)
Stepped aside in favor of Clarke in January 1973.[6]
FHOF 1993

3

Bobby Clarke
Center
7 (1973–79)
Became a playing assistant coach prior to the 1979–80 season and could not be team captain due to NHL rules.[7]
SC 1974
SC 1975
HHOF 1987
FHOF 1988

4

Mel Bridgman
Center
2 (1979–81)
Head coach Pat Quinn replaced him with Barber prior to the 1981–82 season.[8]

5

Bill Barber
Left wing
2 (1981–82)
Clarke, no longer a playing assistant coach, reassumed the captaincy from him in December 1982.[7][9]
FHOF 1989
HHOF 1990

6

Bobby Clarke
Center
2 (1982–84)
Retired to become the team's general manager on May 15, 1984.[7]
HHOF 1987
FHOF 1988

7

Dave Poulin
Center
6 (1984–89)
Stripped of captaincy in December 1989.[10][11]
FHOF 2004

8

Ron Sutter
Center
2 (1989–91)
Traded to the St. Louis Blues on September 22, 1991.[12]

9

Rick Tocchet
Right wing
1 (1991–92)
Traded to the Pittsburgh Penguins on February 19, 1992.[13]

–

No captain

–
1 (1992–93)
10
Kevin Dineen
Right wing
1 (1993–94)
Stepped aside in favor of Lindros on September 6, 1994.[14]
11
Eric Lindros
Center
6 (1994–2000)
General manager Bob Clarke stripped him of the captaincy on March 27, 2000 after he criticized the team's medical staff.[15]
12
Eric Desjardins
Defense
3 (2000–01)
Resigned captaincy on October 23, 2001.[16]
13
Keith Primeau
Center
4 (2001–06)
Retired due to post-concussion syndrome on September 14, 2006.[17]
14
Derian Hatcher
Defense
1 (2006)
He was captain on an interim basis from January 29, 2006[18] through September 2006.[19]
[A]
15
Peter Forsberg
Center
1 (2006–07)
Traded to the Nashville Predators on February 15, 2007.[20]
16
Jason Smith
Defense
1 (2007–08)
Signed with the Ottawa Senators on July 8, 2008.[21]
17
Mike Richards
Center
3 (2008–11)
Traded to the Los Angeles Kings on June 23, 2011.[22]
18
Chris Pronger
Defense
1 (2011–12)
Traded contract to Arizona Coyotes in 2014 but hasn't played since 2011 due to post concussion syndrome
19
Claude Giroux
Center
3 (2012–present)
A  Keith Primeau suffered a concussion on October 25, 2005 in a game against the Montreal Canadiens and missed the rest of the season.[17] On January 29, 2006, Hatcher was named interim team captain for the duration of Primeau's absence.[18] He is officially counted as the 14th captain in franchise history.[18]
References
Edit
General
Specific
Philadelphia Flyers

Team

History • Players • Award Winners • Records • Seasons • Draft Picks • The Spectrum • Wachovia Center
Head Coaches
Allen • Stasiuk • Shero • McCammon • Quinn • McCammon • Keenan • Holmgren • Dineen • Simpson • Murray • Cashman • Neilson • Ramsay • Barber • Hitchcock • Stevens

Division titles

1967-68, 1973-74, 1974-75, 1975-76, 1976-77, 1979-80, 1982-83, 1984-85, 1985-86, 1986-87, 1994-95, 1995-96, 1999-2000, 2001-02, 2003-04

Conference Championships

1974-75, 1975-76, 1976-77, 1979-80, 1984-85, 1986-87, 1996-97
Stanley Cups
1973-74, 1974-75

Affiliates

Philadelphia Phantoms (AHL), Wheeling Nailers (ECHL)