List of Philadelphia Flyers draft picks
Talk

0
Share
Ad blocker interference detected!
Wikia is a free-to-use site that makes money from advertising. We have a modified experience for viewers using ad blockers

Wikia is not accessible if you've made further modifications. Remove the custom ad blocker rule(s) and the page will load as expected.
This is a complete list of ice hockey players who were drafted by the Philadelphia Flyers in the National Hockey League (NHL) Amateur Draft, Entry Draft, and Supplemental Draft. It includes every player who was drafted, regardless of whether they played for the team.
As of the 2008 NHL Entry Draft, the Flyers have selected 54 goaltenders and 368 skaters (forwards and defensemen) in the Amateur, Entry, and Supplemental drafts since their first draft in 1967. As of the completion of the 2008–09 season, 161 Flyers draft picks have appeared in at least one NHL game.
The Flyers are one of the few teams to have never earned the right to draft 1st overall by means of having the worst record in the league. The only 1st overall pick the Flyers have ever used was in 1975, when the defending cup champion Flyers traded up for Mel Bridgman.
Draft picks
Edit
First round history
Edit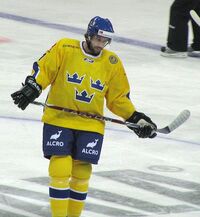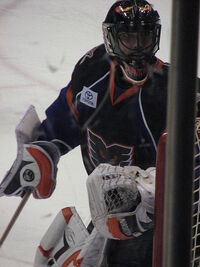 Year
Pick
Player
Position
Country
Previous team (League)
Notes
1967

5

Serge Bernier
Right wing
 Canada
Sorel Black Hawks (QJHL)
1968

8

Lew Morrison
Right wing
 Canada
Flin Flon Bombers (WCHL)
1969

6

Bob Currier

≠

Center
 Canada
Cornwall Royals (QMJHL)
1970
No Pick
[a]
1971

8

Larry Wright
Center
 Canada
Regina Pats (WCHL)
1971

9

Pierre Plante
Right wing
 Canada
Drummondville Rangers (QMJHL)
[b]
1972

7

Bill Barber

†

Left wing
 Canada
Kitchener Rangers (OHA)
1973
No Pick
[c]
1974
No Pick
[d]
1975

1*

Mel Bridgman
Center
 Canada
Victoria Cougars (WCHL)
[e]
1976
17
Mark Suzor
Defense
 Canada
Kingston Canadians (OHA)
1977
17
Kevin McCarthy
Defense
 Canada
Winnipeg Clubs (WCHL)
1978

6

Behn Wilson
Defense
 Canada
Kingston Canadians (OHA)
[f]
1978

7

Ken Linseman
Forward
 Canada
Birmingham Bulls (WHA)
[g]
1978
14
Dan Lucas
Wing
 Canada
Sault Ste. Marie Greyhounds (OHA)
1979
14
Brian Propp
Left wing
 Canada
Brandon Wheat Kings (WHL)
1980
21
Mike Stothers
Defense
 Canada
Kingston Canadians (OHA)
1981
16
Steve Smith
Defense
 Canada
Sault Ste. Marie Greyhounds (OHL)
1982

4

Ron Sutter
Center
 Canada
Lethbridge Broncos (WHL)
[h]
1983
No Pick
[i]
1984
No Pick
[j]
1985
21
Glen Seabrooke
Center
 Canada
Peterborough Petes (OHL)
1986
20
Kerry Huffman
Defense
 Canada
Guelph Platers (OHL)
1987
20
Darren Rumble
Defense
 Canada
Kitchener Rangers (OHL)
1988
14
Claude Boivin
Left wing
 Canada
Drummondville Voltigeurs (QMJHL)
1989
No Pick
[k]
1990

4

Mike Ricci
Center
 Canada
Peterborough Petes (OHL)
1991

6

Peter Forsberg
Center
 Sweden
Modo (Elitserien)
1992

7

Ryan Sittler

≠

Left wing
 Canada
Nichols High School (HS-NY)
1992
15
Jason Bowen
Defense
 Canada
Tri-City Americans (WHL)
[l]
1993
No Pick
[m]
1994
No Pick
[m]
1995
22
Brian Boucher
Goaltender
 United States
Tri-City Americans (WHL)
1996
15
Dainius Zubrus
Right wing
 Lithuania
Pembroke Lumber Kings (CJHL)
[n]
1997
No Pick
[o]
1998
22
Simon Gagné
Left wing
 Canada
Quebec Remparts (QMJHL)
1999
22
Maxime Ouellet
Goaltender
 Canada
Quebec Remparts (QMJHL)
2000
28
Justin Williams
Right wing
 Canada
Plymouth Whalers (OHL)
2001
27
Jeff Woywitka
Defense
 Canada
Red Deer Rebels (WHL)
[p]
2002

4

Joni Pitkänen
Defense
 Finland
Kärpät (SM-liiga)
[q]
2003
11
Jeff Carter
Center
 Canada
Sault Ste. Marie Greyhounds (OHL)
[r]
2003
24
Mike Richards
Center
 Canada
Kitchener Rangers (OHL)
2004
No Pick
[s]
2005
29
Steve Downie
Right wing
 Canada
Windsor Spitfires (OHL)
[t]
2006
22
Claude Giroux
Right wing
 Canada
Gatineau Olympiques (QMJHL)
2007

2

James van Riemsdyk
Left wing
 United States
U.S. National Team (NAHL)
2008
19
Luca Sbisa
Defense
 Switzerland
Lethbridge Hurricanes (WHL)
[u]
2009
No Pick
[v]
2010
No Pick
[v]
Overall selections
Edit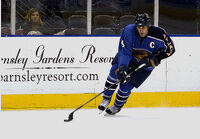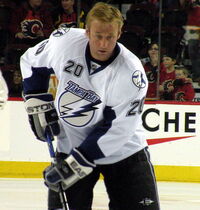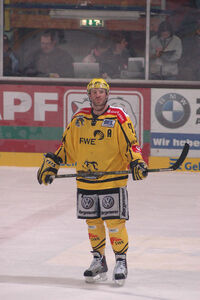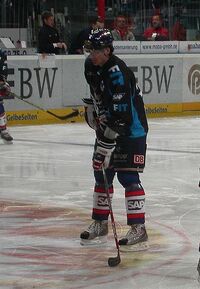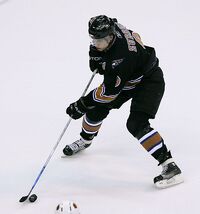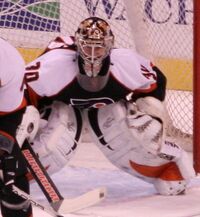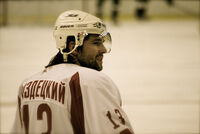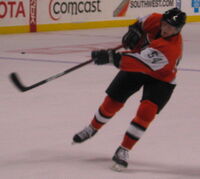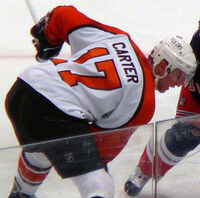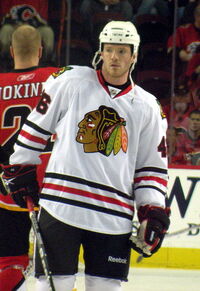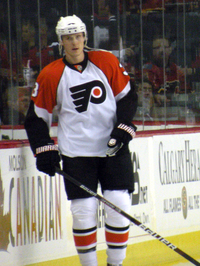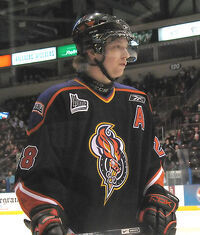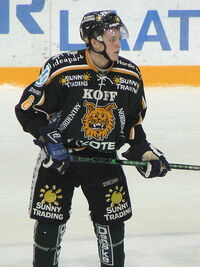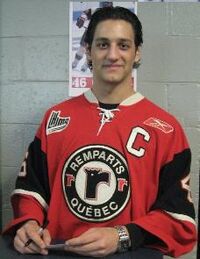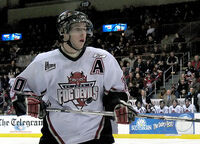 References
Edit
Philadelphia Flyers

Team

History • Players • Award Winners • Records • Seasons • Draft Picks • The Spectrum • Wachovia Center
Head Coaches
Allen • Stasiuk • Shero • McCammon • Quinn • McCammon • Keenan • Holmgren • Dineen • Simpson • Murray • Cashman • Neilson • Ramsay • Barber • Hitchcock • Stevens

Division titles

1967-68, 1973-74, 1974-75, 1975-76, 1976-77, 1979-80, 1982-83, 1984-85, 1985-86, 1986-87, 1994-95, 1995-96, 1999-2000, 2001-02, 2003-04

Conference Championships

1974-75, 1975-76, 1976-77, 1979-80, 1984-85, 1986-87, 1996-97
Stanley Cups
1973-74, 1974-75

Affiliates

Philadelphia Phantoms (AHL), Wheeling Nailers (ECHL)