Ad blocker interference detected!
Wikia is a free-to-use site that makes money from advertising. We have a modified experience for viewers using ad blockers

Wikia is not accessible if you've made further modifications. Remove the custom ad blocker rule(s) and the page will load as expected.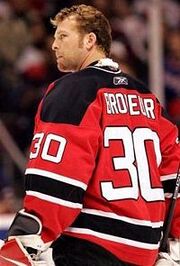 The New Jersey Devils are a professional ice hockey team based in Newark, New Jersey, United States. They are members of the Atlantic Division of the National Hockey League's (NHL) Eastern Conference. The Devils franchise has been a part of the NHL since 1974, when the team entered the league as the Kansas City Scouts. Two years later, they moved to Denver, Colorado and became the Colorado Rockies. The team stayed there until 1982, when they moved to New Jersey.
282 players have played on the team; 15 players have had multiple stints. The Devils have won the Stanley Cup three times with a total of 54 different players. Five players (Martin Brodeur, Sergei Brylin, Ken Daneyko, Scott Niedermayer, and Scott Stevens) have been a part of all three Cup wins, and eleven more have won two. Of the 282 players, Ken Daneyko has played the most games with the team, playing all 1283 games of his NHL career in New Jersey. On the other end of the spectrum, nine players have played just one regular season game on the team; Steve Brule's only appearance with New Jersey came in the 2000 Stanley Cup Playoffs. The Devils have had eight captains; Jamie Langenbrunner has held the captaincy since December 5, 2007. The Devils have retired two jersey numbers, #3 for career Devil Ken Daneyko and #4 for longtime captain Scott Stevens. Three Devils are enshrined in the Hockey Hall of Fame: Viacheslav Fetisov, Peter Stastny, and Stevens.
Patrik Elias is the franchise's all-time leading scorer, surpassing former teammate and current assistant coach John MacLean on March 17, 2009 with his 702nd point. MacLean still holds the franchise record for goals, however, with 347. Martin Brodeur holds nearly every team record for goaltenders, having been the team's starting goaltender since the 1994–95 NHL season. In addition to his team records, he is the winningest goaltender in NHL history, notching his 552nd win on March 17, 2009 to pass his childhood idol Patrick Roy.
This list does not include data from the Kansas City Scouts and the Colorado Rockies. The seasons column lists the first year of the season of the player's first game and the last year of the season of the player's last game. All the players that were part of a Stanley Cup winning roster have a blue background on their row.

  †  Won a Stanley Cup with the Devils

Statistics are complete to the end of the 2008–09 NHL season.
Goaltenders
Edit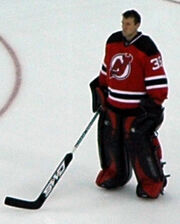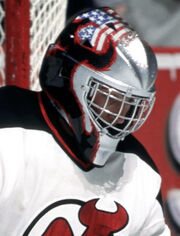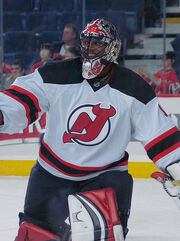 Nat
Seasons
Regular season
Playoffs
Notes
GP
W
L
T
OTL
SO
GAA
SV%
GP
W
L
SO
GAA
SV%
Billington, Craig
1985–1989
1991–1993
111
43
46
8
—
4
3.98
.866
2
0
1
0
3.85
.872
Brodeur, Martin†
1991–2009
999
557
299
105
23
101
2.21
.914
176
98
78
23
1.98
.920
SC – 1995, 2000, 2003
Burke, Sean
1987–1991
162
62
66
23
—
4
3.65
.876
19
9
10
1
3.47
.886
Chevrier, Alain
1985–1988
140
53
63
7
—
1
4.17
.866
—
—
—
—
—
—
Clemmensen, Scott
2001–2007
2008–2009
65
32
19
0
5
4
2.54
.910
1
0
0
0
0.00
1.00
Damphousse, Jean-Francois
2001–2002
6
1
3
0
—
0
2.45
.896
—
—
—
—
—
—
Dunham, Mike
1996–1998
41
13
12
4
—
3
2.42
.909
—
—
—
—
—
—
Erickson, Chad
1991–1992
2
1
1
0
—
0
4.50
.836
—
—
—
—
—
—
Friesen, Karl
1986–1987
4
0
2
1
—
0
7.38
.800
—
—
—
—
—
—
Kamppuri, Hannu
1984–1985
13
1
10
1
—
0
5.02
.846
—
—
—
—
—
—
Low, Ron
1982–1985
81
16
43
0
—
1
4.15
.872
—
—
—
—
—
—
MacKenzie, Shawn
1982–1983
4
0
1
0
—
0
6.92
.779
—
—
—
—
—
—
McLean, Kirk
1985–1987
6
2
2
0
—
0
4.65
.841
—
—
—
—
—
—
Melanson, Roland
1990–1991
1
0
0
0
—
0
6.00
.714
—
—
—
—
—
—
Middlebrook, Lindsay
1982–1983
9
0
6
1
—
0
5.39
.832
—
—
—
—
—
—
Reese, Jeff
1996–1997
3
0
2
0
—
0
5.61
.800
—
—
—
—
—
—
Resch, Glenn
1982–1986
198
49
113
20
—
1
4.12
.867
—
—
—
—
—
—
Sauve, Bob
1987–1989
49
14
21
4
—
0
3.88
.859
5
2
1
0
3.61
.890
Schwab, Corey†
1995–1996
2002–2004
24
7
6
2
—
2
1.54
.929
2
0
0
0
0.00
1.00
SC – 2003
Shulmistra, Richard
1997–1998
1
0
1
0
—
0
1.94
.933
—
—
—
—
—
—
Sidorkiewicz, Peter
1993–1994
1997–1998
4
0
3
0
—
0
2.80
.889
—
—
—
—
—
—
St. Laurent, Sam
1985–1986
4
2
1
0
—
1
4.15
.883
—
—
—
—
—
—
Terreri, Chris†
1986–1996
1998–2001
302
118
111
31
—
7
3.07
.892
27
12
12
0
3.37
.890
SC – 1995, 2000
Vanbiesbrouck, John
2000–2002
9
6
3
0
—
1
1.78
.924
—
—
—
—
—
—
Weekes, Kevin
2007–2009
25
9
7
—
1
0
2.58
.912
—
—
—
—
—
—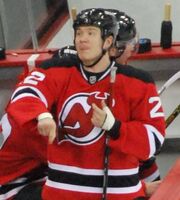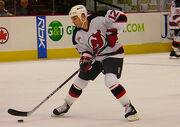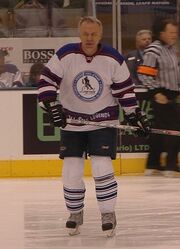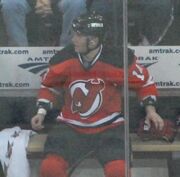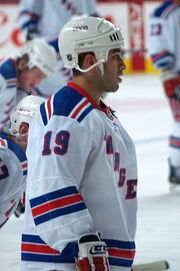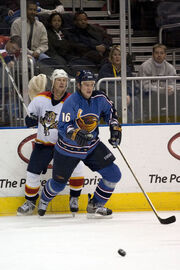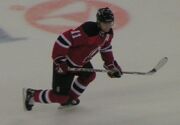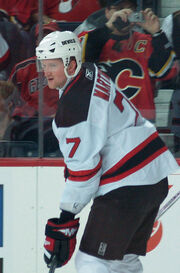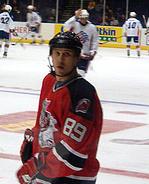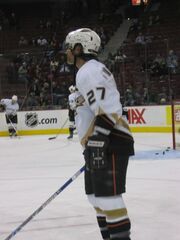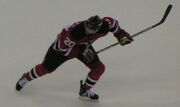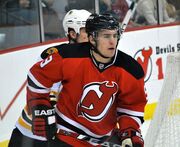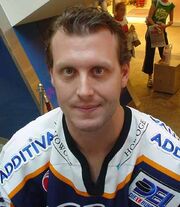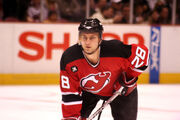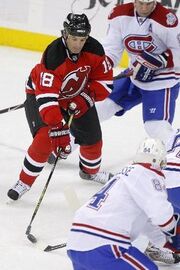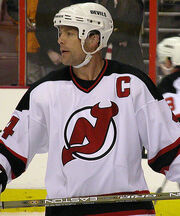 Nat
Pos
Seasons
Regular season
Playoffs
Notes
GP
G
A
Pts
PIM
GP
G
A
Pts
PIM
<span id="A"/>Adams, Gus
LW
1984–1987
186
67
78
145
63
—
—
—
—
—
Albelin, Tommy†
D
1988–1996
2001–2006
539
27
125
152
251
77
7
15
22
22
SC – 1995, 2003
Anderson, Perry
LW
1985–1991
208
24
33
57
551
14
0
1
1
123
Andreychuk, Dave
LW
1995–1999
224
64
86
150
104
11
3
0
3
8
Antonovich, Mike
C
1982–1984
68
10
12
22
27
—
—
—
—
—
Arnott, Jason†
C
1997–2002
302
97
124
221
285
58
18
23
41
38
SC – 2000
Asham, Arron
RW
2007–2008
77
6
4
10
84
5
0
1
1
2
Ashton, Brent
LW
1982–1983
76
14
19
33
47
—
—
—
—
—
<span id="B"/>Barr, Dave
RW
1991–1993
103
12
20
32
93
5
1
0
1
6
Berglund, Christian
C
2001–2004
76
8
15
23
32
—
—
—
—
—
Bergfors, Nicklas
RW
2007–2009
9
1
0
1
0
—
—
—
—
—
Bertrand, Eric
LW
1999–2000
4
0
0
0
0
—
—
—
—
—
Bicek, Jiri†
RW
2000–2004
62
6
7
13
29
7
0
0
0
0
SC – 2003
Blomqvist, Timo
D
1986–1987
20
0
2
2
29
—
—
—
—
—
Bodger, Doug
D
1997–1998
49
5
5
10
25
5
0
0
0
0
Bombardir, Brad†
D
1997–2000
131
5
13
18
30
6
0
0
0
0
SC – 2000
Boschman, Laurie
C
1990–1992
153
19
29
48
200
14
2
1
3
24
Bouchard, Joel
D
2001–2002
1
0
1
1
0
—
—
—
—
—
Boumedienne, Josef
D
2001–2002
1
1
0
1
2
—
—
—
—
—
Brady, Neil
C
1989–1992
29
2
4
6
17
—
—
—
—
—
Brickley, Andy
LW/C
1986–1988
96
19
26
45
22
4
0
1
1
4
Bridgman, Mel
C
1983–1987
288
76
148
224
386
—
—
—
—
—
Captain – 1984–87
Brookbank, Sheldon
D
2007–2009
59
0
8
8
88
—
—
—
—
—
Brooke, Bob
C
1989–1990
35
8
10
18
30
5
0
0
0
14
Brooks, Alex
D
2006–2007
19
0
1
1
4
—
—
—
—
—
Broten, Aaron
LW/C
1982–1990
581
147
283
430
361
20
5
11
16
20
Broten, Neal†
C
1994–1997
88
15
37
52
34
20
7
12
19
6
SC – 1995
Brown, Doug
RW
1986–1993
350
68
80
148
84
32
7
4
11
10
Brown, Sean
D
2003–2006
74
1
14
15
71
1
0
0
0
2
Brule, Steve†
RW
1999–2000
—
—
—
—
—
1
0
0
0
0
SC – 2000
Brumwell, Murray
D
1982–1988
106
12
28
40
52
—
—
—
—
—
Brylin, Sergei†
C
1994–2008
765
129
179
292
308
109
15
19
34
32
SC – 1995, 2000, 2003
<span id="C"/>Cameron, Dave
C
1982–1984
102
14
16
30
135
—
—
—
—
—
Carlsson, Anders
C
1986–1989
104
7
26
33
34
3
1
0
1
2
Carpenter, Bobby†
C
1993–1999
353
35
71
106
156
60
4
13
17
40
SC – 1995
Chambers, Shawn†
D
1994–1997
158
8
43
51
43
30
5
11
16
8
SC – 1995
Chernomaz, Rich
RW
1983–1987
35
8
7
15
12
—
—
—
—
—
Chorske, Tom†
LW
1991–1995
244
57
57
114
105
45
5
11
16
8
SC – 1995
Christian, Jeff
LW
1991–1992
2
0
0
0
2
—
—
—
—
—
Cichocki, Chris
RW
1987–1989
7
1
1
2
4
—
—
—
—
—
Ciger, Zdeno
LW
1990–1993
92
18
30
48
20
13
2
6
8
4
Cirella, Joe
D
1982–1989
438
43
147
190
888
19
0
7
7
49
Clarke, Noah
LW
2007–2008
1
1
0
1
0
—
—
—
—
—
Clarkson, David
RW
2006–2009
170
29
29
58
353
15
2
0
2
25
Cole, Danton†
C/RW
1994–1995
12
1
2
3
8
1
0
0
0
0
SC – 1995
Commodore, Mike
D
2000–2002
57
1
5
6
44
—
—
—
—
—
Conacher, Pat
LW
1985–1992
193
24
29
53
75
36
4
5
9
30
Corkum, Bob
C
2000–2001
17
3
1
4
4
12
1
2
3
0
Crowder, Troy
RW
1987–1991
69
6
3
9
205
3
0
0
0
22
<span id="D"/>Dagenais, Pierre
RW
2000–2002
25
6
5
11
10
—
—
—
—
—
Daneyko, Ken†
D
1983–2003
1283
36
142
178
2516
175
5
17
22
296
SC – 1995, 2000, 2003; #3 Ret.
Daniels, Scott
LW
1997–1999
27
0
3
3
102
1
0
0
0
0
Danton, Mike
C
2000–2003
19
2
0
2
41
—
—
—
—
—
Darby, Craig
C
2002–2004
5
0
1
1
0
—
—
—
—
—
Davis, Patrick
RW
2008–2009
1
0
0
0
0
—
—
—
—
—
Dean, Kevin†
D
1994–1999
198
4
29
33
72
16
2
2
4
2
SC – 1995
Dietrich, Don
D
1985–1986
11
0
2
2
10
—
—
—
—
—
Dorion, Dan
RW
1985–1988
4
1
1
2
2
—
—
—
—
—
Dowd, Jim†
C
1991–1996
2006–2007
121
14
27
41
37
41
4
7
11
20
SC – 1995
Driver, Bruce†
D
1983–1995
702
83
316
399
534
82
10
32
42
58
SC – 1995; Captain – 1991–92
<span id="E"/>Elias, Patrik†
C/LW
1995–2009
822
295
411
706
403
133
40
73
113
77
SC – 2000, 2003; Captain – 2006–07
Ellett, Dave
D
1996–1997
20
2
5
7
6
10
0
3
3
10
Emma, David
RW
1992–1995
23
5
6
11
2
—
—
—
—
—
<span id="F"/>Fahey, Jim
D
2006–2007
3
0
1
1
2
—
—
—
—
—
Fetisov, Viacheslav
D
1989–1995
341
19
111
130
410
38
1
7
8
45
HHOF – 2001
Floyd, Larry
RW
1982–1984
12
2
3
5
9
—
—
—
—
—
Foster, Corey
D
1988–1989
2
0
0
0
0
—
—
—
—
—
Foster, Dwight
RW
1982–1983
4
0
0
0
2
—
—
—
—
—
Fraser, Mark
D
2006–2007
7
0
0
0
7
—
—
—
—
—
Friesen, Jeff†
LW
2002–2004
162
40
48
88
52
29
10
4
14
10
SC – 2003
<span id="G"/>Gagne, Paul
LW
1982–1986
245
71
71
142
88
—
—
—
—
—
Gardiner, Bruce
RW
2001–2002
7
2
1
3
2
—
—
—
—
—
Gilmour, Doug
C
1996–1998
83
20
55
75
90
16
5
6
11
18
Gionta, Brian†
RW
2001–2009
473
152
160
312
227
67
19
21
40
18
SC – 2003
Giroux, Ray
D
2002–2004
22
0
4
4
10
4
0
0
0
0
Goc, Sascha
D
2000–2002
13
0
0
0
4
—
—
—
—
—
Gomez, Scott†
C
1999–2007
548
116
334
450
362
97
21
44
65
50
SC – 2000, 2003
Greene, Andy
D
2006–2009
131
5
20
25
50
16
2
2
4
2
Gron, Stanislav
RW
2000–2001
1
0
0
0
0
—
—
—
—
—
Guerin, Bill†
RW
1991–1998
380
108
106
214
469
56
11
11
22
91
SC – 1995
Guolla, Steve
C
2002–2003
12
2
0
2
2
—
—
—
—
—
<span id="H"/>Hale, David
D
2003–2007
146
0
9
9
119
9
0
2
2
12
Halischuk, Matt
RW
2008–2009
1
0
1
1
0
—
—
—
—
—
Hankinson, Ben
RW
1992–1995
25
3
1
4
39
—
—
—
—
—
Havelid, Niclas
D
2008–2009
15
0
4
4
6
7
0
1
1
2
Hepple, Alan
D
1983–1986
3
0
0
0
7
—
—
—
—
—
Hiemer, Uli
D
1984–1987
143
19
54
73
176
—
—
—
—
—
Higgins, Tim
RW
1983–1986
167
46
56
102
104
—
—
—
—
—
Hoffmeyer, Bob
D
1983–1985
95
5
18
23
126
—
—
—
—
—
Holik, Bobby†
C
1992–2002
2008–2009
786
202
270
472
863
124
20
37
57
107
SC – 1995, 2000
Housley, Phil
D
1995–1996
22
1
15
16
8
—
—
—
—
—
Howatt, Garry
LW
1982–1984
44
1
4
5
128
—
—
—
—
—
Hrdina, Jan
C
2003–2004
13
1
6
7
10
5
2
0
2
2
Hulse, Cale
D
1995–1996
8
0
0
0
15
—
—
—
—
—
Huscroft, Jamie
D
1988–1991
65
2
5
7
227
8
0
0
0
22
Hutchison, Dave
D
1982–1983
32
1
4
5
102
—
—
—
—
—
<span id="J"/>Janssen, Cam
RW
2005–2008
95
1
0
1
205
9
0
0
0
26
Johannson, John
C
1983–1984
5
0
0
0
0
—
—
—
—
—
Johnson, Mark
C
1985–1990
305
89
140
229
88
20
10
8
18
4
<span id="K"/>Kamensky, Valeri
LW
2001–2002
30
4
8
12
18
2
0
0
0
0
Kasatonov, Alexei
D
1989–1993
257
31
88
119
219
24
2
7
9
36
Kelly, Steve†
C
1999–2001
25
2
2
4
21
10
0
0
0
4
SC – 2000
Kitchen, Mike
D
1982–1984
120
5
12
17
76
—
—
—
—
—
Klee, Ken
D
2005–2006
18
0
0
0
14
6
1
0
1
6
Korn, Jim
D/LW
1987–1990
154
25
32
57
451
9
0
2
2
71
Kozlov, Viktor
C
2003–2006
80
14
17
31
18
5
0
0
0
0
Kroupa, Vlastimil
D
1997–1998
2
0
1
1
0
—
—
—
—
—
Kurvers, Tom
D
1987–1990
131
21
79
100
84
19
6
9
15
38
<span id="L"/>LaCouture, Dan
LW
2006–2007
6
0
0
0
7
—
—
—
—
—
Lakovic, Sasha
RW
1997–1999
18
0
3
3
64
—
—
—
—
—
Langdon, Darren
LW
2005–2006
14
0
1
1
22
—
—
—
—
—
Langenbrunner, Jamie†
RW
2001–2009
452
119
191
310
355
63
18
31
49
55
SC – 2003; Captain – 2007–09
Larionov, Igor
C
2003–2004
49
1
10
11
20
1
0
0
0
0
Larmer, Jeff
LW
1982–1984
105
27
37
64
29
—
—
—
—
—
Leach, Jay
D
2008–09
24
0
1
1
21
—
—
—
—
—
Lemieux, Claude†
RW
1990–1995
1999–2000
423
142
155
297
627
93
35
26
61
209
SC – 1995, 2000
Lemieux, Jocelyn
LW
1995–1996
18
0
1
1
4
—
—
—
—
—
Lenardon, Tim
C
1986–1987
7
1
1
2
0
—
—
—
—
—
Letorneau-Leblond, Pierre-Luc
LW
2008–2009
8
0
1
1
22
—
—
—
—
—
Lever, Don
LW
1982–1985
216
47
57
104
143
—
—
—
—
—
Captain – 1982–84
Levo, Tapio
D
1982–1983
73
7
40
47
22
—
—
—
—
—
Lewis, Dave
D
1983–1986
209
5
29
34
222
—
—
—
—
—
Loiselle, Claude
C
1986–1989
217
40
56
96
467
20
4
6
10
52
Lorimer, Bob
D
1982–1986
230
9
28
37
191
—
—
—
—
—
Ludvig, Jan
RW
1982–1987
288
53
79
132
314
—
—
—
—
—
Lukowich, Brad
D
2005–2007
93
5
15
20
44
20
0
1
1
6
<span id="M"/>MacLean, John†
C
1983–1998
934
347
354
701
1173
88
31
44
75
142
SC – 1995
MacMillan, Bob
RW
1982–1984
142
36
52
88
31
—
—
—
—
—
Madden, John†
C
1998–2009
712
140
157
297
193
112
20
21
41
24
SC – 2000, 2003
Madill, Jeff
RW
1990–1991
14
4
0
4
46
7
0
2
2
8
Malakhov, Vladimir†
D
1999–2000
2005–2006
46
5
9
14
45
23
1
4
5
18
SC – 2000
Maley, David
LW
1987–1992
280
32
50
82
683
26
3
1
4
105
Malinowski, Merlin
C
1982–1983
5
3
2
5
0
—
—
—
—
—
Malmivaara, Olli
D
2007–2008
2
0
0
0
0
—
—
—
—
—
Mallette, Troy
LW
1991–1993
51
7
7
14
99
—
—
—
—
—
Marcinyshyn, Dave
D
1990–1991
9
0
0
0
21
—
—
—
—
—
Marini, Hector
RW
1982–1984
109
19
30
49
152
—
—
—
—
—
Mark, Gord
D
1986–1988
55
3
7
10
109
—
—
—
—
—
Marshall, Grant†
RW
2002–2006
151
17
27
44
144
31
6
3
9
16
SC – 2003
Martin, Paul
D
2003–2009
378
24
128
152
112
37
2
14
16
18
Matvichuk, Richard
D
2005–2007
63
1
10
11
40
16
0
0
0
14
Maxwell, Kevin
C
1983–1984
14
0
3
3
2
—
—
—
—
—
McAdam, Gary
LW
1983–1985
42
10
7
17
15
—
—
—
—
—
McAlpine, Chris
D
1994–1995
24
0
3
3
17
—
—
—
—
—
SC – 1995
McGillis, Dan
D
2005–2006
27
0
6
6
36
—
—
—
—
—
McKay, Randy†
RW
1991–2002
760
151
171
322
1418
116
20
22
42
80
SC – 1995, 2000
McKenzie, Jim†
LW
2000–2003
196
9
15
24
330
22
0
0
0
18
SC – 2003
McNab, Peter
C
1985–1987
117
27
36
63
22
—
—
—
—
—
McPhee, George
LW
1987–1989
6
3
1
4
10
—
—
—
—
—
Meagher, Rick
C
1982–1985
180
40
48
88
49
—
—
—
—
—
Merkosky, Glenn
C
1982–1984
39
5
10
15
20
—
—
—
—
—
Millen, Corey
C
1993–1995
95
22
33
55
60
7
1
0
1
2
Miller, Jason
C
1990–1993
6
0
0
0
0
—
—
—
—
—
Mitchell, Willie
D
1999–2001
18
0
2
2
29
—
—
—
—
—
Modry, Jaroslav
D
1993–1995
52
2
15
17
18
—
—
—
—
—
Mogilny, Alexander†
RW
1999–2001
2005–2006
121
58
56
114
53
48
9
14
23
12
SC – 2000
Moher, Mike
RW
1982–1983
9
0
1
1
28
—
—
—
—
—
Morris, Jon
C
1988–1993
86
16
30
46
41
11
1
7
8
25
Morrison, Brendan
C
1997–2000
131
23
58
81
26
10
0
3
3
0
Mottau, Mike
D
2007–2009
156
5
27
32
83
12
2
1
3
0
Muir, Bryan
D
1998–1999
1
0
0
0
0
—
—
—
—
—
Muller, Kirk
LW
1984–1991
556
185
335
520
572
33
5
13
18
58
Captain – 1987–91
Mulvey, Grant
RW
1983–1984
12
1
2
3
19
—
—
—
—
—
<span id="N"/>Nemchinov, Sergei†
C
1998–2002
196
27
43
70
50
53
4
5
9
6
SC – 2000
Nicholls, Bernie
C
1992–1994
84
24
42
66
126
21
4
9
13
34
Niedermayer, Scott†
D
1991–2004
892
112
364
476
478
146
17
47
64
100
SC – 1995, 2000, 2003; Captain – 2004
Nieuwendyk, Joe†
C
2001–2003
94
19
37
56
60
22
3
7
10
4
SC – 2003
Norwood, Lee
D
1990–1991
28
3
2
5
87
4
0
0
0
18
<span id="O"/>O'Callahan, Jack
D
1987–1989
86
12
40
52
148
5
1
3
4
6
O'Connor, Myles
D
1990–1993
38
3
3
6
63
—
—
—
—
—
O'Donnell, Sean
D
2000–2001
17
0
1
1
33
23
1
2
3
41
Odelein, Lyle
D
1996–2000
285
13
73
86
499
23
3
6
9
50
Oduya, Johnny
D
2006–2009
233
15
51
66
137
18
0
2
2
14
Ojanen, Janne
C
1988–1993
98
21
23
44
28
3
0
2
2
0
Oliwa, Kryzysztof†
LW
1996–2000
2005–2006
210
13
20
33
724
6
0
0
0
25
SC – 2000
<span id="P"/>Palmer, Rob
D
1982–1984
98
1
15
16
31
—
—
—
—
—
Pandolfo, Jay†
LW
1996–2009
767
95
119
214
148
131
11
22
33
12
SC – 2000, 2003
Parise, Zach
LW
2005–2009
326
122
131
253
107
32
12
12
24
14
Pederson, Denis
C/RW
1995–2000
271
44
49
93
241
18
1
1
3
4
Pellerin, Scott
LW
1992–1996
52
12
12
24
43
—
—
—
—
—
Pelley, Rod
C
2006–2008
67
2
4
6
19
—
—
—
—
—
Peluso, Mike†
D
1993–1997
192
9
35
44
619
37
2
2
4
66
SC – 1995
Persson, Ricard
D
1995–1997
13
2
1
3
8
—
—
—
—
—
Pichette, Dave
D
1984–1986
104
24
52
76
63
—
—
—
—
—
Pierce, Randy
RW
1982–1983
3
0
0
10
0
—
—
—
—
—
Pihlman, Tuomas
LW
2003–2007
15
1
1
1
12
—
—
—
—
—
Poddubny, Walt
LW
1982–1992
54
9
18
27
44
—
—
—
—
—
Porvari, Jukka
RW
1982–1983
8
1
3
4
4
—
—
—
—
—
Preston, Rich
RW
1984–1986
151
31
37
68
91
—
—
—
—
—
<span id="Q"/>Quenneville, Joel
D
1982–1983
74
5
12
17
46
—
—
—
—
—
Quint, Deron
D
1999–2000
4
1
0
1
2
—
—
—
—
—
<span id="R"/>Rachunek, Karel
D
2007–2008
47
4
9
13
40
—
—
—
—
—
Rafalski, Brian†
D
1997–2007
541
44
267
311
180
102
17
43
60
37
SC – 2000, 2003
Rasmussen, Erik
C
2003–2007
207
15
18
33
98
25
0
2
2
24
Rheaume, Pascal†
C
1996–1997
2002–2003
35
5
1
6
12
24
1
2
3
13
SC – 2003
Richer, Stephane†
RW
1991–1996
2001–2002
360
147
136
283
125
54
16
24
40
10
SC – 1995
Richmond, Steve
D
1986–1987
44
1
7
8
143
—
—
—
—
—
Rolston, Brian†
C/RW
1994–2000
2008–2009
412
96
114
210
105
36
9
3
9
14
SC – 1995
Rooney, Steve
LW
1988–1989
25
3
1
4
79
—
—
—
—
—
Ruotsalainen, Reijo
D
1989–1990
31
2
5
7
14
—
—
—
—
—
Rupp, Michael†
RW
2002–2004
2006–2009
289
23
23
46
348
25
1
5
6
23
SC – 2003
Russell, Phil
D
1983–1986
172
15
41
56
257
—
—
—
—
—
Ryznar, Jason
LW
2005–2006
8
0
0
0
2
—
—
—
—
—
Salmela, Anssi
D
2008–2009
17
0
3
3
6
—
—
—
—
—
<span id="S"/>Salomonsson, Andreas
RW
2001–2002
39
4
5
9
22
4
0
1
1
0
Salvador, Bryce
D
2007–2009
84
3
13
16
78
9
1
0
1
6
Semak, Alexander
C
1991–1995
180
56
71
127
105
6
1
1
2
0
Shanahan, Brendan
LW
1987–1991
2008–2009
315
94
134
228
553
32
9
11
20
78
Sharifijanov, Vadim
LW
1996–2000
74
14
20
34
36
4
0
0
0
0
Simpson, Reid
LW
1994–1998
65
1
9
10
182
5
0
0
0
29
Skalde, Jarrod
C
1990–1993
27
2
7
9
8
—
—
—
—
—
Skrlac, Rob
RW
2003–2004
8
1
0
1
22
—
—
—
—
—
Smehlik, Richard†
D
2002–2003
82
6
7
13
70
5
0
0
0
2
SC – 2003
Smith, Jason
D
1993–1997
164
3
8
11
167
6
0
0
0
7
Souray, Sheldon
D
1997–2000
182
4
22
26
265
5
0
0
0
2
Starikov, Sergei
D
1989–1990
16
0
1
1
8
—
—
—
—
—
Stastny, Peter
C
1989–1993
217
64
109
173
133
25
9
15
24
27
HHOF – 1998
Stevens, Scott†
D
1991–2004
956
93
337
430
1007
133
17
45
62
186
SC – 1995, 2000, 2003;
Captain – 1992-2004;
HHOF – 2007; #4 Ret.
Stevenson, Turner†
RW
2000–2004
228
29
46
75
313
43
2
4
6
50
SC – 2003
Stewart, Alan
LW
1985–1992
60
6
4
10
226
—
—
—
—
—
Suglobov, Aleksander
RW
2003–2006
2
1
0
1
0
—
—
—
—
—
Sulliman, Doug
RW
1984–1988
267
86
78
164
60
9
0
3
3
2
Sullivan, Brian
RW
1992–1993
2
0
1
1
0
—
—
—
—
—
Sullivan, Steve
RW
1995–1997
49
13
18
31
22
—
—
—
—
—
Sundstrom, Patrik
C
1987–1992
305
86
160
246
168
26
8
16
24
16
Sundstrom, Peter
LW
1989–1990
21
1
2
3
4
—
—
—
—
—
Sutton, Ken†
D
1997–2001
77
2
9
11
45
6
0
0
0
13
SC – 2000
Sykora, Petr†
RW
1995–2002
445
145
205
350
182
57
22
24
46
28
SC – 2000
<span id="T"/>Tallackson, Barry
RW
2005–2009
20
1
1
2
2
—
—
—
—
—
Tambellini, Steve
C
1982–1983
73
25
18
43
14
—
—
—
—
—
Thomas, Steve
LW
1995–1998
193
55
64
119
176
16
1
4
5
20
Thomson, Jim
RW
1989–1990
3
0
0
0
31
—
—
—
—
—
Tikkanen, Esa
LW
1995–1996
9
0
2
2
4
—
—
—
—
—
Todd, Kevin
C
1988–1993
112
26
47
73
85
8
3
2
5
14
Trottier, Rocky
RW
1983–1985
38
6
4
10
2
—
—
—
—
—
Turgeon, Sylvain
LW
1989–1990
72
30
17
47
81
1
0
0
0
0
Tverdovsky, Oleg†
D
2002–2003
50
5
8
13
22
15
0
3
3
0
SC – 2003
<span id="V"/>Vadnais, Carol
D
1982–1983
51
2
7
9
64
—
—
—
—
—
Vautour, Yvon
RW
1982–1984
94
7
11
18
214
—
—
—
—
—
Velischek, Randy
D
1985–1990
304
11
52
63
301
25
0
2
2
24
Verbeek, Pat
RW
1982–1989
463
170
151
321
943
20
4
8
12
51
Vilgrain, Claude
RW
1989–1993
81
20
31
51
78
11
1
1
2
17
Vishnevski, Vitaly
D
2007–2008
69
2
5
7
50
3
0
0
0
2
Vrana, Petr
LW
2008–2009
16
1
0
1
2
—
—
—
—
—
<span id="W"/>Ward, Ed
RW
2000–2001
4
0
1
1
6
—
—
—
—
—
Weinrich, Eric
D
1988–1992
173
13
66
79
114
20
2
7
9
27
Wensink, John
LW
1982–1983
42
2
7
9
135
—
—
—
—
—
White, Colin†
D
1999–2009
593
18
89
107
754
106
1
14
15
117
SC – 2000, 2003
Wiemer, Jason
LW
2005–2006
16
1
0
1
38
8
0
0
0
16
Wilson, Mitch
C
1984–1985
9
0
2
2
21
—
—
—
—
—
Wolanin, Craig
D
1984–1990
283
16
62
78
469
18
2
5
7
51
<span id="Y"/>Ysebaert, Paul
C
1989–1991
21
5
9
14
6
—
—
—
—
—
Zajac, Travis
C
2006–2009
244
51
87
138
76
23
2
8
10
14
<span id="Z"/>Zelepukin, Valeri†
LW
1991–1998
375
85
133
218
349
50
10
9
19
30
SC – 1995
Zezel, Peter
C
1996–1998
25
0
6
6
4
2
0
0
0
10
Zubrus, Dainius
C
2007–2009
164
28
50
78
107
12
0
2
2
18
Zyuzin, Andrei
D
2001–2003
39
1
3
4
27
—
—
—
—
—
References
Edit
General