Ad blocker interference detected!
Wikia is a free-to-use site that makes money from advertising. We have a modified experience for viewers using ad blockers

Wikia is not accessible if you've made further modifications. Remove the custom ad blocker rule(s) and the page will load as expected.
This is a list of players who have played at least one game for the Nashville Predators (1998–99 - present) of the National Hockey League.
The "Seasons" column lists the first year of the season of the player's first game and the last year of the season of the player's last game. For example, a player who played one game in the 2000–01 NHL season would be listed as playing with the team from 2000–2001, regardless of what calendar year the game occurred within.
  †  Appeared in a Predators game during the 2008–09 NHL season

  *  Retired jersey or elected to the Hockey Hall of Fame
Abbreviations

| | |
| --- | --- |
| Nat | Nationality |
| GP | Games played |
| Ret | Retired jersey |
| HHOF | Hockey Hall of Fame member |
Goaltenders
Edit
Nat
Seasons
Regular season
Playoffs
Notes
GP
W
L
T1
OTL1
SO
GAA
SV%
GP
W
L
SO
GAA
SV%
Dunham, Mike
1998–2003
217
81
104
24
—
14
2.72
.910
—
—
—
—
—
—
Ellis, Dan †
2007–2009
44
23
10
—
3
6
2.34
.924
6
2
4
0
2.52
.938
Fichaud, Eric
1998–1999
9
0
6
0
—
0
3.22
.895
—
—
—
—
—
—
Finley, Brian
2002–2003
2005–2006
2
0
1
0
0
0
5.61
.815
—
—
—
—
—
—
Flaherty, Wade
2002–2003
1
0
1
0
—
0
4.71
.852
—
—
—
—
—
—
Lasak, Jan
2001–2003
6
0
4
0
—
0
4.04
.874
—
—
—
—
—
—
Leighton, Michael
2006–2007
1
0
0
—
0
0
6.32
.800
—
—
—
—
—
—
Mason, Chris
1998–1999
2000–2001
2003–2008
135
58
43
1
11
12
2.61
.913
5
1
4
0
3.45
.901
Rinne, Pekka †
2005–2009
3
1
1
—
0
0
2.61
.917
—
—
—
—
—
—
Vokoun, Tomas
1998–2007
383
161
159
35
11
21
2.54
.913
11
3
8
1
2.50
.922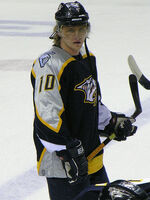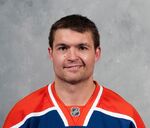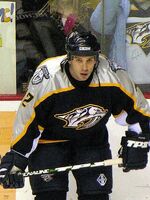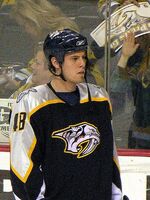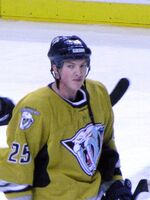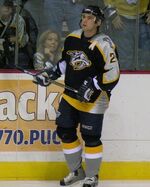 Nat
Pos
Seasons
Regular season
Playoffs
Notes
GP
G
A
P
PIM
GP
G
A
P
PIM
<span id="A"/>Abid, Ramzi
LW
2006–2007
13
1
4
5
13
2
0
0
0
0
Allison, Jamie
D
2003–2006
67
0
4
4
121
—
—
—
—
—
Andersson, Jonas
RW
2001–2002
5
0
0
0
2
—
—
—
—
—
Andersson, Niklas
LW
1999–2000
7
0
1
1
0
—
—
—
—
—
Arkhipov, Denis
C
2000–2004
273
46
65
111
74
—
—
—
—
—
Arnott, Jason †
C
2006–2009
147
55
71
126
102
9
3
1
4
6
Captain, 2007–present
Atcheynum, Blair
RW
1998–1999
53
8
6
14
16
—
—
—
—
—
<span id="B"/>Beech, Kris
C
2005–2006
5
1
2
3
0
—
—
—
—
—
Belak, Wade †
RW
2008–2009
Made Predators debut during 2008–09 NHL season
Berehowsky, Drake
D
1998–2001
219
20
53
73
327
—
—
—
—
—
Berenzweig, Bubba
D
1994–2001
37
3
7
10
14
—
—
—
—
—
Bochenski, Brandon
RW
2007–2008
8
1
2
3
0
3
0
0
0
0
Boikov, Alexandre
D
1999–2001
10
0
0
0
15
—
—
—
—
—
Bombardir, Brad
D
2003–2004
13
0
0
0
4
6
0
1
1
2
Bonk, Radek †
C
2007–2009
79
14
15
29
40
6
1
0
1
2
Bordeleau, Sebastien
C
1998–2001
146
28
40
68
70
—
—
—
—
—
Bouchard, Joel
D
1998–2000
116
5
15
20
83
—
—
—
—
—
Boughner, Bob
D
1998–2000
141
5
14
19
234
—
—
—
—
—
Bouillon, Francis
D
2002–2003
4
0
0
0
2
—
—
—
—
—
Brennan, Rich
D
2001–2002
4
0
0
0
2
—
—
—
—
—
Brookbank, Sheldon
D
2006–2007
3
0
1
1
12
—
—
—
—
—
Brookbank, Wade
D
2003–2004
9
0
0
0
38
—
—
—
—
—
Brunette, Andrew
LW
1998–1999
77
11
20
31
26
—
—
—
—
—
<span id="C"/>Cisar, Marian
LW
1999–2002
73
13
17
30
57
—
—
—
—
—
Classen, Greg
C
2000–2003
90
7
10
17
48
—
—
—
—
—
Cote, Patrick
LW
1998–2000
91
1
2
3
312
—
—
—
—
—
Crowe, Phil
RW
1999–2000
4
0
0
0
10
—
—
—
—
—
<span id="D"/>Daigneault, J.J.
D
1998–1999
35
2
2
4
38
—
—
—
—
—
Daniels, Jeff
LW
1998–1999
9
1
3
4
2
—
—
—
—
—
Darche, Mathieu
D
2003–2004
2
0
0
0
0
—
—
—
—
—
de Vries, Greg †
D
1998–1999
2007–2009
83
4
11
15
75
6
1
0
1
2
Delmore, Andy
D
2001–2003
144
34
38
72
50
—
—
—
—
—
Dubinsky, Steve
RW
2001–2002
26
5
2
7
10
—
—
—
—
—
Dumont, J.P. †
RW
2006–2009
162
50
88
138
62
11
4
4
8
4
<span id="E"/>Eaton, Mark
D
2000–2006
286
15
30
45
130
11
0
0
0
10
Erat, Martin †
RW
2001–2009
407
85
168
253
250
20
2
6
8
20
<span id="F"/>Farrell, Mike
D
2003–2004
1
0
0
0
0
—
—
—
—
—
Fiddler, Vernon †
C
2002–2009
227
34
42
76
166
13
1
2
3
4
Fitzgerald, Tom
C
1998–2002
307
42
46
88
218
—
—
—
—
—
Captain, 1998–2002
Fitzpatrick, Rory
D
2000–2001
2
0
0
0
2
—
—
—
—
—
Forsberg, Peter
C
2006–2007
17
2
13
15
16
5
2
2
4
12
Friedman, Doug
LW
1998–1999
2
0
1
1
14
—
—
—
—
—
<span id="G"/>Gamache, Simon
LW
2003–2006
18
1
0
1
0
—
—
—
—
—
Gelinas, Martin
LW
2007–2008
57
9
11
20
20
—
—
—
—
—
Gilchrist, Brent
LW
2002–2003
41
1
2
3
14
—
—
—
—
—
Gosselin, David
RW
1999–2000
2001–2002
13
2
1
3
11
—
—
—
—
—
Grimson, Stu
LW
2001–2002
30
1
1
2
76
—
—
—
—
—
<span id="H"/>Haggerty, Sean
LW
2000–2001
3
0
1
1
0
—
—
—
—
—
Hall, Adam
RW
2001–2006
234
43
42
85
108
11
3
1
4
2
Hamhuis, Dan †
D
2003–2009
323
24
87
111
259
22
1
6
7
16
Hartnell, Scott
LW
2000–2007
436
93
118
211
544
16
3
3
6
34
Hauer, Brett
D
2001–2002
3
0
0
0
6
—
—
—
—
—
Haydar, Darren
RW
2002–2003
2
0
0
0
0
—
—
—
—
—
Henderson, Matt
LW
1998–1999
2
0
0
0
2
—
—
—
—
—
Hentunen, Jukka
RW
2001–2002
10
2
2
4
0
—
—
—
—
—
Heward, Jamie
D
2001–2002
63
6
12
18
44
—
—
—
—
—
Hlavac, Jan
LW
2007–2008
18
3
10
13
8
6
0
2
2
2
Hnidy, Shane
D
2003–2004
9
0
2
2
10
5
0
0
0
6
Hordichuk, Darcy
LW
2005–2008
172
9
11
20
313
7
0
0
0
2
Hornqvist, Patric †
RW
2008–2009
Made Predators debut during 2008–09 NHL season
Houlder, Bill
D
1999–2003
302
8
36
44
150
—
—
—
—
—
Hulse, Cale
D
2000–2003
225
3
15
18
370
—
—
—
—
—
Hutchinson, Andrew
D
2003–2004
18
4
4
8
4
—
—
—
—
—
<span id="J"/>Johansson, Andreas
LW
2002–2004
103
32
32
64
48
6
0
0
0
0
Johnson, Greg
C
1998–2006
502
93
145
238
213
11
1
3
4
2
Captain, 2002–2006
Jones, Ryan †
RW
2008–2009
Made Predators debut during 2008–09 NHL season
<span id="K"/>Karalahti, Jere
D
2001–2002
15
0
1
1
12
—
—
—
—
—
Kariya, Paul
LW
2005–2007
164
55
106
161
76
10
2
7
9
2
Keczmer, Dan
D
1998–2000
40
0
5
5
40
—
—
—
—
—
Kjellberg, Patric
LW
1998–2002
246
49
77
126
56
—
—
—
—
—
Klein, Kevin †
D
2005–2009
18
1
2
3
6
—
—
—
—
—
Kloucek, Tomas
D
2002–2004
8
0
1
1
12
—
—
—
—
—
Koistinen, Ville †
D
2007–2009
48
4
13
17
18
—
—
—
—
—
Krivokrasov, Sergei
LW
1998–2000
133
34
40
74
82
—
—
—
—
—
<span id="L"/>Lambert, Denny
LW
1998–1999
76
5
11
16
218
—
—
—
—
—
Langfeld, Josh
RW
2007–2008
2
0
0
0
0
1
0
0
0
0
Leahy, Pat
RW
2006–2007
1
0
0
0
0
—
—
—
—
—
Legwand, David †
C
1998–2009
549
121
206
327
318
14
2
1
3
18
Lehtonen, Mikko
D
2006–2007
15
1
2
3
8
—
—
—
—
—
Lintner, Richard
D
1999–2001
83
4
10
14
44
—
—
—
—
—
<span id="M"/>Mann, Cameron
RW
2002–2003
4
0
0
0
0
—
—
—
—
—
Markov, Danny
D
2005–2006
58
0
11
11
62
5
0
0
0
6
McKenzie, Jim
LW
2003–2004
61
1
3
4
88
1
0
0
0
0
Millar, Craig
D
1999–2001
62
3
11
14
34
—
—
—
—
—
More, Jayson
D
1998–1999
18
0
2
2
18
—
—
—
—
—
Morgan, Jason
C
2003–2004
6
0
2
2
2
—
—
—
—
—
Moro, Marc
D
1999–2002
27
0
0
0
75
—
—
—
—
—
Mowers, Mark
RW
1998–2000
2001–2002
85
5
13
18
16
—
—
—
—
—
Murray, Rem
LW
2002–2004
92
14
22
36
30
—
—
—
—
—
Myhres, Brantt
RW
2000–2001
20
0
0
0
28
—
—
—
—
—
<span id="N"/>Namestnikov, Evgeny
D
1999–2000
2
0
0
0
2
—
—
—
—
—
Neckar, Stan
D
2003–2004
1
0
1
1
0
—
—
—
—
—
Nelson, Jeff
C
1998–1999
9
2
1
3
2
—
—
—
—
—
Nichol, Scott †
C
2005–2009
166
20
17
37
230
10
0
0
0
19
<span id="O"/>O'Reilly, Cal †
C
2008–2009
Made Predators debut during 2008–09 NHL season
Orszagh, Vladimir
LW
2001–2004
239
47
58
105
168
6
2
0
2
4
Ortmeyer, Jed †
RW
2007–2009
51
4
4
8
32
—
—
—
—
—
<span id="P"/>Pederson, Denis
C
2002–2003
43
4
6
10
39
—
—
—
—
—
Peltonen, Ville
LW
1998–2001
116
22
35
57
30
—
—
—
—
—
Perreault, Yanic
C
2005–2006
69
22
35
57
30
1
0
0
0
2
Perrott, Nathan
RW
2001–2003
23
1
2
3
79
—
—
—
—
—
Petrov, Oleg
RW
2002–2003
17
2
2
4
2
—
—
—
—
—
Peverley, Rich †
C
2006–2009
46
5
6
11
8
6
0
2
2
0
Pihlstrom, Antti †
LW
2007–2009
1
0
0
0
0
—
—
—
—
—
Pittis, Domenic
C
2002–2003
2
0
0
0
2
—
—
—
—
—
Pivko, Libor
LW
2003–2004
1
0
0
0
0
—
—
—
—
—
<span id="R"/>Radulov, Alexander
RW
2006–2008
145
44
51
95
70
10
5
3
8
25
Robitaille, Randy
C
1999–2001
131
20
31
51
22
—
—
—
—
—
Ronning, Cliff
C
1998–2002
301
81
145
226
126
—
—
—
—
—
<span id="S"/>Santorelli, Mike †
C
2008–2009
Made Predators debut during 2008–09 NHL season
Sarault, Yves
LW
2001–2002
1
0
0
0
0
—
—
—
—
—
Schnabel, Robert
D
2001–2004
22
0
3
3
34
—
—
—
—
—
Shishkanov, Timofei
RW
2003–2004
2
0
0
0
0
—
—
—
—
—
Sillinger, Mike
C
2005–2006
31
10
12
22
14
5
2
1
3
12
Sim, Jon
LW
2002–2003
4
1
0
1
0
—
—
—
—
—
Simpson, Reid
LW
2001–2003
52
5
1
6
125
—
—
—
—
—
Skrastins, Karlis
D
1998–2003
307
13
41
54
130
—
—
—
—
—
Skrbek, Pavel
D
2000–2002
8
0
0
0
6
—
—
—
—
—
Slaney, John
D
1998–1999
46
2
12
14
14
—
—
—
—
—
Smith, Wyatt
C
2002–2004
29
4
1
5
2
—
—
—
—
—
Smithson, Jerred †
C
2005–2009
211
17
25
42
146
9
0
0
0
6
Smyth, Brad
RW
1998–1999
3
0
0
0
6
—
—
—
—
—
Stevenson, Jeremy
LW
2000–2002
2003–2006
100
10
7
17
225
6
0
0
0
8
Sullivan, Steve †
LW
2003–2007
2008–2009
150
62
96
158
82
11
1
3
4
6
Sulzer, Alexander †
D
2008–2009
Made Predators debut during 2008–09 NHL season
Suter, Ryan †
D
2005–2009
229
16
55
71
191
11
2
1
3
12
Sykora, Petr
C
1998–1999
2
0
0
0
0
—
—
—
—
—
<span id="T"/>Tarnasky, Nick †
C
2008–2009
Made Predators debut during 2008–09 NHL season
Tenkrat, Petr
RW
2001–2002
58
8
16
24
28
—
—
—
—
—
Timonen, Kimmo
D
1998–2007
573
79
222
301
348
16
1
5
6
18
Captain, 2006–2007
Tootoo, Jordin †
RW
2003–2009
232
22
23
45
408
18
2
1
3
29
Trepanier, Pascal
D
2002–2003
1
0
0
0
0
—
—
—
—
—
Turcotte, Darren
C
1998–2000
49
4
6
10
20
—
—
—
—
—
<span id="U"/>Upshall, Scottie
RW
2002–2007
77
11
18
29
52
2
0
0
0
0
<span id="V"/>Valicevic, Rob
RW
1998–2001
159
26
19
45
49
—
—
—
—
—
Vasicek, Josef
C
2006–2007
38
4
9
13
29
—
—
—
—
—
Vishnevski, Vitaly
D
2006–2007
15
0
1
1
10
—
—
—
—
—
Vopat, Jan
D
1998–2000
61
5
6
11
34
—
—
—
—
—
<span id="W"/>Walker, Scott
RW
1998–2006
410
96
151
247
465
11
0
1
1
12
Ward, Joel †
RW
2008–2009
Made Predators debut during 2008–09 NHL season
Warriner, Todd
LW
2002–2003
6
0
1
1
4
—
—
—
—
—
Watt, Mike
LW
2000–2001
18
1
1
2
8
—
—
—
—
—
Weber, Shea †
D
2005–2009
161
25
45
70
151
15
3
6
9
16
Wilm, Clarke
C
2002–2003
82
5
11
16
36
—
—
—
—
—
Witt, Brendan
D
2005–2006
17
0
3
3
68
5
0
0
0
12
<span id="Y"/>Yachmenev, Vitali
RW
1998–2003
338
54
76
130
58
—
—
—
—
—
York, Jason
D
2002–2004
141
6
28
34
116
6
0
3
3
4
<span id="Z"/>Zanon, Greg †
D
2005–2009
148
3
12
15
62
11
0
4
4
6
Zettler, Rob
D
1998–1999
2
0
0
0
2
—
—
—
—
—
Zholtok, Sergei
C
2003–2004
11
1
1
2
0
6
1
0
1
0
Zidlicky, Marek
D
2003–2008
307
35
140
175
299
14
0
6
6
14
References
Edit