The National Hockey League originated in 1917 with six teams, and through a sequence of team expansions, reductions, and relocations currently consists of 30 teams, 24 of which are based in the United States and six in Canada. The Montreal Canadiens are the most successful franchise with 24 Stanley Cup championships (23 as an NHL team, 1 as an NHA team); in the four major professional sports leagues the Montreal Canadiens are only surpassed in the number of championships by the New York Yankees of Major League Baseball, who have four more. The next most successful franchise is the Toronto Maple Leafs with 13 Stanley Cup championships, but they have not won one since 1967. The Detroit Red Wings, with 11 Stanley Cup championships, are the most successful American franchise. The longest streak of winning the Stanley Cup in consecutive years is five, held by the Montreal Canadiens from 1955–56 to 1959–60; the New York Islanders (1980–1983) and the Montreal Canadiens (1976–1979) have four-year championship streaks.[1] The 1977 edition of the Montreal Canadiens, the second of four straight Stanley Cup champions, was named by ESPN as the second greatest sports team of all-time.[2]
Of all the major leagues in North America, the NHL is the only league to field teams that play in two countries' capital cities, Ottawa, Ontario and Washington, D.C.
The current league organization divides the teams into two conferences. Each conference has three divisions, and each division has five teams. The current organization has roots in the 1998–99 season when a league realignment added two divisions to bring the total number of divisions to six; the current team alignment began with the 2000–2001 season when the Minnesota Wild and the Columbus Blue Jackets joined the league as expansion teams.
The Detroit Red Wings and the Columbus Blue Jackets are the only teams in the Western Conference that are located in the eastern time zone. This results in significantly increased travel time for both teams.
List of teams
Edit
Division
Team
City/Area
Arena
Founded
Joined
Head Coach
Captain
Eastern Conference
Atlantic
New Jersey Devils
Newark, NJ
Prudential Center
1974*
John MacLean
Jamie Langenbrunner
New York Islanders
Uniondale, NY
Nassau Veterans Memorial Coliseum
1972
Scott Gordon
Doug Weight
New York Rangers
New York City, NY
Madison Square Garden
1926
John Tortorella
Chris Drury
Philadelphia Flyers
Philadelphia, PA
Wells Fargo Center
1967
Peter Laviolette
Mike Richards
Pittsburgh Penguins
Pittsburgh, PA
Consol Energy Center
1967
Dan Bylsma
Sidney Crosby
Northeast
Boston Bruins
Boston, MA
TD Garden
1924
Claude Julien
Zdeno Chara
Buffalo Sabres
Buffalo, NY
HSBC Arena
1970
Lindy Ruff
Craig Rivet
Montreal Canadiens
Montreal, QC
Bell Centre
1909
1917
Jacques Martin
Brian Gionta
Ottawa Senators
Ottawa, ON
Scotiabank Place
1992
Cory Clouston
Daniel Alfredsson
Toronto Maple Leafs
Toronto, ON
Air Canada Centre
1917
Ron Wilson
Dion Phaneuf
Southeast
Carolina Hurricanes
Raleigh, NC
RBC Center
1972
1979*
Paul Maurice
Eric Staal
Florida Panthers
Sunrise, FL
BankAtlantic Center
1993
Peter DeBoer
Bryan McCabe
Tampa Bay Lightning
Tampa, FL
St. Pete Times Forum
1992
Guy Boucher
Vincent Lecavalier
Washington Capitals
Washington, D.C.
Verizon Center
1974
Bruce Boudreau
Alexander Ovechkin
Winnipeg Jets Winnipeg, Manitoba MTS Centre Bold text
Western Conference
Central
Chicago Blackhawks
Chicago, IL
United Center
1926
Joel Quenneville
Jonathan Toews
Columbus Blue Jackets
Columbus, OH
Nationwide Arena
2000
Scott Arniel
Rick Nash
Detroit Red Wings
Detroit, MI
Joe Louis Arena
1926
Mike Babcock
Nicklas Lidstrom
Nashville Predators
Nashville, TN
Bridgestone Arena
1998
Barry Trotz
Shea Weber
St. Louis Blues
St. Louis, MO
Scottrade Center
1967
Davis Payne
Eric Brewer
Northwest
Calgary Flames
Calgary, AB
Scotiabank Saddledome
1972*
Brent Sutter
Jarome Iginla
Colorado Avalanche
Denver, CO
Pepsi Center
1972
1979*
Joe Sacco
Adam Foote
Edmonton Oilers
Edmonton, AB
Rexall Place
1972
1979
Tom Renney
Shawn Horcoff
Minnesota Wild
St. Paul, MN
Xcel Energy Center
2000
Todd Richards
Mikko Koivu
Vancouver Canucks
Vancouver, BC
Rogers Arena
1945
1970
Alain Vigneault
Henrik Sedin
Pacific
Anaheim Ducks
Anaheim, CA
Honda Center
1993
Randy Carlyle
Ryan Getzlaf
Dallas Stars
Dallas, TX
American Airlines Center
1967*
Marc Crawford
Brenden Morrow
Los Angeles Kings
Los Angeles, CA
Staples Center
1967
Terry Murray
Dustin Brown
Phoenix Coyotes
Glendale, AZ
Jobing.com Arena
1972
1979*
Dave Tippett
Shane Doan
San Jose Sharks
San Jose, CA
HP Pavilion at San Jose
1991
Todd McLellan
Joe Thornton
Defunct Teams
Edit
The New York Americans, in their final season were renamed the "Brooklyn Americans," in order to try and attract fans from Brooklyn. They continued to play in Madison Square Garden due to lack of a good sized playing facility in Brooklyn.
Except for Hamilton, the league did eventually return to cities that were abandoned. Philadelphia, Pittsburgh, and St. Louis gained teams in the 1967 NHL expansion, Quebec City returned though the NHL–WHA merger (though lost it again when the team moved to Denver in 1995), and Ottawa via expansion in 1992. New York City, after losing the Americans, has since added two more teams in the metro area: the New York Islanders and the New Jersey Devils. The closest Hamilton has come to receiving a team is the Buffalo Sabres, who play less than 50 miles east in Buffalo, New York; the presence of the Sabres has, so far, blocked efforts (most notably those by Jim Balsillie) to relocate a team to Hamilton. Though Montreal also lost the Wanderers, the city still had the Canadiens and thus did not totally lose NHL representation.
Relocated teams after 1967 expansion
Edit
Map of Defunct Teams
Edit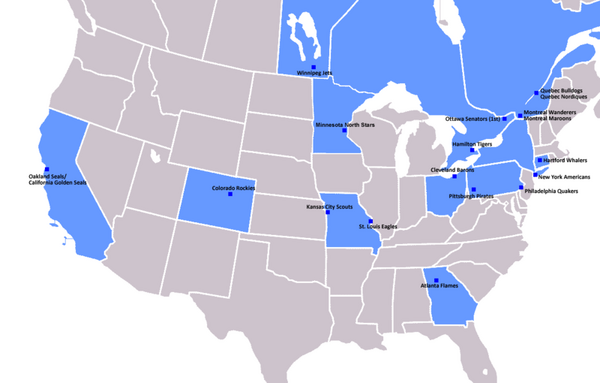 References
Edit
Ad blocker interference detected!
Wikia is a free-to-use site that makes money from advertising. We have a modified experience for viewers using ad blockers

Wikia is not accessible if you've made further modifications. Remove the custom ad blocker rule(s) and the page will load as expected.