List of Men's World Ice Hockey Championship players for Canada (1977-present)
Talk

0
Share
Ad blocker interference detected!
Wikia is a free-to-use site that makes money from advertising. We have a modified experience for viewers using ad blockers

Wikia is not accessible if you've made further modifications. Remove the custom ad blocker rule(s) and the page will load as expected.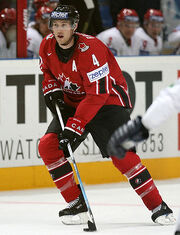 Canada has participated in 65 of 74 Ice Hockey World Championships, an annual ice hockey tournament organized by the International Ice Hockey Federation (IIHF). During the first 40 years of the tournament (1920–1961), Canada did not have a national team, instead choosing to send a club team, typically the Allan Cup winner. A national team program, consisting of amateur players, was implemented following the 1961 tournament.[1] By the late 1960s, the Canadian Amateur Hockey Association (CAHA) felt their amateur players could no longer be competitive and pushed for the ability to use players from professional leagues. At the IIHF Congress in 1969, the IIHF voted to allow Canada to use nine non-National Hockey League (NHL) professional players[2] at the 1970 World Championships,[3] but the decision was reversed in January 1970. In response, Canada withdrew from international ice hockey competition.[2][4] Canada's ice hockey team did not participate in the 1972 and 1976 Winter Olympics.[2] Günther Sabetzki became president of the IIHF in 1975 and helped to resolve the dispute with the CAHA. The IIHF agreed to allow "open competition" between all players in the World Championships, and moved the competition to later in the season so players not involved in the NHL playoffs could participate.[5] The first open World Championship was held in 1977 in Vienna, Austria, and saw the first participation of active NHL players, including team captain Phil Esposito, a two-time NHL MVP. Many of the players on the Canadian team were not prepared for the tournament and were unfamiliar with the gameplay at the international level. The team finished fourth. Hockey Canada is responsible for the Canadian team roster and operations.[6]
Since 1977, Canada has participated in every tournament, sending 59 goaltenders and 439 skaters (forwards and defencemen). During this period, Canadian teams have won five gold medals, seven silver medals and five bronze medals. Twenty-six players have been inducted into the Hockey Hall of Fame and fourteen into Canada's Sports Hall of Fame. Wayne Gretzky and Mario Lemieux have also been inducted into the IIHF Hall of Fame and are the only players to have been inducted into all three. Dany Heatley and Shane Doan have each won five medals (two gold, three silver), more than any player since 1977. Eric Brewer has won the most gold medals, three. Heatley, who has scored 38 goals and registered 62 points over six tournaments, is Canada's all-time goals and points leader at the tournament since 1977.[7] Twenty-three players have served as team captain during this period. Ryan Smyth has played for eight teams and captained six (from 2001 to 2005, and in 2010),[8] more than any other player since 1977 in both cases, and has been given the nickname "Captain Canada".[9][10]
IIHF Directorate Awards

| | |
| --- | --- |
| Best Goaltender | Awarded since 1954[14] |
| Best Defenceman | Awarded since 1954[14] |
| Best Forward | Awarded since 1954[14] |
| Most Valuable Player | Awarded since 2004[14] |
Goaltenders
Edit
Player
WCs
Tournament(s)
GP

W

L

T

SO

Min

GA

GAA

Gold
Silver
Bronze
Total
Notes
Alex Auld
1
2006
5
2
3
0
0
274
13
2.85
0
0
0
0
Craig Billington
1
1991
3
0
1
0
0
46
3
3.91
0
1 ('91)
0
1
Martin Biron
1
2003
0
0
0
0
0
0
0
0
1 ('03)
0
0
1
Daniel Bouchard
1
1978
6
1
4
0
0
344
24
4.19
0
0
1 ('78)
1
Fred Brathwaite
3
1999, 2000, 2001
7
2
3
1
1
394
17
2.59
0
0
0
0
Martin Brodeur
2
1996, 2005
10
5
3
1
0
558
28
3.01
0
2 ('96, '05)
0
2
Christian Bronsard
1
1998
0
0
0
0
0
0
0
0
0
0
0
0
Sean Burke
5
1987, 1989, 1991,
1997, 2003
35
21
6
6
4
1991
72
2.17
2 ('97, '03)
2 ('89, '91)
0
4
Best Goaltender (2003)
Dan Cloutier
1
2001
0
0
0
0
0
0
0
0
0
0
0
0
Jacques Cloutier
1
1986
5
2
3
0
0
299
15
3.01
0
0
1 ('86)
1
Marc Denis
3
2003, 2004, 2006
5
4
1
0
1
263
11
2.51
2 ('03, '04)
0
0
2
Devan Dubnyk
1
2010
0
0
0
0
0
0
0
0
0
0
0
0
Tony Esposito
1
1977
9
5
2
1
1
513
29
3.39
0
0
0
0
HHOF (1988)
CSHOF (2005)
Bob Essensa
1
1990
4
1
1
0
0
101
5
2.97
0
0
0
0
Éric Fichaud
1
1997
0
0
0
0
0
0
0
0
1 ('97)
0
0
1
Stéphane Fiset
1
1994
2
2
0
0
0
120
3
1.50
1 ('94)
0
0
1
Bob Froese
1
1987
5
1
3
1
1
300
18
3.60
0
0
0
0
Grant Fuhr
1
1989
5
3
2
0
0
298
18
3.62
0
1 ('89)
0
1
HHOF (2003)
Mathieu Garon
1
2008
0
0
0
0
0
0
0
0
0
1 ('08)
0
1
John Garrett
1
1981
3
1
1
0
0
120
8
4.00
0
0
0
0
Jean-Sébastien Giguère
3
2001, 2002, 2004
7
5
1
0
2
373
6
0.96
1 ('04)
0
0
1
Jeff Hackett
1
1999
2
0
1
1
0
120
9
4.50
0
0
0
0
Josh Harding
1
2009
0
0
0
0
0
0
0
0
0
1 ('09)
0
1
Denis Herron
1
1978
5
4
1
0
0
255
12
2.82
0
0
1 ('78)
1
Ron Hextall
1
1992
5
1
3
1
0
273
13
2.86
0
0
0
0
Corey Hirsch
1
1995
8
4
3
1
0
488
21
2.58
0
0
1 ('95)
1
Kelly Hrudey
1
1986
5
2
3
0
0
299
22
4.41
0
0
1 ('86)
1
Chad Johnson
1
2010
3
0
0
0
0
73
1
0.82
0
0
0
0
Curtis Joseph
1
1996
6
4
2
0
1
349
12
2.06
0
1 ('96)
0
1
Trevor Kidd
1
1992
1
1
0
0
0
60
3
3.00
0
0
0
0
Pascal Leclaire
1
2008
4
4
0
0
1
240
8
2.00
0
1 ('08)
0
1
Roberto Luongo
4
2001, 2003, 2004,
2005
15
12
1
2
3
856
29
2.03
2 ('03, '04)
1 ('05)
0
3
Chris Mason
4
2006, 2007, 2009,
20010
11
7
4
0
1
583
20
2.06
1 ('07)
1 ('09)
0
2
Kirk McLean
1
1990
10
5
2
1
0
458
27
3.54
0
0
0
0
Gilles Meloche
1
1982
5
3
2
0
1
299
16
3.21
0
0
1 ('82)
1
Greg Millen
1
1982
5
2
1
2
0
300
14
2.80
0
0
1 ('82)
1
Phil Myre
1
1981
7
1
4
1
0
359
26
4.35
0
0
0
0
Félix Potvin
1
1998
4
3
0
1
0
240
8
2.00
0
0
0
0
Jamie Ram
2
2000, 2002
0
0
0
0
0
0
0
0
0
0
0
0
Bill Ranford
2
1993, 1994
12
11
1
0
3
714
18
1.51
1 ('94)
0
0
1
Best Goaltender (1994)
Pat Riggin
1
1985
4
2
1
0
0
213
10
3.10
0
1 ('85)
0
1
Dwayne Roloson
3
1995, 2007, 2009
9
7
2
0
0
544
21
2.32
1 ('07)
1 ('09)
1 ('95)
3
Jim Rutherford
2
1977, 1979
8
4
3
0
0
407
30
4.42
0
0
0
0
Peter Sidorkiewicz
1
1989
1
0
0
0
0
25
0
0.00
0
1 ('89)
0
1
Ed Staniowski
1
1979
3
0
3
0
0
160
19
7.13
0
0
0
0
Jamie Storr
1
2002
0
0
0
0
0
0
0
0
0
0
0
0
Rick Tabaracci
3
1992, 1997, 1999
8
2
2
0
0
294
15
3.06
1 ('97)
0
0
1
José Théodore
1
2000
8
5
3
0
2
478
13
1.63
0
0
0
0
Ron Tugnutt
2
1993, 1999
9
5
2
0
0
443
17
2.30
0
0
0
0
Marty Turco
2
2002, 2005
3
2
1
0
1
166
5
1.81
0
1 ('05)
0
1
Andrew Verner
2
1995, 1996
0
0
0
0
0
0
0
0
0
1 ('96)
1 ('95)
2
Mike Vernon
1
1991
2
0
1
0
0
73
6
4.91
0
1 ('91)
0
1
Rick Wamsley
2
1983, 1985
12
7
5
0
1
720
41
3.42
0
1 ('85)
1 ('83)
2
Cam Ward
2
2007, 2008
10
9
1
0
0
602
24
2.39
1 ('07)
1 ('08)
0
2
Steve Weeks
1
1985
5
3
1
1
1
265
9
2.04
0
1 ('85)
0
1
Ken Wregget
1
1990
1
0
0
0
0
40
0
0.00
0
0
0
0
Player
WCs
Tournament(s)
GP

G

A

P

PIM

Gold
Silver
Bronze
Total
Notes
<span id="A"/>Keith Acton




3
1987, 1990, 1992
26
5
0
5
4
0
0
0
0
Greg Adams
2
1986, 1990
11
9
2
11
10
0
0
1 ('86)
1
Peter Allen




2
1995, 2000
9
0
0
0
4
0
0
1 ('95)
1
Jan Alston




2
1995, 2003
0
0
0
0
0
1 ('03)
0
1 ('95)
2
Glenn Anderson




2
1989, 1992
12
4
3
7
20
0
1 ('89)
0
1
Team Captain (1992)
John Anderson




2
1989, 1992
15
7
4
11
24
0
1 ('85)
1 ('83)
2
Dave Andreychuk




1
1986
10
3
2
5
18
0
0
1 ('86)
1
Greg Andrusak




1
1995
7
0
0
0
12
0
0
1 ('95)
1
Dave Archibald




1
1991
10
0
1
1
8
0
1 ('91)
0
1
Colby Armstrong
2
2007, 2009
18
1
4
5
8
1 ('07)
1 ('09)
0
2
Jason Arnott




1
1994
8
0
6
6
10
1 ('94)
0
0
1
Brent Ashton




1
1989
10
3
3
6
2
0
1 ('89)
0
1
Adrian Aucoin




1
2000
9
3
3
6
14
0
0
0
0
<span id="B"/>Dave Babych




2
1981, 1989
17
2
2
4
12
0
1 ('89)
0
1
Wayne Babych




1
1979
7
1
2
3
0
0
0
0
0
Bill Barber




1
1982
10
8
1
9
10
0
0
1 ('82)
1
HHOF (1990)
Norm Barnes




1
1981
6
0
1
1
6
0
0
0
0
Bob Bassen




1
1992
3
1
1
2
0
0
1 ('89)
0
1
François Beauchemin
1
2010
7
0
1
1
0
0
0
0
0
Brian Bellows




3
1987, 1989, 1990
28
12
15
27
18
0
1 ('89)
0
1
Best Forward (1989)
Brian Benning




1
1993
8
1
2
3
0
0
0
0
0
Patrice Bergeron
2
2004, 2006
18
7
8
15
6
1 ('04)
0
0
1
Marc Bergevin




1
1994
8
0
0
0
2
1 ('94)
0
0
1
Todd Bertuzzi




2
1998, 2000
15
6
6
12
63
0
0
0
0
Rob Blake




5
1991, 1994, 1997,
1998, 1999
35
5
11
16
46
2 ('94, '97)
1 ('91)
0
3
Best Defenceman (1997)
Team Captain (1999)
Doug Bodger
3
1987, 1996, 1999
27
1
5
6
6
0
1 ('96)
0
1
Luciano Borsato




1
1995
8
3
1
4
18
0
0
1 ('95)
1
Joel Bouchard




1
1997
11
0
1
1
2
1 ('97)
0
0
1
Rene Bourque
1
2010
7
1
1
2
14
0
0
0
0
Pat Boutette
1
1981
8
1
1
2
16
0
0
0
0
Jay Bouwmeester
3
2003, 2004, 2008
27
5
5
10
8
2 ('03, '04)
1 ('08)
0
1
Best Defenceman (2003)
Dan Boyle




1
2005
9
0
3
3
6
0
1 ('05)
0
1
Brad Boyes




1
2006
9
4
4
8
4
0
0
0
0
Steve Bozek




1
1991
8
1
1
2
4
0
1 ('91)
0
1
Eric Brewer




5
2001, 2002, 2003,
2004, 2007
41
5
11
16
30
3
('03, '04, '07)
0
0
3
Daniel Briere




2
2003, 2004
18
6
11
17
12
2 ('03, '04)
0
0
2
Chris Bright




1
1995
8
0
3
3
8
0
0
1 ('95)
1
Rod Brind'Amour




3
1992, 1993, 1994
22
8
4
12
12
1 ('94)
0
0
1
Curtis Brown




1
2000
9
1
3
4
8
0
0
0
0
Kelly Buchberger




3
1993, 1994, 1996
20
0
2
2
20
1 ('94)
1 ('96)
0
2
Mike Bullard




1
1986
10
2
1
3
2
0
0
1 ('86)
1
Brent Burns
2
2008, 2010
16
3
11
14
28
0
1 ('08)
0
1
Best Defenceman (2008)
Shawn Burr
1
1990
10
4
1
5
14
0
0
0
0
Garth Butcher




1
1992
3
1
0
1
4
0
0
0
0
<span id="C"/>Kyle Calder
3
2002, 2003, 2006
21
4
3
7
10
1 ('03)
0
0
1
Michael Cammalleri




2
2006, 2007
17
5
7
12
10
1 ('07)
0
0
1
Terry Carkner




1
1993
8
0
0
0
0
0
0
0
0
Randy Carlyle




1
1989
9
1
4
5
4
0
1 ('89)
0
1
Anson Carter




2
1997, 2003
20
6
3
9
12
2 ('97, '03)
0
0
2
Jeff Carter




1
2006
9
4
2
6
2
0
0
0
0
Andrew Cassels




1
1996
6
1
0
1
0
0
1 ('96)
0
1
Guy Charron
3
1977, 1978, 1979
17
1
4
5
2
0
0
1 ('78)
1
Team Captain (1979)
Rich Chernomaz




1
1995
8
0
3
3
10
0
0
1 ('95)
1
Steve Chiasson




1
1997
11
0
3
3
8
1 ('97)
0
0
1
Jason Chimera
2
2007, 2008
18
1
7
8
14
1 ('07)
1 ('08)
0
2
Dino Ciccarelli




2
1982, 1987
19
6
3
9
4
0
0
1 ('82)
1
Bobby Clarke




1
1982
9
0
1
1
6
0
0
1 ('82)
1
Team Captain (1982)
HHOF (1987)
CSHOF (2005)
Daniel Cleary
1
2002
7
2
1
3
2
0
0
0
0
Braydon Coburn
1
2009
5
0
1
1
4
0
1 ('09)
0
1
Paul Coffey




1
1990
10
1
6
7
10
0
0
0
0
HHOF (2004)
Mike Commodore




1
2007
9
0
2
2
14
1 ('07)
0
0
1
Mike Comrie




3
2002, 2003, 2006
25
7
5
12
26
1 ('03)
0
0
1
Brandon Convery




1
1995
8
0
1
1
0
0
0
1 ('95)
1
Matt Cooke




1
2004
9
2
2
4
8
1 ('04)
0
0
1
Shayne Corson




2
1993, 1994
15
6
7
13
10
1 ('94)
0
0
1
Sylvain Côté




1
1992
0
0
0
0
0
0
0
0
0
Geoff Courtnall




1
1991
10
5
1
6
16
0
1 ('91)
0
1
Russ Courtnall




1
1991
2
1
3
4
0
0
1 ('91)
0
1
Murray Craven




2
1990, 1991
18
2
6
8
16
0
1 ('91)
0
1
Sidney Crosby
1
2006
9
8
8
16
10
0
0
0
0
Best Forward (2006)
Cory Cross




3
1997, 1998, 2003
25
2
4
6
55
2 ('97, '03)
0
0
2
John Cullen




1
1990
10
1
3
4
0
0
0
0
0
Kyle Cumiskey
1
2010
7
0
3
3
0
0
0
0
0
<span id="D"/>Trevor Daley




1
2006
7
0
1
1
10
0
0
0
0
Mathieu Dandenault




1
2003
9
2
3
5
12
1 ('03)
0
0
1
Ken Daneyko




2
1986, 1989
15
0
0
0
4
0
1 ('89)
1 ('86)
2
Jason Dawe




1
1996
8
3
0
3
2
0
1 ('96)
0
1
Éric Dazé




2
1998, 1999
8
1
5
6
0
0
0
0
0
Lucien DeBlois




1
1981
8
3
0
3
4
0
0
0
0
Michael Del Zotto
1
2010
5
0
0
0
0
0
0
0
0

Marc Denis

1
1981
8
3
0
3
4
0
0
0
0
Dale DeGray




1
1995
6
1
1
2
6
0
0
1 ('95)
1
Kevin Dineen




4
1985, 1987, 1989,
1993
37
11
13
24
50
0
2 ('85, '89)
0
2
Marcel Dionne
4
1978, 1979, 1983,
1986
37
21
11
32
16
0
0
3
('78, '83, '86)
3
Team Captain (1978, 1986)
Best Forward (1978)
HHOF (1992)
CSHOF (1997)
Shane Doan
6
1999, 2003, 2005,
2007, 2008, 2009
48
13
20
33
42
2 ('03, '07)
3
('05, '08, '09)
0
5
Team Captain (2007–2009)[15]
Bobby Dollas
1
1994
8
0
1
1
4
1 ('94)
0
0
1
Shean Donovan




1
1997
10
0
1
1
31
1 ('97)
0
0
1
Drew Doughty
1
2009
9
1
6
7
4
0
1 ('09)
0
1
Steve Downie
1
2010
7
2
0
2
28
0
0
0
0
Kris Draper
4
2000, 2001, 2003,
2005
28
2
7
9
16
1 ('03)
1 ('05)
0
2
Bruce Driver




1
1987
8
0
0
0
4
0
0
0
0
Matt Duchene
1
2010
7
4
3
7
0
0
0
0
0
Steve Duchesne




2
1994, 1996
14
1
3
4
4
1 ('94)
1 ('96)
0
2
Jean-Pierre Dumont




1
2004
9
0
1
1
0
1 ('04)
0
0
1
Micki DuPont




1
2006
9
0
1
1
4
0
0
0
0
<span id="E"/> Jordan Eberle
1
2010
4
1
3
4
0
0
0
0
0
Mickey Elick
1
1998
6
0
0
0
4
0
0
0
0
David Ellett
1
1989
10
4
2
6
14
0
1 ('89)
0
1
Ron Ellis




1
1977
10
5
4
9
2
0
0
0
0
CSHOF (2005)
Nelson Emerson
3
1992, 1994, 1998
17
4
4
8
8
1 ('94)
0
0
1
Brian Engblom




1
1983
10
1
2
3
0
0
0
1 ('83)
1
Bob Errey




1
1997
11
2
1
3
6
1 ('97)
0
0
1
Len Esau




1
1995
7
0
1
1
2
0
0
1 ('95)
1
Phil Esposito




1
1977
10
7
3
10
14
0
0
0
0
Team Captain (1977)
HHOF (1984)
CSHOF (1989)
Dean Evason




1
1997
11
2
3
5
20
1 ('97)
0
0
1
Team Captain (1997)
<span id="F"/>Pat Falloon
1
1992
6
2
1
3
2
0
0
0
0
Brad Ference




1
2002
6
0
0
0
4
0
0
0
0
Ray Ferraro




3
1989, 1992, 1996
23
3
10
13
16
0
2 ('89, '96)
0
2
Jeff Finley




1
2000
7
1
1
2
0
0
0
0
0
Mike Fisher
2
2005, 2009
18
2
4
6
18
0
2 ('05, '09)
0
2
Patrick Flatley




1
1983
6
0
0
0
2
0
0
1 ('83)
1
Theoren Fleury




2
1990, 1991
17
9
12
21
18
0
1 ('91)
0
1
Mike Foligno




3
1981, 1986, 1987
27
2
9
11
60
0
0
1 ('86)
1
Team Captain (1987)
Jim Fox




1
1986
10
2
1
3
2
0
0
1 ('86)
1
Ron Francis




1
1985
10
2
5
7
2
0
1 ('85)
0
1
HHOF (2007)
Iain Fraser




1
1995
8
2
7
9
8
0
0
1 ('95)
1
Mark Freer




1
1995
6
1
0
1
2
0
0
1 ('95)
1
Jeff Friesen




5
1996, 1997, 1999,
2001, 2004
41
8
11
19
30
2 ('97, '04)
1 ('96)
0
3
<span id="G"/>Simon Gagne




1
2005
9
3
7
10
0
0
1 ('05)
0
1
Dave Gagner
1
1993
8
3
1
4
6
0
0
0
0
Sam Gagner
1
2008
1
0
0
0
0
0
1 ('08)
0
1
Bob Gainey




2
1982, 1983
20
2
7
9
2
0
0
2 ('82, '83)
2
HHOF (1992)
CSHOF (1995)
Gerard Gallant




1
1989
8
2
3
5
10
0
1 ('89)
0
1
Garry Galley




2
1993, 1996
16
1
4
5
6
0
1 ('96)
0
1
Mike Gartner




4
1981, 1982, 1983,
1993
36
14
7
21
38
0
0
2 ('82, '83)
2
HHOF (2001)
Martin Gélinas




1
1998
6
1
0
1
6
0
0
0
0
Ryan Getzlaf
1
2008
9
3
11
14
10
0
1 ('08)
0
1
Rod Gilbert
1
1977
10
2
2
4
12
0
0
0
0
HHOF (1982)
CSHOF (2005)
Curt Giles




1
1982
10
0
1
1
12
0
0
1 ('82)
1
Todd Gill




1
1992
6
0
3
3
6
0
0
0
0
Doug Gilmour




1
1990
9
2
4
6
18
0
0
0
0
Mark Giordano
2
2008, 2010
7
1
3
4
10
0
1 ('08)
0
1
Michel Goulet




1
1983
10
1
8
9
6
0
0
1 ('83)
1
HHOF (1998)
Chris Govedaris




1
1995
8
1
0
1
6
0
0
1 ('95)
1
Dirk Graham




1
1987
9
0
3
3
8
0
0
0
0
Chris Gratton




2
1997, 1998
15
1
5
6
18
1 ('97)
0
0
1
Adam Graves




2
1993, 1999
17
8
5
13
16
0
0
0
0
Team Captain (1993)
Mike Green
1
2008
9
4
8
12
2
0
1 ('08)
0
1
Rick Green
4
1979, 1981, 1982,
1990
34
2
7
9
8
0
0
1 ('82)
1
Travis Green




3
1996, 1997, 1998
25
8
12
20
22
1 ('97)
1 ('96)
0
2
Wayne Gretzky
1
1982
10
6
8
14
0
0
0
1 ('82)
1
HHOF (1999)
IIHFHOF (2000)
CSHOF (2000)
<span id="H"/>Marc Habscheid
1
1992
6
0
0
0
4
0
0
0
0
Doug Halward




2
1983, 1985
20
2
4
6
10
0
1 ('85)
1 ('83)
2
Rick Hampton




2
1977, 1978
20
1
2
3
13
0
0
1 ('78)
1
Dan Hamhuis
4
2006, 2007, 2008,
2009
36
5
9
14
36
1 ('07)
2 ('08, '09)
0
3
Scott Hannan




1
2005
9
0
0
0
8
0
1 ('05)
0
1
Mark Hardy
1
1986
10
3
2
5
12
0
0
1 ('86)
1
Scott Hartnell




1
2006
9
1
0
1
4
0
0
0
0
Craig Hartsburg




3
1982, 1983, 1987
25
4
6
10
28
0
0
2 ('82, '83)
2
Best Defenceman (1987)
Dale Hawerchuk




3
1982, 1986, 1989
28
9
13
22
10
0
1 ('89)
2 ('82, '86)
3
HHOF (2001)
Dany Heatley
6
2002, 2003, 2004,
2005, 2008, 2009
52
38
24
62
44
2 ('03, '04)
3
('05, '08, '09)
0
5
Best Forward (2004, 2008)
MVP (2004, 2008)
Jamie Heward
4
1995, 2003, 2004,
2005
17
0
5
5
8
2 ('03, '04)
1 ('05)
1 ('95)
4
Pat Hickey




1
1978
10
5
1
6
4
0
0
1 ('78)
1
Todd Hlushko




1
1995
8
4
0
4
4
0
0
1 ('95)
1
Shawn Horcoff
3
2003, 2004, 2009
27
7
9
16
14
2 ('03, '04)
1 ('09)
0
3
Willie Huber
1
1981
7
0
2
2
10
0
0
0
0
Kerry Huffman




1
1992
6
1
0
1
2
0
0
0
0
<span id="I"/>Jarome Iginla




1
1997
11
2
3
5
2
1 ('97)
0
0
1
Ralph Intranuovo




1
1995
8
5
1
6
6
0
0
1 ('95)
1
Brad Isbister




2
2000, 2001
16
9
3
12
34
0
0
0
0
<span id="J"/>Barret Jackman




1
2007
9
0
2
2
6
1 ('07)
0
0
1
Trevor Johansen




1
1979
8
2
1
3
4
0
0
0
0
Greg Johnson




1
1993
8
1
2
3
2
0
0
0
0
Mike Johnson




1
2000
9
1
1
2
10
0
0
0
0
Jean-François Jomphe




2
1995, 1996
16
4
1
5
10
0
1 ('96)
1 ('95)
2
Ed Jovanovski
4
1998, 2000, 2005,
2008
33
4
5
9
26
0
2 ('05, '08)
0
2
Evander Kane
1
2010
7
2
2
4
6
0
0
0
0
<span id="K"/>Paul Kariya




3
1993, 1994, 1996
24
11
17
28
4
1 ('94)
1 ('96)
0
2
Best Forward (1994)
Dennis Kearns
2
1977, 1978
20
0
2
2
16
0
0
1 ('78)
1
Duncan Keith
1
2008
9
0
2
2
6
0
1 ('08)
0
1
Derek King




1
1992
6
1
0
1
6
0
0
0
0
Ralph Klassen




1
1977
10
1
5
6
0
0
0
0
0
Krys Kolanos




1
2003
9
0
1
1
6
1 ('03)
0
0
1
Steve Konroyd




2
1985, 1991
20
1
6
7
0
0
2 ('85, '91)
0
2
Chris Kunitz
1
2008
9
2
5
7
4
0
1 ('08)
0
1
Joel Kwiatkowski
1
2009
5
0
0
0
2
0
1 ('09)
0
1
<span id="L"/>Guy Lafleur




1
1981
7
1
0
1
2
0
0
0
0
HHOF (1988)
CSHOF (1996)
Brooks Laich
1
2010
7
1
0
1
0
0
0
0
0
Rick Lanz
1
1983
6
0
2
2
2
0
0
1 ('83)
1
Claude Lapointe




1
1999
9
1
3
4
10
0
0
0
0
Martin Lapointe




1
2000
3
0
0
0
4
0
0
0
0
Steve Larmer




1
1991
10
5
3
8
4
0
1 ('91)
0
1
Pierre Larouche




1
1977
10
7
8
15
16
0
0
0
0
Vincent Lecavalier




1
2001
7
3
2
5
29
0
0
0
0
Grant Ledyard




2
1985, 1986
13
0
3
3
10
0
1 ('85)
1 ('86)
2
Mario Lemieux
1
1985
9
4
6
10
2
0
1 ('85)
0
1
HHOF (1997)
CSHOF (1998)
IIHFHOF (2008)
Curtis Leschyshyn




1
1990
9
0
0
0
4
0
0
0
0
Trevor Letowski




1
2000
9
0
2
2
6
0
0
0
0
Don Lever




1
1978
10
4
3
7
4
0
0
1 ('78)
1
Nick Libett




1
1979
8
1
0
1
4
0
0
0
0
Doug Lidster




3
1985, 1990, 1991
30
5
5
10
18
0
2 ('85, '91)
0
2
Team Captain (1991)
Chris Lindberg




1
1992
5
1
0
1
8
0
0
0
0
Trevor Linden




2
1991, 1998
16
2
8
10
8
0
1 ('91)
0
1
Eric Lindros




1
1993
8
11
6
17
10
0
0
0
0
Best Forward (1993)
Matthew Lombardi
2
2007, 2009
18
8
8
16
10
1 ('07)
1 ('09)
0
2
Barry Long




1
1981
7
1
0
1
8
0
0
0
0
Kevin Lowe




1
1982
9
1
1
2
2
0
0
1 ('82)
1
Morris Lukowich




1
1981
8
2
1
3
4
0
0
0
0
Tom Lysiak




1
1978
7
1
1
2
4
0
0
1 ('78)
1
<span id="M"/>Al MacAdam
2
1977, 1979
18
8
8
16
0
0
0
0
0
Al MacInnis
1
1990
9
1
3
4
10
0
0
0
0
HHOF (2007)
Norm Maciver




1
1993
8
0
5
5
4
0
0
0
0
John MacLean




1
1989
10
3
6
9
4
0
1 ('89)
0
1
Brian MacLellan




1
1985
4
0
0
0
0
0
1 ('85)
0
1
Bob MacMillan




1
1978
10
0
3
3
6
0
0
1 ('78)
1
Jamie Macoun




3
1985, 1990, 1991
25
5
2
7
26
0
2 ('85, '91)
0
2
Best Defenceman (1991)
Manny Malhotra




1
2002
7
0
0
0
4
0
0
0
0
Don Maloney




1
1985
8
1
1
2
2
0
1 ('85)
0
1
Kirk Maltby




2
2003, 2005
18
3
3
6
16
1 ('03)
1 ('05)
0
2
Mike Maneluk




1
1995
8
0
2
2
0
0
0
1 ('95)
1
Dave Manson
1
1993
8
3
7
10
22
0
0
0
0
Patrick Marleau
4
1999, 2001, 2003,
2005
31
5
11
16
12
1 ('03)
1 ('05)
0
2
Daniel Marois
1
2001
1
0
1
1
0
0
0
0
0
Mario Marois
1
1989
10
0
4
4
6
0
1 ('89)
0
1
Brad Marsh
1
1979
6
1
0
1
4
0
0
0
0
Dennis Maruk
4
1978, 1979, 1981,
1983
35
16
8
24
14
0
0
2 ('78, '83)
2
David Matsos
1
1996
8
0
0
0
4
0
1 ('96)
0
1
Richard Matvichuk
1
2002
7
1
0
1
6
0
0
0
0
Brad Maxwell
3
1978, 1979, 1982
22
3
1
4
30
0
0
2 ('78, '82)
2
Brad May
1
1996
8
0
0
0
4
0
1 ('96)
0
1
Derek Mayer
2
1993, 1996
16
1
1
2
4
0
1 ('96)
0
1
Jamal Mayers
3
2000, 2007, 2008
25
4
7
11
12
1 ('07)
1 ('08)
0
2
Dean McAmmond
2
1996, 2000
16
0
2
2
2
0
1 ('96)
0
1
Andrew McBain
1
1989
10
6
2
8
8
0
1 ('89)
0
1
Bryan McCabe
3
1997, 1998, 1999
26
2
7
9
24
1 ('97)
0
0
1
Dale McCourt
2
1979, 1981
11
1
1
2
8
0
0
0
0
Andy McDonald
1
2002
7
4
1
5
0
0
0
0
0
Lanny McDonald
1
1981
8
3
0
3
4
0
0
0
0
Team Captain (1981)
HHOF (1992)
Dan McGillis
1
2002
5
0
1
1
2
0
0
0
0
Walt McKechnie
1
1977
10
1
6
7
8
0
0
0
0
Andrew McKim
1
1995
8
6
7
13
4
0
0
1 ('95)
1
Jay McClement
1
2007
9
2
2
4
4
1 ('07)
0
0
1
Kyle McLaren
1
2001
7
0
2
2
2
0
0
0
0
Glen Metropolit
1
2006
9
0
2
2
6
0
0
0
0
Wayne Merrick
1
1977
10
4
3
7
10
0
0
0
0
Mark Messier
1
1989
6
3
3
6
8
0
1 ('89)
0
1
HHOF (2007)
CSHOF (2009)
Willie Mitchell
1
2004
6
3
3
6
8
1 ('04)
0
0
1
Derek Morris
3
1999, 2001, 2004
25
1
10
11
49
1 ('04)
0
0
1
Brendan Morrison
3
1999, 2004, 2005
25
6
9
15
18
1 ('04)
1 ('05)
0
2
Brenden Morrow
4
2001, 2002, 2004,
2005
26
0
5
5
20
1 ('04)
1 ('05)
0
2
Kirk Muller
5
1985, 1986, 1987,
1989, 2001
37
14
9
23
40
0
2 ('85, '89)
1 ('86)
3
Cory Murphy
1
2007
9
1
6
7
8
1 ('07)
0
0
1
Gord Murphy
1
1998
6
1
0
1
2
0
0
0
0
Larry Murphy
3
1985, 1987, 2000
17
2
9
11
8
0
1 ('85)
0
1
HHOF (2004)
Mike Murphy
1
1978
10
1
4
5
16
0
0
1 ('78)
1
Glen Murray
2
1998, 2004
14
3
4
7
8
1 ('04)
0
0
1
Rem Murray
1
2001
7
1
3
4
2
0
0
0
0
Troy Murray
1
1987
10
2
2
4
14
0
0
0
0
Tyler Myers
1
2010
7
0
2
2
4
0
0
0
0
<span id="N"/>Mark Napier
1
1982
9
3
1
4
0
0
0
1 ('82)
1
Rick Nash
3
2005, 2007, 2008
27
21
18
39
18
1 ('07)
2 ('05, '08)
0
3
MVP (2007)
Ric Nattress
1
1991
7
0
1
1
4
0
1 ('91)
0
1
James Neal
1
2009
3
1
2
3
2
0
1 ('09)
0
1
Bernie Nicholls
1
1985
10
0
2
2
12
0
1 ('85)
0
1
Rob Niedermayer
2
1999, 2004
18
4
5
9
30
1 ('04)
0
0
1
Scott Niedermayer
1
2004
9
3
2
5
12
1 ('04)
0
0
1
Joe Nieuwendyk
1
1990
1
0
0
0
0
0
0
0
0
Owen Nolan
1
1997
10
4
3
7
31
1 ('97)
0
0
1
<span id="O"/>Sean O'Donnell
1
1999
8
1
2
3
6
0
0
0
0
John Ogrodnick
1
1981
8
3
2
5
0
0
0
0
0
Steve Ott
1
2010
7
0
1
1
20
0
0
0
0
<span id="P"/>Wilf Paiement
3
1977, 1978, 1979
28
14
9
23
46
0
0
1 ('78)
1
Best Forward (1979)
James Patrick
5
1983, 1987, 1989,
1998, 2002
40
3
7
10
20
0
1 ('89)
1 ('83)
2
Steve Payne
1
1979
7
2
0
2
2
0
0
0
0
Michael Peca
1
2001
3
1
3
4
0
0
0
0
0
Team Captain (2001)
Barry Pederson
1
1987
10
2
3
5
2
0
0
0
0
Rich Peverley
1
2010
7
1
3
4
4
0
0
0
0
Yanic Perreault
1
1996
8
6
3
9
0
0
1 ('96)
0
1
Best Forward (1996)
Corey Perry
1
2010
7
2
4
6
8
0
0
0
0
Michel Petit
1
1990
8
0
1
1
8
0
0
0
0
Matt Pettinger
1
2006
8
1
0
1
4
0
0
0
0
Dion Phaneuf
1
2007
7
0
8
8
2
1 ('07)
0
0
1
Chris Phillips
3
2000, 2005, 2009
27
0
4
4
22
0
2 ('05, '09)
0
2
Robert Picard
2
1978, 1979
17
1
2
3
6
0
0
1 ('78)
1
Denis Potvin
1
1986
7
1
4
5
6
0
0
1 ('86)
1
HHOF (1991)
CSHOF (2001)
Keith Primeau
2
1997, 1998
17
6
4
10
18
1 ('97)
0
0
1
Team Captain (1998)
Chris Pronger
1
1997
9
0
2
2
12
1 ('97)
0
0
1
Jean Pronovost
2
1977, 1978
17
4
5
9
0
0
0
1 ('78)
1
Brian Propp
2
1982, 1983
20
7
5
12
10
0
0
2 ('82, '83)
2
<span id="Q"/>Dan Quinn
1
1987
10
2
2
4
12
0
0
0
0
Stéphane Quintal
1
1999
9
3
2
5
4
0
0
0
0
<span id="R"/>Yves Racine
2
1991, 1994
12
1
2
3
8
1 ('94)
1 ('91)
0
2
Rob Ramage
1
1981
8
0
1
1
0
0
0
0
0
Mason Raymond
1
2010
3
0
1
1
0
0
0
0
0
Mark Recchi
3
1990, 1993, 1997
22
5
10
15
4
1 ('97)
0
0
1
Wade Redden
3
1999, 2001, 2005
25
3
8
11
33
0
1 ('05)
0
1
Best Defenceman (2005)
Craig Redmond
1
1986
10
3
2
5
14
0
0
1 ('86)
1
Robyn Regehr
2
2000, 2005
15
0
0
0
6
0
1 ('05)
0
1
Paul Reinhart
2
1982, 1983
13
3
8
11
6
0
0
2 ('82, '83)
2
Steven Reinprecht
1
2003
8
0
6
6
2
1 ('03)
0
0
1
Pat Ribble
1
1978
10
0
0
0
15
0
0
1 ('78)
1
Mike Ricci
1
1994
8
2
1
3
8
1 ('94)
0
0
1
Brad Richards
1
2001
7
3
3
6
0
0
0
0
0
Mike Richards
1
2006
9
3
2
5
10
0
0
0
0
Luke Richardson
2
1994, 1996
16
0
1
1
18
1 ('94)
1 ('96)
0
2
Craig Rivet
1
2003
9
0
1
1
6
1 ('03)
0
0
1
Stephane Robidas
2
2001, 2006
16
1
2
3
6
0
0
0
0
Larry Robinson
1
1981
6
1
1
2
2
0
0
0
0
Best Defenceman (1981)
HHOF (1995)
CSHOF (2004)
Luc Robitaille
1
1994
8
3
4
7
2
1 ('94)
0
0
1
Team Captain (1994)
HHOF (2009)
Stacy Roest
1
2006
0
0
0
0
0
0
0
0
0
Mike Rogers
1
1981
6
0
1
1
4
0
0
0
0
Cliff Ronning
1
1991
10
1
4
5
8
0
1 ('91)
0
1
Bob Rouse
1
1987
4
0
0
0
4
0
0
0
0
Derek Roy
2
2008, 2009
18
9
9
18
10
0
2 ('08, '09)
0
2
Steve Rucchin
1
1998
6
1
2
3
2
0
0
0
0
Kris Russell
1
2010
7
1
3
4
2
0
0
0
0
Phil Russell
2
1977, 1986
18
0
4
4
26
0
0
1 ('86)
1
<span id="S"/>Joe Sakic
2
1991, 1994
18
10
8
18
0
1 ('94)
1 ('91)
0
2
Geoff Sanderson
3
1993, 1994, 1997
27
10
7
17
12
2 ('94, '97)
0
0
2
Brian Savage
2
1993, 1999
15
4
3
7
4
0
0
0
0
Peter Schaefer
2
2000, 2002
15
1
1
2
6
0
0
0
0
Luke Schenn
1
2009
9
0
1
1
0
0
1 ('09)
0
1
Brad Schlegel
4
1991, 1992, 1995,
2002
28
1
4
5
24
0
1 ('91)
1 ('95)
2
Nick Schultz
3
2004, 2006, 2007
27
0
3
3
8
2 ('04, '07)
0
0
2
Brent Seabrook
1
2006
8
0
0
0
2
0
0
0
0
Al Secord
1
1987
10
0
2
2
16
0
0
0
0
Brendan Shanahan
2
1994, 2006
14
7
4
11
16
1 ('94)
0
0
1
Team Captain (2006)
Dave Shand
2
1978, 1979
17
0
3
3
14
0
0
1 ('78)
1
Jeff Shantz
1
2004
0
0
0
0
0
1 ('04)
0
0
1
Patrick Sharp
1
2008
9
3
0
3
4
0
1 ('08)
0
1
Glen Sharpley
1
1978
10
1
3
4
16
0
0
1 ('78)
1
Gord Sherven
1
1983
9
2
1
3
2
0
0
1 ('83)
1
Mike Sillinger
1
2000
9
3
0
3
4
0
0
0
0
Team Captain (2000)
Charlie Simmer
1
1983
10
2
3
5
8
0
0
1 ('83)
1
Darryl Sittler
2
1982, 1983
20
7
4
11
14
0
0
2 ('82, '83)
2
Team Captain (1983)
HHOF (1989)
Bobby Smith
2
1979, 1982
18
6
8
14
0
0
0
1 ('82)
1
Dallas Smith
1
1977
10
0
2
2
4
0
0
0
0
Geoff Smith
1
1993
8
0
0
0
4
0
0
0
0
Greg Smith
2
1977, 1979
15
0
2
2
16
0
0
0
0
Jason Smith
1
2001
7
1
0
1
4
0
0
0
0
Randy Smith
2
1991, 1992
16
1
0
1
12
0
1 ('91)
0
1
Stan Smyl
1
1985
10
1
1
2
6
0
1 ('85)
0
1
Ryan Smyth
8
1999, 2000, 2001,
2002, 2003, 2004,
2005, 2010
60
15
16
31
26
2 ('03, '04)
1 ('05)
0
3
Team Captain (2001–2005, 2010)
Sheldon Souray
1
2005
9
1
1
2
6
0
1 ('05)
0
1
Jason Spezza
2
2008, 2009
18
8
6
14
2
0
2 ('08, '09)
0
2
Martin St. Louis
2
2008, 2009
18
6
19
25
2
0
2 ('08, '09)
0
2
Eric Staal
2
2007, 2008
17
9
8
17
12
1 ('07)
1 ('08)
0
2
Jordan Staal
1
2007
9
0
2
2
0
1 ('07)
0
0
1
Marc Staal
1
2010
7
0
1
1
2
0
0
0
0
Steve Staios
4
2002, 2003, 2004,
2008
33
2
4
6
18
2 ('03, '04)
1 ('08)
0
3
Steve Stamkos
2
2009, 2010
14
9
5
14
16
0
1 ('09)
0
1
Scott Stevens
4
1983, 1985, 1987,
1989
27
3
6
9
18
0
2 ('85, '89)
1 ('83)
3
HHOF (2007)
Cory Stillman
1
1999
9
4
4
8
4
0
0
0
0
Brad Stuart
2
2001, 2006
16
1
4
5
20
0
0
0
0
Steve Sullivan
2
2000, 2001
15
5
3
8
24
0
0
0
0
Brent Sutter
1
1986
8
4
7
11
8
0
0
1 ('86)
1
Ron Sutter
1
1990
10
1
1
2
4
0
0
0
0
Don Sweeney
1
1997
11
1
3
4
6
1 ('97)
0
0
1
Darryl Sydor
3
1994, 1996, 2002
17
0
3
3
4
1 ('94)
1 ('96)
0
2
Phil Sykes
1
1986
9
0
0
0
2
0
0
1 ('86)
1
Chris Szysky
1
1999
6
0
0
0
4
0
0
0
0
<span id="T"/>Steve Tambellini
1
1981
8
0
3
3
4
0
0
0
0
Tony Tanti
3
1985, 1986, 1987
28
16
7
23
40
0
1 ('85)
1 ('86)
2
John Tavares
1
2010
7
7
0
7
6
0
0
0
0
Dave Taylor
3
1983, 1985, 1986
30
7
10
17
20
0
1 ('85)
2 ('83, '86)
3
Team Captain (1985)
Steve Thomas
4
1991, 1992, 1994,
1996
29
10
13
23
45
1 ('94)
2 ('91, '96)
0
3
Team Captain (1996)
Joe Thornton
2
2001, 2005
15
7
11
18
10
0
1 ('05)
0
1
MVP (2005)
Scott Thornton
1
1999
9
5
1
6
6
0
0
0
0
Tom Tilley
1
1995
8
0
0
0
14
0
0
1 ('95)
1
Rick Tocchet
1
1990
10
4
2
6
14
0
0
0
0
Jonathan Toews
2
2007, 2008
18
4
8
12
14
1 ('07)
1 ('08)
0
2
Patrick Traverse
1
2000
8
1
0
1
0
0
0
0
0
Yannick Tremblay
1
2000
9
1
1
2
0
0
0
0
0
Brian Tutt
2
1992, 1995
12
0
0
0
14
0
0
1 ('95)
1
Team Captain (1995)
<span id="U"/>Garry Unger
2
1978, 1979
18
2
1
3
42
0
0
1 ('78)
1
Scottie Upshall
1
2009
8
0
1
1
27
0
1 ('09)
0
1
<span id="V"/>Carol Vadnais
1
1977
10
3
1
4
33
0
0
0
0
Eric Vail
1
1977
9
4
1
5
18
0
0
0
0
Rick Vaive
2
1982, 1985
19
9
4
13
30
0
1 ('85)
1 ('82)
2
John Van Boxmeer
1
1982
8
2
0
2
8
0
0
1 ('82)
1
Mike Veisor
1
1983
10
0
0
0
0
0
0
1 ('83)
1
Pat Verbeek
2
1989, 1994
12
1
3
4
6
1 ('94)
1 ('89)
0
2
Marc-Édouard Vlasic
1
2009
5
0
0
0
4
0
1 ('09)
0
1
<span id="W"/>Scott Walker
3
1999, 2001, 2005
25
5
6
11
28
0
1 ('05)
0
1
Ryan Walter
3
1979, 1981, 1982
20
5
5
10
6
0
0
1 ('82)
1
Wes Walz
1
2001
6
0
4
4
2
0
0
0
0
Tim Watters
1
1983
10
0
0
0
8
0
0
1 ('83)
1
Shea Weber
2
2007, 2009
15
5
9
14
37
1 ('07)
1 ('09)
0
2
Best Defenceman (2009)[16]
Jay Wells
1
1986
10
0
2
2
16
0
0
1 ('86)
1
Glen Wesley
1
1996
8
0
1
1
4
0
1 ('96)
0
1
Ian White
1
2009
5
1
2
3
0
0
1 ('09)
0
1
Ray Whitney
4
1998, 1999, 2001,
2010
29
8
17
25
26
0
0
0
0
Team Captain (2010)
Jason Williams
1
2006
9
2
5
7
2
0
0
0
0
Justin Williams
2
2002, 2007
14
1
5
6
22
1 ('07)
0
0
1
Paul Woods
1
1979
8
0
0
0
2
0
0
0
0
Jason Woolley
1
1992
6
1
2
3
2
0
0
0
0
Jamie Wright
1
2002
7
1
1
2
2
0
0
0
0
Tyler Wright
1
2002
7
0
2
2
33
0
0
0
0
<span id="Y"/>Trent Yawney
2
1991, 1992
16
2
5
7
8
0
1 ('91)
0
1
Steve Yzerman
3
1985, 1989, 1990
28
18
21
39
16
0
2 ('85, '89)
0
2
Team Captain (1989, 1990)
Best Forward (1990)
CSHOF (2008)
HHOF (2009)
<span id="Z"/>Travis Zajac
1
2009
5
0
0
0
2
0
1 ('09)
0
1
Zarley Zalapski
1
1987
10
0
3
3
2
0
0
0
0
Rob Zamuner
2
1997, 1998
16
4
4
8
20
1 ('97)
0
0
1
References
Edit
General
Specific
External links
Edit

Wikimedia Commons has media related to: