Ad blocker interference detected!
Wikia is a free-to-use site that makes money from advertising. We have a modified experience for viewers using ad blockers

Wikia is not accessible if you've made further modifications. Remove the custom ad blocker rule(s) and the page will load as expected.
The Columbus Blue Jackets are a professional ice hockey team based in Columbus, Ohio, United States. They are members of the Central Division of the Western Conference of the National Hockey League (NHL). The Blue Jackets began play in 2000 as an expansion franchise. As of March 7, 2009, 148 players have appeared in at least one game with the Blue Jackets: 13 goaltenders and 135 skaters (forwards and defensemen).
Five players have served as the Blue Jackets' captain. Each NHL team may select a captain, who has the "sole privilege of discussing with the referee any questions relating to interpretation of rules which may arise during the progress of a game". Captains are required to wear the letter "C" on their uniform for identification, which is 3 in in height. Lyle Odelein was named the team's first captain in the inaugural season of 2000–01. Rick Nash is the present captain and is the franchise goal scoring leader.
      Appeared in a Blue Jackets game during the 2008–09 season
Abbreviations

| | |
| --- | --- |
| Nat | Nationality |
| GP | Games played |
The seasons column lists the first year of the season of the player's first game and the last year of the season of the player's last game. For example, a player who played one game in the 2000–01 season would be listed as playing with the team from 2000–01, regardless of what calendar year the game occurred within.
Statistics are complete to the end of the 2008–09 NHL season.
Goaltenders
Edit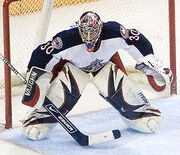 Nat
Seasons
Regular season
Playoffs
Notes
GP
W
L
T
OTL
SO
GAA
SV%
GP
W
L
SO
GAA
SV%
Boucher, Brian
2006–2007
3
1
1
—
0
0
3.79
.866
—
—
—
—
—
—
Brathwaite, Fred
2003–2004
21
4
11
1
—
0
3.37
.897
—
—
—
—
—
—
Conklin, Ty
2006–2007
11
2
3
—
2
0
3.30
.871
—
—
—
—
—
—
Denis, Marc
2000–2006
266
84
146
24
1
12
3.01
.905
—
—
—
—
—
—
Dubielewicz, Wade
2008–2009
3
1
2
—
0
0
3.55
.870
—
—
—
—
—
—
Labbe, Jean-Francois
2001–2003
14
3
5
0
—
0
3.49
.890
—
—
—
—
—
—
LaCosta, Dan
2007–2009
4
2
0
—
0
1
1.42
.953
—
—
—
—
—
—
Leclaire, Pascal
2003–2009
125
45
55
0
12
10
2.82
.907
—
—
—
—
—
—
Mason, Steve
2008–2009
61
33
20
—
7
10
2.29
.916
4
0
4
0
4.27
.861
Norrena, Fredrik
2006–2009
100
35
45
—
11
5
2.79
.899
—
—
—
—
—
—
Popperle, Tomas
2006–2007
2
0
0
—
0
0
1.35
.929
—
—
—
—
—
—
Prusek, Martin
2005–2006
9
3
3
—
0
0
3.21
.879
—
—
—
—
—
—
Tugnutt, Ron
2000–2002
97
34
52
8
—
6
2.62
.910
—
—
—
—
—
—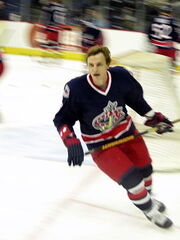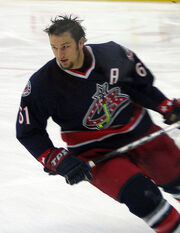 Nat
Pos
Seasons
Regular season
Playoffs
Notes
GP
G
A
P
PIM
GP
G
A
P
PIM
<span id="A"/>Adams, Kevyn
C
2000–2001
66
8
12
20
52
—
—
—
—
—
Allison, Jamie
D
2001–2003
55
0
1
1
127
—
—
—
—
—
Aubin, Serge
C
2000–2002
152
21
25
46
139
—
—
—
—
—
<span id="B"/>Backman, Christian
D
2008–2009
56
2
5
7
32
—
—
—
—
—
Balastik, Jaroslav
LW
2005–2007
74
13
11
24
30
—
—
—
—
—
Beauchemin, Francois
D
2005–2006
11
0
2
2
11
—
—
—
—
—
Beech, Kris
C
2007–2008
16
5
4
9
2
—
—
—
—
—
Bellefeuille, Blake
C
2001–2003
5
0
1
1
0
—
—
—
—
—
Berard, Bryan
D
2005–2007
55
12
23
35
40
—
—
—
—
—
Bicanek, Radim
D
2000–2002
69
1
7
8
40
—
—
—
—
—
Boll, Jared
RW
2007–2009
150
9
15
24
406
1
0
0
0
0
Bowler, Bill
C
2000–2001
9
0
2
2
8
—
—
—
—
—
Brassard, Derick
C
2007–2009
48
11
16
27
23
—
—
—
—
—
Brule, Gilbert
C
2005–2008
146
12
20
32
30
—
—
—
—
—
<span id="C"/>Caloun, Jan
RW
2000–2001
11
0
3
3
2
—
—
—
—
—
Campbell, Darcy
D
2006–2007
1
0
0
0
0
—
—
—
—
—
Carter, Anson
RW
2006–2007
54
10
17
27
16
—
—
—
—
—
Cassels, Andrew
D
2002–2004
137
26
68
94
56
—
—
—
—
—
Chimera, Jason
LW
2005–2009
292
54
65
119
325
4
0
1
1
2
Commodore, Mike
D
2008–2009
81
5
19
24
100
4
0
0
0
18
<span id="D"/>Dahl, Kevin
D
2000–2001
4
0
0
0
2
—
—
—
—
—
Darche, Mathieu
LW
2000–2003
24
1
1
2
6
—
—
—
—
—
Davidson, Matt
RW
2000–2003
56
5
7
12
28
—
—
—
—
—
Delmore, Andy
D
2005–2006
7
0
0
0
2
—
—
—
—
—
Dineen, Kevin
RW
2000–2003
129
13
15
28
200
—
—
—
—
—
Dorsett, Derek
RW
2008–2009
52
4
1
5
150
3
0
0
0
2
Drury, Ted
C
2000–2001
1
0
0
0
0
—
—
—
—
—
<span id="E"/>Eriksson, Anders
D
2003–2004
2006–2007
145
7
43
50
64
—
—
—
—
—
<span id="F"/>Fedorov, Sergei
C
2005–2008
185
39
74
113
150
—
—
—
—
—
Filatov, Nikita
LW
2008–2009
8
4
0
4
0
—
—
—
—
—
Foote, Adam
D
2005–2008
187
10
39
49
155
—
—
—
—
—
Captain, 2005–2008
Fritsche, Dan
C
2003–2008
206
29
34
63
91
—
—
—
—
—
<span id="G"/>Gardiner, Bruce
RW
2000–2001
73
7
15
22
78
—
—
—
—
—
Gaul, Michael
D
2000–2001
2
0
0
0
4
—
—
—
—
—
Glencross, Curtis
LW
2006–2008
43
6
6
12
25
—
—
—
—
—
Goertzen, Steven
RW
2005–2007
46
0
0
0
54
—
—
—
—
—
Grand-Pierre, Jean-Luc
D
2000–2004
202
4
10
14
239
—
—
—
—
—
Gratton, Chris
C
2008–2009
6
0
1
1
2
—
—
—
—
—
<span id="H"/>Hainsey, Ron
D
2005–2008
213
19
64
83
137
—
—
—
—
—
Harkins, Brett
LW
2001–2002
25
2
12
14
8
—
—
—
—
—
Hartigan, Mark
C
2003–2007
48
11
8
19
30
—
—
—
—
—
Heinze, Steve
RW
2000–2001
65
22
20
42
38
—
—
—
—
—
Hejda, Jan
D
2007–2009
163
3
31
34
99
3
0
0
0
2
Heward, Jamie
D
2000–2002
97
12
18
30
40
—
—
—
—
—
Holzinger, Brian
C
2003–2004
13
1
0
1
2
—
—
—
—
—
Hrdina, Jan
C
2005–2006
75
10
23
33
78
—
—
—
—
—
Hulse, Cale
D
2005–2006
27
0
3
3
43
—
—
—
—
—
Huselius, Kristian
RW
2008–2009
74
21
35
56
44
4
1
1
2
4
Hyvonen, Hannes
RW
2002–2003
36
4
5
9
22
—
—
—
—
—
<span id="J"/>Jackman, Tim
RW
2003–2004
19
1
2
3
16
—
—
—
—
—
Johnson, Aaron
D
2003–2007
116
7
19
26
93
—
—
—
—
—
<span id="K"/>Kallio, Tomi
RW
2002–2003
12
1
2
3
8
—
—
—
—
—
Klesla, Rostislav
D
2000–2009
444
36
79
115
456
4
0
1
1
0
Knutsen, Espen
C
2000–2004
188
27
81
108
99
—
—
—
—
—
Komarniski, Zenith
D
2003–2004
2
0
0
0
0
—
—
—
—
—
Konopka, Zenon
C
2006–2007
9
0
0
0
35
—
—
—
—
—
Kron, Robert
C
2000–2002
118
12
22
34
14
—
—
—
—
—
Kucera, Frantisek
D
2000–2001
48
2
5
7
12
—
—
—
—
—
<span id="L"/>Lachance, Scott
D
2002–2004
138
0
5
5
90
—
—
—
—
—
Letowski, Trevor
RW
2003–2006
154
25
35
60
52
—
—
—
—
—
Lindstrom, Joakim
C
2005–2008
37
4
4
8
18
—
—
—
—
—
Ling, David
RW
2001–2004
90
4
4
8
191
—
—
—
—
—
<span id="M"/>MacDonald, Craig
C
2008–2009
8
1
1
2
0
—
—
—
—
—
MacKenzie, Derek
C
2007–2009
18
2
0
2
10
—
—
—
—
—
MacLean, Donald
C
2003–2004
4
1
0
1
0
—
—
—
—
—
Malhotra, Manny
C
2003–2009
344
53
92
145
203
4
0
0
0
0
Maltais, Steve
LW
2000–2001
26
0
3
3
12
—
—
—
—
—
Maneluk, Mike
RW
2000–2001
39
5
1
6
33
—
—
—
—
—
Manning, Paul
D
2002–2003
8
0
0
0
2
—
—
—
—
—
Marchant, Todd
C
2003–2006
95
12
31
43
54
—
—
—
—
—
Marshall, Grant
RW
2001–2003
147
23
38
61
157
—
—
—
—
—
Mauldin, Greg
C
2003–2004
6
0
0
0
4
—
—
—
—
—
Mayorov, Maxim
LW
2008–2009
3
0
0
0
0
—
—
—
—
—
McDonell, Kent
RW
2002–2004
32
1
2
3
36
—
—
—
—
—
Methot, Marc
D
2006–2009
95
4
17
21
75
4
0
0
0
2
Modin, Fredrik
LW
2006–2009
152
37
42
79
98
4
1
0
1
0
Moran, Brad
C
2001–2002
2003–2004
5
1
1
2
2
—
—
—
—
—
Motzko, Joe
RW
2003–2007
11
1
0
1
0
—
—
—
—
—
Murray, Andrew
C
2007–2009
106
14
7
21
22
—
—
—
—
—
<span id="N"/>Nash, Rick
LW
2002–2009
441
194
161
355
436
4
1
2
3
2
Captain, 2007–Present
Rocket Richard Trophy—2004
Nedorost, Andrej
LW
2001–2004
28
2
3
5
12
—
—
—
—
—
Nielsen, Chris
RW
2000–2002
52
6
8
14
8
—
—
—
—
—
Novak, Filip
D
2006–2007
6
0
0
0
2
—
—
—
—
—
Novotny, Jiri
C
2007–2009
107
12
17
29
38
—
—
—
—
—
Nummelin, Petteri
D
2000–2001
61
4
12
16
10
—
—
—
—
—
<span id="O"/>Odelein, Lyle
D
2000–2002
146
5
28
33
207
—
—
—
—
—
Captain, 2000–2002
Oliwa, Krzysztof
LW
2000–2001
10
0
2
2
34
—
—
—
—
—
<span id="P"/>Pandolfo, Mike
LW
2003–2004
3
0
0
0
0
—
—
—
—
—
Peca, Michael
C
2007–2009
136
12
44
56
122
4
0
0
0
2
Picard, Alexandre
LW
2005–2009
58
0
2
2
48
—
—
—
—
—
Pineault, Adam
RW
2007–2008
3
0
0
0
0
—
—
—
—
—
Pirjeta, Lasse
LW
2002–2004
108
13
18
31
32
—
—
—
—
—
Platt, Geoff
C
2005–2007
41
4
10
14
26
—
—
—
—
—
Pronger, Sean
C
2001–2003
104
10
7
17
76
—
—
—
—
—
Pushor, Jamie
D
2000–2002
2003–2006
147
4
18
22
150
—
—
—
—
—
<span id="Q"/>Quint, Deron
D
2000–2002
132
14
34
48
42
—
—
—
—
—
<span id="R"/>Reich, Jeremy
C
2003–2004
9
0
1
1
20
—
—
—
—
—
Richardson, Luke
D
2002–2006
190
2
24
26
151
—
—
—
—
—
Captain, 2003–2005
Rohloff, Todd
D
2003–2004
24
0
2
2
8
—
—
—
—
—
Rome, Aaron
D
2007–2009
25
1
2
3
33
1
0
1
1
0
Rupp, Michael
RW
2005–2006
39
4
2
6
58
—
—
—
—
—
Russell, Kris
D
2007–2009
133
4
27
31
42
4
1
1
2
2
<span id="S"/>Sanderson, Geoff
LW
2000–2006
261
88
80
168
126
—
—
—
—
—
Sarno, Peter
C
2005–2006
1
0
0
0
0
—
—
—
—
—
Scoville, Darrel
D
2002–2004
10
0
1
1
10
—
—
—
—
—
Selivanov, Alexander
RW
2000–2001
59
8
11
19
38
—
—
—
—
—
Selmser, Sean
LW
2000–2001
1
0
0
0
5
—
—
—
—
—
Sestito, Tommy
LW
2007–2008
1
0
0
0
17
—
—
—
—
—
Severson, Cam
LW
2005–2006
4
0
0
0
5
—
—
—
—
—
Shelley, Jody
LW
2000–2008
380
11
18
29
1001
—
—
—
—
—
Sillinger, Mike
C
2001–2003
155
38
48
86
106
—
—
—
—
—
Simon, Ben
LW
2005–2006
13
0
0
0
4
—
—
—
—
—
Sloan, Blake
RW
2000–2002
74
3
7
10
59
—
—
—
—
—
Spacek, Jaroslav
D
2001–2004
153
16
56
72
139
—
—
—
—
—
Suchy, Radoslav
D
2005–2006
79
1
7
8
30
—
—
—
—
—
Svitov, Alexandr
C
2003–2007
105
9
17
26
161
—
—
—
—
—
Sydor, Darryl
D
2003–2004
49
2
13
15
26
—
—
—
—
—
<span id="T"/>Tarnstrom, Dick
D
2007–2008
19
2
7
9
12
—
—
—
—
—
Timander, Mattias
D
2000–2002
154
6
16
22
68
—
—
—
—
—
Tollefsen, Ole-Kristian
D
2005–2009
145
4
6
10
273
—
—
—
—
—
Torres, Raffi
LW
2008–2009
51
12
8
20
23
4
0
2
2
2
Tyutin, Fedor
D
2008–2009
82
9
25
34
81
4
0
0
0
0
<span id="U"/>Umberger, R.J.
C
2008–2009
82
26
20
46
53
4
3
0
3
0
<span id="V"/>Van Impe, Darren
D
2002–2003
14
1
1
2
10
—
—
—
—
—
Vermette, Antoine
C
2008–2009
17
7
6
13
8
4
0
0
0
10
Voracek, Jakub
RW
2008–2009
80
9
29
38
44
4
0
1
1
8
Vyborny, David
RW
2000–2008
543
113
204
317
228
—
—
—
—
—
<span id="W"/>Walser, Derrick
D
2001–2004
2006–2007
91
8
21
29
56
—
—
—
—
—
Westcott, Duvie
D
2001–2008
201
11
45
56
299
—
—
—
—
—
Whitney, Ray
LW
2000–2003
151
45
95
140
36
—
—
—
—
—
Captain, 2002–2003
Williams, Jason
RW
2008–2009
39
12
17
29
16
4
0
1
1
2
Wilson, Clay
D
2007–2009
14
1
2
3
2
—
—
—
—
—
Wright, Tyler
C
2000–2006
309
57
51
108
436
—
—
—
—
—
<span id="Y"/>York, Mike
LW
2008–2009
1
0
0
0
0
—
—
—
—
—
<span id="Z"/>Zherdev, Nikolai
RW
2003–2008
283
76
105
181
164
—
—
—
—
—
References
Edit