List of Canada Senior Men's National Team rosters
Talk

0
Share
Ad blocker interference detected!
Wikia is a free-to-use site that makes money from advertising. We have a modified experience for viewers using ad blockers

Wikia is not accessible if you've made further modifications. Remove the custom ad blocker rule(s) and the page will load as expected.
This is a List of Canada Senior Men's National Team rosters.
2010 Men's World Ice Hockey Championships
Edit
Goaltender
Defence
Forward
2010 Winter Olympics
Edit
Head coach: Mike Babcock
The following is the Canadian roster in the men's ice hockey tournament of the 2010 Winter Olympics.
| No. | Pos. | Name | Birthdate | Birthplace | 2009–10 team |
| --- | --- | --- | --- | --- | --- |
| 30 | G | Martin Brodeur | 6 May 1972 | Montreal, QC | New Jersey Devils (NHL) |
| 29 | G | Marc-André Fleury | 28 November 1984 | Sorel, QC | Pittsburgh Penguins (NHL) |
| 1 | G | Roberto Luongo | 4 April 1979 | Montreal, QC | Vancouver Canucks (NHL) |
| 22 | D | Dan Boyle | 12 July 1976 | Ottawa, ON | San Jose Sharks (NHL) |
| 8 | D | Drew Doughty | 8 December 1989 | London, ON | Los Angeles Kings (NHL) |
| 2 | D | Duncan Keith | 16 July 1983 | Winnipeg, MB | Chicago Blackhawks (NHL) |
| 27 | D | Scott Niedermayer | 31 August 1973 | Cranbrook, BC | Anaheim Ducks (NHL) |
| 20 | D | Chris Pronger | 10 October 1974 | Dryden, ON | Philadelphia Flyers (NHL) |
| 7 | D | Brent Seabrook | 20 April 1985 | Richmond, BC | Chicago Blackhawks (NHL) |
| 6 | D | Shea Weber | 14 August 1985 | Sicamous, BC | Nashville Predators (NHL) |
| 37 | F | Patrice Bergeron | 24 July 1985 | L'Ancienne-Lorette, QC | Boston Bruins (NHL) |
| 87 | F | Sidney Crosby | 7 August 1987 | Cole Harbour, NS | Pittsburgh Penguins (NHL) |
| 51 | F | Ryan Getzlaf | 10 May 1985 | Regina, SK | Anaheim Ducks (NHL) |
| 15 | F | Dany Heatley | 21 January 1981 | Freiburg im Breisgau, West Germany | San Jose Sharks (NHL) |
| 12 | F | Jarome Iginla | 1 July 1977 | Edmonton, AB | Calgary Flames (NHL) |
| 11 | F | Patrick Marleau | 15 September 1979 | Swift Current, SK | San Jose Sharks (NHL) |
| 10 | F | Brenden Morrow | 16 January 1979 | Carlyle, SK | Dallas Stars (NHL) |
| 61 | F | Rick Nash | 16 June 1984 | Brampton, ON | Columbus Blue Jackets (NHL) |
| 18 | F | Mike Richards | 11 February 1985 | Kenora, ON | Philadelphia Flyers (NHL) |
| 24 | F | Corey Perry | 16 May 1985 | Peterborough, ON | Anaheim Ducks (NHL) |
| 21 | F | Eric Staal | 29 October 1984 | Thunder Bay, ON | Carolina Hurricanes (NHL) |
| 19 | F | Joe Thornton | 2 July 1979 | London, ON | San Jose Sharks (NHL) |
| 16 | F | Jonathan Toews | 29 April 1988 | Winnipeg, MB | Chicago Blackhawks (NHL) |
Goaltender
Defence
Forward
Goaltender
Defence
Forward
Goaltenders
Defencemen
Forwards
Goaltenders
Defencemen
Forwards
Head coach: Glen Sather
Goaltender
Defence
Forward
|}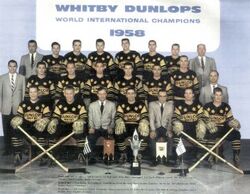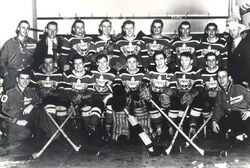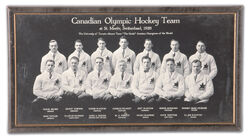 Head coach: Gordon Sigurjonson
Goaltender
Defence
Forward