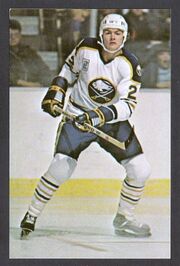 Lindy Ruff (b. February 17 1960 in Edmonton, Alberta, Canada) is a former National Hockey League defenseman who played for the Buffalo Sabres and the New York Rangers and current head coach of the Buffalo Sabres.
Ruff was Buffalo's 2nd round pick (32nd overall) in the 1979 NHL Entry Draft.
His younger brother Brent was also a hockey player; he however died at the age of 16 in a bus crash near Swift Current.
This entry is a stub. You can help the Ice Hockey Wiki by expanding it. Click the "edit" button to add information.
Ad blocker interference detected!
Wikia is a free-to-use site that makes money from advertising. We have a modified experience for viewers using ad blockers

Wikia is not accessible if you've made further modifications. Remove the custom ad blocker rule(s) and the page will load as expected.