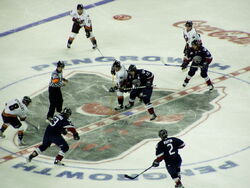 The Lethbridge Hurricanes are a junior ice hockey team in the Eastern Conference (Central Division) of the Western Hockey League in Lethbridge, Alberta. They play their home games at the ENMAX Centre.
When the Lethbridge Broncos returned to their original home of Swift Current following the 1985–86 season, hockey fans in Lethbridge did not have to wait long for a new team. After only one year out of the league, Lethbridge returned to the WHL in 1987–88 when the Calgary Wranglers moved south to become the Hurricanes.
The team's crowning achievement came in 1996–97, when the Hurricanes captured their first, and only, WHL Championship. The Hurricanes would finish as Memorial Cup runners-up when they lost the title game to the Hull Olympiques. That same year, they also won their division title (only done twice before, 1989–90 and 1990–91) and the regular season title. In the 2007-08 season, the Hurricanes won the eastern conference championship.[1]
Ownership
Edit
The team is owned by Lethbridge Hurricanes Hockey Club Ltd., a community owned team consisting of 270 sharholders. On June 1, 2015 the share holders approved a plan to sell 2,000 preferred shares at $1,000 each to raise funds to help the organization. This was done after a motion to sell the team to private interest received 68% approval (75% approval was required for the motion to pass). [2]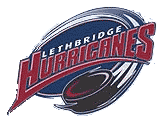 Season-by-season record
Edit
| | | | | | | | | | | |
| --- | --- | --- | --- | --- | --- | --- | --- | --- | --- | --- |
| Season | GP | W | L | T | OL | GF | GA | Pts | Finish | Playoffs |
| 1987–88 | 72 | 20 | 48 | 4 | - | 257 | 357 | 44 | 7th East | Out of Playoffs |
| 1988–89 | 72 | 27 | 39 | 6 | - | 356 | 380 | 60 | 5th East | Lost East division semi-final |
| 1989–90 | 72 | 51 | 17 | 4 | - | 465 | 270 | 106 | 1st East | Lost WHL final |
| 1990–91 | 72 | 45 | 21 | 6 | - | 373 | 281 | 96 | 1st East | Lost WHL final |
| 1991–92 | 72 | 39 | 31 | 2 | - | 350 | 284 | 80 | 4th East | Lost in first round |
| 1992–93 | 72 | 33 | 36 | 3 | - | 317 | 328 | 69 | 4th East | Lost in first round |
| 1993–94 | 72 | 35 | 32 | 5 | - | 306 | 317 | 75 | 3rd East | Lost East division semi-final |
| 1994–95 | 72 | 22 | 48 | 2 | - | 263 | 341 | 46 | 8th East | Out of playoffs |
| 1995–96 | 72 | 33 | 36 | 3 | - | 259 | 270 | 69 | 2nd Central | Lost in first round |
| 1996–97 | 72 | 47 | 22 | 3 | - | 342 | 248 | 97 | 1st Central | Won Championship |
| 1997–98 | 72 | 32 | 29 | 11 | - | 261 | 237 | 75 | 2nd Central | Lost in first round |
| 1998–99 | 72 | 31 | 32 | 9 | - | 224 | 215 | 71 | 3rd Central | Lost in first round |
| 1999–00 | 72 | 25 | 38 | 4 | 5 | 220 | 250 | 59 | 4th Central | Out of playoffs |
| 2000–01 | 72 | 29 | 35 | 4 | 4 | 200 | 229 | 66 | 4th Central | Lost in first round |
| 2001–02 | 72 | 33 | 33 | 6 | 0 | 266 | 247 | 72 | 4th Central | Lost Eastern Conference quarter-final |
| 2002–03 | 72 | 28 | 40 | 2 | 2 | 236 | 303 | 60 | 5th Central | Out of playoffs |
| 2003–04 | 72 | 27 | 28 | 10 | 7 | 196 | 203 | 71 | 5th Central | Out of playoffs |
| 2004–05 | 72 | 39 | 20 | 12 | 1 | 222 | 162 | 91 | 2nd Central | Lost Eastern Conference quarter-final |
| Season | GP | W | L | OL | SL | GF | GA | Pts | Finish | Playoffs |
| 2005–06 | 72 | 27 | 36 | 3 | 6 | 195 | 250 | 63 | 3rd Central | Lost Eastern Conference quarter-final |
| 2006–07 | 72 | 33 | 34 | 2 | 3 | 254 | 265 | 71 | 5th Central | Out of playoffs |
| 2007–08 | 72 | 45 | 21 | 2 | 4 | 245 | 175 | 96 | 2nd Central | Lost final |
| 2008–09 | 72 | 35 | 32 | 3 | 2 | 227 | 228 | 75 | 4th Central | Lost Eastern Conference semi-final |
| 2009–10 | 72 | 20 | 44 | 5 | 3 | 178 | 275 | 48 | 5th Central | Out of playoffs |
| 2010–11 | 72 | 23 | 36 | 5 | 8 | 205 | 295 | 59 | 5th Central | Out of playoffs |
| 2011–12 | 72 | 29 | 42 | 0 | 1 | 225 | 292 | 59 | 6th Central | Out of playoffs |
| 2012–13 | 72 | 28 | 34 | 3 | 7 | 212 | 253 | 66 | 6th Central | Out of playoffs |
| 2013–14 | 72 | 12 | 55 | 2 | 3 | 171 | 358 | 29 | 6th Central | Out of playoffs |
| 2014–15 | 72 | 20 | 44 | 5 | 3 | 202 | 304 | 48 | 6th Central | Out of playoffs |
| 2015–16 | 72 | 46 | 24 | 1 | 1 | 304 | 218 | 94 | 1st Central | Lost Eastern Conference quarter-final |
| 2016–17 | 72 | 44 | 21 | 4 | 3 | 280 | 253 | 95 | 2nd Central | Lost Eastern Conference final |
| 2017–18 | 72 | 33 | 33 | 6 | 0 | 244 | 260 | 72 | 2nd Central | Lost Eastern Conference final |
Team records
Edit
Team records for a single season
Statistic
Total
Season
Most points
106
1989–90
Most wins
51
1989–90
Most goals for
465
1989–90
Least goals for
195
2005–06
Least goals against
162
2004–05
Most goals against
380
1988–89
NHL alumni
Edit
References
Edit
External links
Edit