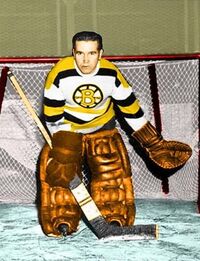 Les Colvin (born Feb. 8, 1921 in Oshawa, Ontario; died Septmeber 7, 2006 in Bowmanville, Ontario) was a professional goaltender who played one game for the Boston Bruins of the National Hockey League.
He played junior hockey for the Oshawa Generals from 1937-39, winning the Memorial Cup in 1939. Colvin then played three seasons in the Eastern Hockey League before joing the Canadian miltary during World War II.
He returned to hockey in 1946, splitting his time between the Quebec Senior Hockey League and the Pacific Coast Hockey League. In 1948-49 he played his one game for the Boston Bruins, a 4-2 loss to the Montreal Canadiens.
The next year (1949-50) he joined the Moncton Hawks of the Maritime Senior Hockey League for two seasons.
Colvin finished off his career with the senior North Bay Trappers in 1951-52 and 1952-53.
Ad blocker interference detected!
Wikia is a free-to-use site that makes money from advertising. We have a modified experience for viewers using ad blockers

Wikia is not accessible if you've made further modifications. Remove the custom ad blocker rule(s) and the page will load as expected.