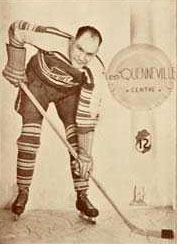 Leo Quenneville (b. June 15, 1900 in Saint-Anicet, Quebec - d. April 9, 1986) was a professional ice hockey left winger who played 25 games in the National Hockey League. He played with the New York Rangers.
He played senior hockey in Chicoutimi and Trois Rivieres from 1921 to 1926 and then turned pro with the Quebec Castors in 1926-27. The New York Rangers accquired him in 1929. In the 1929-30 season he scored 3 assists in 25 games.
Quenneville played another five seasons in the minors before retiring in 1935.
References
Edit
Ad blocker interference detected!
Wikia is a free-to-use site that makes money from advertising. We have a modified experience for viewers using ad blockers

Wikia is not accessible if you've made further modifications. Remove the custom ad blocker rule(s) and the page will load as expected.