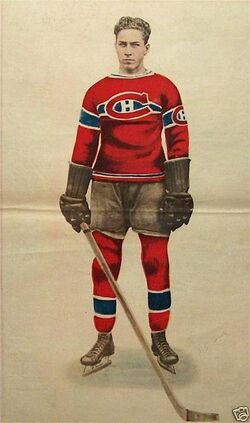 Leopold Gaudreault (b. October 15, 1905 in Chicoutimi, Quebec - d. March 21, 1950) was a Canadian professional ice hockey forward who played 71 games in the National Hockey League for the Montreal Canadiens.
He played senior hockey in his hometown of Chicoutimi, as well as for the Quebec Sons of Ireland, Montreal Nationale, and Montreal St Francois from 1921 to 1927. The Montreal Canadiens signed him as a free agent in 1927.
Gaudreault played 32 games for the Canadiens in 1927-28 and 11 more in 1928-29. He was then sent down to the Providence Reds until 1932-33, when he was recalled by the Canadiens for 24 games.
He played in 67 NHL games, scoring 8 goals and 4 assists
External links
Edit
Ad blocker interference detected!
Wikia is a free-to-use site that makes money from advertising. We have a modified experience for viewers using ad blockers

Wikia is not accessible if you've made further modifications. Remove the custom ad blocker rule(s) and the page will load as expected.