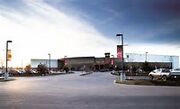 The Leduc Recreation Centre (formerly known as the Black Gold Centre) is an indoor arena located in Leduc, Alberta.  The facility is the home of the Leduc Riggers of the Junior B level Capital Junior Hockey League.  The facility includes 3 ice rinks, a curling rink, and an aquatic centre.  The facility officially opened in the fall of 2009.
The facility has hosted:
Ad blocker interference detected!
Wikia is a free-to-use site that makes money from advertising. We have a modified experience for viewers using ad blockers

Wikia is not accessible if you've made further modifications. Remove the custom ad blocker rule(s) and the page will load as expected.