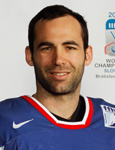 Laurent Meunier (born January 16, 1979 in Saint-Martin-d'Hères, France) is a French centre playing for Straubing Tigers in DEL.
He played for teams in Grenoble and Lyon from 1996 until he moved to North America in 2000. There he played for the University of Massachusetts-Lowell from 2000 to 2002 and with the Florida Everblades in 2002-03.
Meunier returned to France in 2003 and spent three seasons with the Brûleurs de Loups de Grenoble in the Ligue Magnus. Then he moved to Genève-Servette HC in Switzerland for two seasons (2006 to 2008). He played in 2007-08 for HC Lausanne, 2008-09 for HC Fribourg-Gottéron, and 2009-10 for Timrå IK. In 2010 he returned to Geneve-Servette but just for two games than he was transfered to HC La-Chaux-de-Fonds (NLB ). In November 2010 he signed a contract with Straubing in Bavaria. He renewed his contract in February 2011 until 2013.
Meunier has played for France in the following:
2005 Albert Hassler Trophy
Ad blocker interference detected!
Wikia is a free-to-use site that makes money from advertising. We have a modified experience for viewers using ad blockers

Wikia is not accessible if you've made further modifications. Remove the custom ad blocker rule(s) and the page will load as expected.