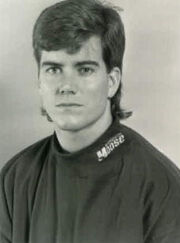 Larry Olimb (born August 11, 1969 in Warroad, Minnesota) is a retired American centre.
He won the Minnesota Mr. Hockey award as the high school played of the year in 1988. From 1988 to 1992 he played for the University of Minnesota. The Minnesota North Stars chose him 193rd in the 1987 NHL Entry Draft.
Olimb played pro and senior hockey from 1992 to 1995. A highlight was winning the Allan Cup with his hometown Warroad Lakers in 1994 in his hometown.
He retired in 1995.
Ad blocker interference detected!
Wikia is a free-to-use site that makes money from advertising. We have a modified experience for viewers using ad blockers

Wikia is not accessible if you've made further modifications. Remove the custom ad blocker rule(s) and the page will load as expected.