Lanxess Arena
Location
Cologne, Germany
Broke ground
July 31, 1996
Opened
October, 1998
Owner
Kölnarenamanagment GmbH
Construction cost
Euro 153 million
Architect
Peter Böhm
Former names
Kölnarena (1998-2008)
Tenants
Kölner Haie (DEL) (1998-present)
Capacity
20,000 (concerts)
19,500 (Team handball)
18,500 (hockey)
The Lanxess Arena (formerly known as Kölnarena, German for Cologne Arena) is an indoor [arena]] in Cologne, North Rhine-Westphalia, Germany. It is primarily used by Kölner Haie. Kölnarena opened in 1998 and can accommodate 20,000 spectators.
On June 2nd, 2008 it was announced that Kölnarena would be renamed to Lanxess Arena for a period of ten years. The sponsor, Lanxess AG, is a specialty chemicals group based in nearby Leverkusen.
The arena will be one of the venues for the 2010 IIHF World Championship, including both semi-finals, the Bronze medal game, and the Championship game.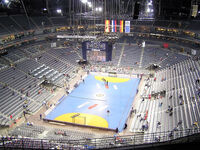 External links
Edit
Ad blocker interference detected!
Wikia is a free-to-use site that makes money from advertising. We have a modified experience for viewers using ad blockers

Wikia is not accessible if you've made further modifications. Remove the custom ad blocker rule(s) and the page will load as expected.