Ad blocker interference detected!
Wikia is a free-to-use site that makes money from advertising. We have a modified experience for viewers using ad blockers

Wikia is not accessible if you've made further modifications. Remove the custom ad blocker rule(s) and the page will load as expected.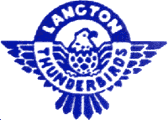 The Langton Thunderbirds were a junior team.
They played in the Southern Junior D Hockey League from 1976 to 1988, the Western Junior D Hockey League from 1988 to 1991, and the OHA Junior Development League until 2006.
The franchise then went on hiatus for a year due to poor performance and poor attendance. The team finally folded in 2008.
Season-by-Season Records
Edit
Southern Junior D Hockey LeagueEdit
Season
Games
Won
Lost
Tied
Points
Goals
for
Goals
against
Standing
1976-77
23
12
9
2
26
119
116
3rd West
1977-78
35
24
11
0
48
239
190
2nd
1978-79
32
5
24
3
13
148
210
9th
1979-80
34
16
11
7
39
188
169
3rd
1980-81
33
18
12
3
39
209
126
5th
1981-82
34
27
5
2
56
-
-
1st
1982-83
36
7
27
2
16
-
-
7th
1983-84
36
16
11
9
41
-
-
4th
1984-85
35
25
7
3
53
-
-
1st
1985-86
32
9
17
6
24
-
-
4th
1986-87
40
21
14
5
47
-
-
3rd
1987-88
29
15
13
1
31
-
-
3rd
Season
Games
Won
Lost
Tied
Overtime
Losses
Points
Goals
for
Goals
against
Standing
1988-89
35
21
9
5
0
47
231
153
2nd South
1989-90
35
13
19
3
0
29
197
215
5th South
1990-91
40
16
17
4
3
39
236
225
5th East
Season
Games
Won
Lost
Tied
Overtime
Losses
Points
Goals
for
Goals
against
Standing
1991-92
34
12
21
1
0
25
187
229
7th East
1992-93
40
8
28
4
0
20
135
246
9th East
1993-94
40
13
24
3
0
29
196
249
7th East
1994-95
39
21
15
1
2
45
216
182
5th East
1995-96
40
15
23
1
1
32
203
231
2nd Bossy-McKnight
1996-97
40
10
25
4
1
25
148
221
4th Bossy-McKnight
1997-98
38
8
30
0
0
16
131
246
4th Bossy-McKnight
1998-99
38
19
17
1
1
40
128
160
2nd Bossy-McKnight
1999-00
38
13
21
2
2
30
112
143
3rd Bossy-McKnight
2000-01
40
11
27
1
1
24
-
-
4th Bossy-McKnight
2001-02
40
19
17
1
3
42
155
159
4th Bossy-McKnight
2002-03
40
16
22
0
2
34
166
206
4th Bossy-McKnight
2003-04
40
8
31
1
0
17
118
215
5th Bossy-McKnight
2004-05
37
9
25
2
1
21
111
189
5th Bossy-McKnight
2005-06
37
9
24
2
2
22
130
202
5th Bossy-McKnight