The Lake Erie Eagles are a junior hockey team located in Erie, Pennsylvania. The team is part of the National College Prospects Hockey League which is scheduled to start play in the fall of 2016.  The team was originally scheduled to be named the Lake Erie Warriors but a backlash over the nickname and more so the logo caused the team to be renamed late in July the was rebranded as the Lake Erie Gulls for one day and then renamed the Lake Erie Eagles.
The team would be added to the Canadian Premier Junior Hockey League when the NCPHL collapsed in September of 2017.  However, the team may have been removed from the league a few days later after the Brampton Royals were merged with the Grey Highlands Hawks on September 20th as the team is no longer listed on one part of the league website as a team (but are on another) or on the league schedule (but are listed for several games somewhere else on the website).
Yearly Record
Edit
| Team | GP | W | L | OL | GF | GA | Pts | Finish | Playoffs |
| --- | --- | --- | --- | --- | --- | --- | --- | --- | --- |
| 2016-17 | 40 | 18 | 19 | 3 | 132 | 155 | 39 | 3rd of 6 | Lost, Final |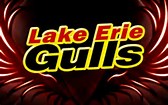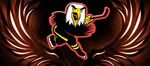 Ad blocker interference detected!
Wikia is a free-to-use site that makes money from advertising. We have a modified experience for viewers using ad blockers

Wikia is not accessible if you've made further modifications. Remove the custom ad blocker rule(s) and the page will load as expected.