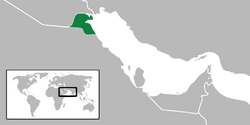 Kuwait is a nation of about 3,000,000 people in the Middle East region of Asia. Its capital is Kuwait.
Kuwait

Info

Rinks

Players

Referees

3

Population

3,520,000

Indoor

3

Total

306

Male

--

Capital

Kuwait City

Outdoor

0

Male

250

Female

--

IIHF Since

May 8 2009 and 1985-92

Junior

60

Female

56
The Kuwait national ice hockey team is the national men's ice hockey team of Kuwait, and an associate member of the International Ice Hockey Federation.
In 1985 Kuwait joined the International Ice Hockey Federation (IIHF) but were expelled in 1992 due to a lack of activity.[1][2] In 2009 Kuwait rejoined the IIHF. In 2007 they returned to international play at the 2007 Asian Winter Games where they recorded their first win against Macau.[3] The following year they competed in the Arab Cup of Ice Hockey finishing second after losing to the United Arab Emirates in the final.[4] In 2010 Kuwait competed in their first IIHF Challenge Cup of Asia, finishing seventh overall.[5] In May they participated in the Kuwaiti organised Gulf Ice Hockey Championship, finishing second behind the United Arab Emirates
National Team
Edit
Ad blocker interference detected!
Wikia is a free-to-use site that makes money from advertising. We have a modified experience for viewers using ad blockers

Wikia is not accessible if you've made further modifications. Remove the custom ad blocker rule(s) and the page will load as expected.