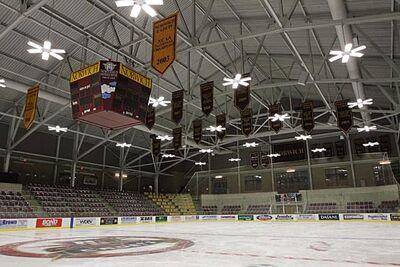 The
Kreitzburg Arena
is an ice arena located in
Northfield, Vermont
on the campus of
Norwich University
. The arena opened in 1998.  The facility also host the school's club teams and local youth and high school hockey teams.  The surface at the rink is 200' x 90'.  The facility can seat 1,400 and accomidate a total of 3,000 for hockey games.  The arena was built with touranments in mind in addition to dedicated locker rooms for both the men's and women's teams the facility has six visiting team locker rooms.
The arena has hosted the 1999, 2003, and 2004 NCAA Division III Men's Ice Hockey Championships
Ad blocker interference detected!
Wikia is a free-to-use site that makes money from advertising. We have a modified experience for viewers using ad blockers

Wikia is not accessible if you've made further modifications. Remove the custom ad blocker rule(s) and the page will load as expected.