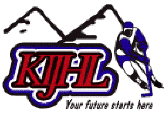 The Kootenay International Junior Hockey League is a Junior "B" ice hockey league in British Columbia, Canada, sanctioned by Hockey Canada. The winner of the KIJHL playoffs competes with the champions of the Pacific International Junior Hockey League and the Vancouver Island Junior Hockey League for the Cyclone Taylor Cup, the British Columbia Provincial Title. The winner of the Cyclone Taylor Cup moves on to compete for the Western Canada "B" Crown, the Keystone Cup.
Founded in the early 1960s, the league was represented by the Trail Smoke Eaters in 1962, 1964, 1965, and 1966 for the Mowat Cup. In the '60s, the Mowat Cup determined the British Columbia seed in the Memorial Cup playdowns.
In July 2016, the league announced for the 2016-17 season that the inter-conference play between the Okanagan-Shuswap Conference and the Kootenay Conference would be eliminated during the regular season and that the schedule woudl be reduced from 52 to 47 games.  The reduction in the number of games also nearly eliminated the use of week night games.  The moves served two purposes for the players and the owners first to reduce the strain on the players with much less travel and time to spend on their studies and the reduction of travel expenses and the elimination of unprofitable games held in the middle of the week.
Champions
Edit
1962 Trail Smoke Eaters
1963 -unknown-
1964 Trail Smoke Eaters
1965 Trail Smoke Eaters
1966 Trail Smoke Eaters
1967 -unknown-
1968 Trail Smoke Eaters
1970 Trail Smoke Eaters
1971 Trail Smoke Eaters
1972 Cranbrook Colts
1973 Cranbrook Colts
1974 Cranbrook Colts
1975 Cranbrook Colts
1976 Cranbrook Colts
1977 Castlegar Rebels
1978 Castlegar Rebels
1979 Trail Smoke Eaters
1980 Kimberley Knights
1981 Trail Smoke Eaters
1982 Cranbrook Colts
1983 Cranbrook Colts
1984 Cranbrook Colts
1985 Cranbrook Colts
1986 Cranbrook Colts
1987 Cranbrook Colts
1991 Trail Smoke Eaters
1994 North Okanagan Kings
1995 Sicamous Eagles
1996 Castlegar Rebels
1998 Revelstoke Grizzlies
2000 Nelson Leafs
2002 Sicamous Eagles
2005 Osoyoos Storm
2006 Sicamous Eagles
2007 Fernie Ghostriders (Defeated Nelson Leafs, 4-2)
2008 Fernie Ghostriders
2009 Nelson Leafs
2010 Revelstoke Grizzlies (Defeated Nelson Leafs, 4-1)
2011 Osoyoos Coyotes (Defeated Castlegar Rebels, 4-2)
2012 Beaver Valley Nitehawks (Defeated Kelowna Chiefs, 4-0)
2013 Castlegar Rebels
2015 Kimberley Dynamiters (defeated Kamloops Storm, 4-2)
2016 100 Mile House Wranglers (defeated Beaver Valley Nitehawks 4-1)
2017 Beaver Valley Nitehawks (defeated Chase Heat 3-0)
NHL Alumni
Edit
External links
Edit
Ad blocker interference detected!
Wikia is a free-to-use site that makes money from advertising. We have a modified experience for viewers using ad blockers

Wikia is not accessible if you've made further modifications. Remove the custom ad blocker rule(s) and the page will load as expected.