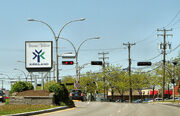 Kirkland is a town of about 20,000 people in the western part of the island of Montreal in southern Quebec.
It was merged into the city of Montreal from 2002-2005 but is now again an independent community.
Kirkland Park Rink
Holleuffer Park Rink
Canvin Park Rink
Excellence Sur Glace (Excellent Ice)
Ecclestone Park Rink
Heritage Park Rink
Arena Kirkland
External Links
Edit
Ad blocker interference detected!
Wikia is a free-to-use site that makes money from advertising. We have a modified experience for viewers using ad blockers

Wikia is not accessible if you've made further modifications. Remove the custom ad blocker rule(s) and the page will load as expected.