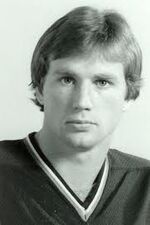 Kimbel Gerald Clackson
Selected by Pittsburgh Penguins 5th round (#85) in 1975 NHL Amateur Draft
Selected by Minnesota Fighting Saints 2nd round (#25) in 1975 WHA Amateur Draft
played 3 years of junior hockey in the WCHL before making the leap to professional. ... signed with the Indianapolis (WHA) as a free agent in 1975. ... set WHA records for most penalty minutes by a rookie and a defenseman in his first year. ... spent 2 seasons in Indianapolis, setting franchise records for most penalty minutes in a game (34), season (351), and career (519). ... traded to the powerhouse Winnipeg Jets in 1977. ... was the muscle behind a very talented squad that won 2 straight championships. ... set Winnipeg (WHA) franchise records for most penalty minutes in a season (210) and career (413). ... with the WHA / NHL merger, was re-claimed by Pittsburgh. ... left unprotected in the Expansion Draft, was a fill for the Penguins, after Colin Campbell was selected by Edmonton. ... fought Stan Jonathan and Al Secord in first period of his first NHL game, October 14, 1979 at Boston. ... led the Penguins in penalty minutes. ... sent to Quebec as compensation for the Penguins signing of free agent Paul Baxter. ... suited up for 61 games with the Nordiques, before calling it a career. ... never played in minor leagues. ... returned to Pittsburgh after retirement and went into commercial real estate business. ... has the dubious honour of most games in a career without scoring a goal.
Career Statistics
Edit
Career Moves
Edit
Signed as a free agent by Indianapolis (WHA) after Minnesota (WHA) franchise folded, 1976.
Traded to Winnipeg (WHA) by Indianapolis (WHA) for Winnipeg's 2nd and 3rd round choices in 1978 WHA Amateur Draft and Edmonton's 3rd round choice (previously acquired) in 1978 WHA Amateur Draft, September, 1977.
Claimed by Pittsburgh as a fill-in during Expansion Draft, June 13, 1979.
Transferred to Quebec by Pittsburgh as compensation for Pittsburgh's signing of free agent Paul Baxter, August 7, 1980.
Awards & Achievements
Edit
External links
Edit
Ad blocker interference detected!
Wikia is a free-to-use site that makes money from advertising. We have a modified experience for viewers using ad blockers

Wikia is not accessible if you've made further modifications. Remove the custom ad blocker rule(s) and the page will load as expected.