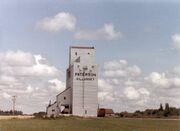 Killarney is a town of about 2300 in south-western Manitoba, Canada. The town is approximately 20 kilometres from the US border, 100 kilometres south of Brandon and 250 kilometres southwest of the provincial capital, Winnipeg.
Don Paterson Memorial Arena
External Links
Edit
Ad blocker interference detected!
Wikia is a free-to-use site that makes money from advertising. We have a modified experience for viewers using ad blockers

Wikia is not accessible if you've made further modifications. Remove the custom ad blocker rule(s) and the page will load as expected.