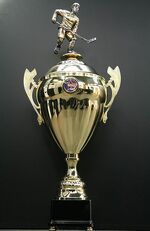 The Kharlamov Cup (Russian: Кубок Харламова, Kubok Kharlamova) is the championship trophy of the Minor Hockey League (MHL). The cup name commemorates Valery Kharlamov, a legendary Soviet hockey player.
The tournament
Edit
In order to win the Kharlamov Cup, teams must first qualify for the MHL playoffs. The 8 best teams of each conference qualify at the end of the season. The series are best-of-five.
The inaugural Kharlamov Cup tournament was won by Stalniye Lysi Magnitogorsk, who defeated Kuznetskiye Medvedi Novokuznetsk three games against two.
The winners
Edit