KeyArena at Seattle Center, commonly known as KeyArena, is a multipurpose arena in Seattle, Washington. It is located north of downtown in the 74-acre entertainment complex known as Seattle Center, the site of the 1962 World's Fair, the Century 21 Exposition. It is used for entertainment purposes, such as concerts, ice shows, circuses, and professional wrestling events.
It has a seating capacity for basketball games of 17,072, ice hockey games and ice shows 15,177, end-stage concerts is 16,641, and center-stage concerts and boxing 17,459. Risers hold 7,440 on the upper level and up to 7,741 on the lower level, with luxury suites adding another 1,160 seats.
It was the home to the Seattle Thunderbirds, a junior hockey team in the Western Hockey League. The Thunderbirds hosted the Memorial Cup in the Seattle Center Coliseum pre-KeyArena remodel in 1992.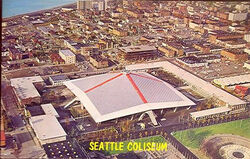 Ad blocker interference detected!
Wikia is a free-to-use site that makes money from advertising. We have a modified experience for viewers using ad blockers

Wikia is not accessible if you've made further modifications. Remove the custom ad blocker rule(s) and the page will load as expected.