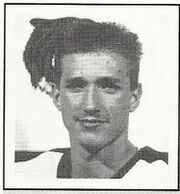 Kevin Riehl (born March 11, 1971 in Leader, Saskatchewan) is a retired Canadian ice hockey centre.
Riehl was drafted 231st overall by the New Jersey Devils in the 1991 NHL Entry Draft, but never managed to play in the NHL. Since 1995, Riehl played in Europe, beginning two years in Germany for Iserlohner EC where he scored 168 points in 93 games including 85 goals. He then spent two seasons in Italy before moving to the United Kingdom in 1999. He joined the Bracknell Bees and won the Superleague Championship in that season. He was then one of seven players who left the Bees to join the newly formed Belfast Giants, where he spent three seasons, winning his second Superleague title in 2002 and the playoff championship in 2003. He returned to North America in 2003/4, joining the Bakersfield Condors of the ECHL before playing once more in Italy, retiring from hockey in 2005.
External links
Edit
Ad blocker interference detected!
Wikia is a free-to-use site that makes money from advertising. We have a modified experience for viewers using ad blockers

Wikia is not accessible if you've made further modifications. Remove the custom ad blocker rule(s) and the page will load as expected.