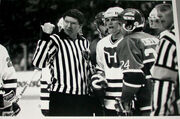 Kevin Collins (born December 15, 1950 in Springfield, Massachusetts) is a retired National Hockey League linesman. His career started in 1977 and ended in 2005. During his career (in which he never wore a helmet due to a grandfather clause), he officiated ten Stanley Cup Finals (including Game 7 in 1994) and one All-Star game.
External links
Edit
Ad blocker interference detected!
Wikia is a free-to-use site that makes money from advertising. We have a modified experience for viewers using ad blockers

Wikia is not accessible if you've made further modifications. Remove the custom ad blocker rule(s) and the page will load as expected.