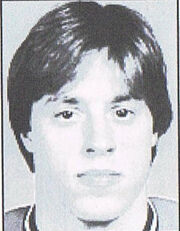 Kent Carlson (born January 11, 1962 in Concord, New Hampshire) is a retired American ice hockey defenseman. He played for the Montreal Canadiens, St. Louis Blues, and Washington Capitals.
He played for St. Lawrence University from 1981 to 1983 and was drafted 32nd overall by the Montreal Canadiens in the 1982 NHL Entry Draft. Carlson played all of the 1983-84 season with the Canadiens, but was used mostly as a fighter. He suffered many injuries as a result.
After 1984 Carlson was used sparingly by the Canadiens and was traded to the St. Louis Blues in 1986. A spinal operation caused him to miss the entire 1986-87 season. He returned in 1987-88 but retired after th 1988-89 season.
In the NHL Carlson played in 113 games and scored 7 goals and 11 assists.
External links
Edit
Ad blocker interference detected!
Wikia is a free-to-use site that makes money from advertising. We have a modified experience for viewers using ad blockers

Wikia is not accessible if you've made further modifications. Remove the custom ad blocker rule(s) and the page will load as expected.