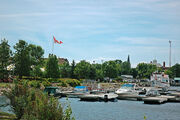 Kenora is a city of about 15,000 people in northwestern Ontario, Canada. It is located close to the Manitoba border. For that reason this city has sometimes entered teams in the Manitoba Amateur Hockey Association as well as the Thunder Bay Amateur Hockey Association.
It was originally called Rat Portage until 1904. Kenora was amalgamated with the towns of Keewatin and Jaffray Melick in 2000.
Kenora is smallest city to have ever won the Stanley Cup (in 1907).
Kenora hosted the 2011 Allan Cup
Manitoba Hockey Association (1905-1907)
Manitoba Professional Hockey League (1907-1908) folded one game into 1907-08 season
Independent Hockey League (1912-1913)
Thunder Bay Junior Hockey League (1927-1930)
Manitoba Junior Hockey League (1933-1940) folded
Minnesota-Ontario Hockey League (1957-1962)
Manitoba Senior Hockey League (1969-1971) join Canadian Central Hockey League
Saskatchewan Senior Hockey League (1970-1971) played as a guest team
Canadian Central Hockey League (1971-1973) withdrew
Manitoba Junior Hockey League (1975-1982) folded
Hockey Northern Ontario Senior (2009-2012) go independent
Independent Senior team  (2012-Present)
Manitoba and Northwestern Hockey Association (1903-1904) league joins MHA
Manitoba Hockey Association (1904-1905) town renamed Kenora
Champions
Edit
Kenora Recreation Centre
Jaffray Melick Arena
External Links
Edit
Ad blocker interference detected!
Wikia is a free-to-use site that makes money from advertising. We have a modified experience for viewers using ad blockers

Wikia is not accessible if you've made further modifications. Remove the custom ad blocker rule(s) and the page will load as expected.