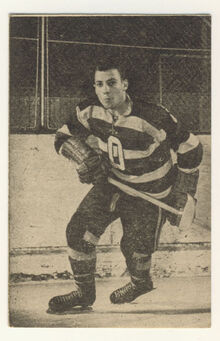 Kenneth Laufman (born January 30, 1932 in Hamilton, Ontario) is a Canadian ice hockey centre who competed in the 1956 Winter Olympics and 1960 Winter Olympics.
Laufman won the bronze medal at the 1956 Winter Olympics and silver medal at the 1960 Winter Olympics in ice hockey.
He played junior hockey for the Guelph Biltmores in 1951-52, winning the Memorial Cup and the Eddie Powers Memorial Trophy as the leading scorer. He then played with the Halifax Atlantics as they won the Alexander Cup in 1952-53.
Laufman joined the Kitchener-Waterloo Dutchmen in 1953 and played with them until 1960, participating in the 1956 and the 1960 Olympics. He also won the Allan Cup with the team in 1955, giving him a rare triple of Canada's three amateur cups.
After the 1960 Olympics Laufman joined the Hull-Ottawa Canadiens for the balance of the 1959-60 season. He then played two seasons for the Johnstown Jets and played in 1962-63 for the Portland Buckaroos and in 1963-64 for the Cincinnati Wings.
He retired in 1964.
External links
Edit
Ad blocker interference detected!
Wikia is a free-to-use site that makes money from advertising. We have a modified experience for viewers using ad blockers

Wikia is not accessible if you've made further modifications. Remove the custom ad blocker rule(s) and the page will load as expected.