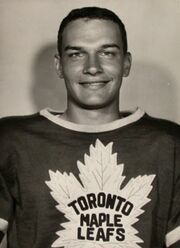 Kenneth "Kenny" Girard (born December 18, 1936 in Toronto, Ontario) is a retired professional ice hockey right winger who played 7 games in the National Hockey League with the Toronto Maple Leafs.
He played Junior "B" with the Weston Dukes in 1953-54 and then Junior "A" with the Toronto Marlboros from 1954 to 1957. Girard won the Memorial Cup in 1955 and 1956.
Girard played a total of 7 games with the Toronto Maple Leafs from 1956 to 1960, scoring 1 assist. Otherwise he played in the minor pros. His hockey playing was reduced as he concentrated more and more on his golf.
He retired in 1962 and became (and still is) a successful golf pro. He is also the commissioner of the Greater Metro Junior A Hockey League.
References
Edit
Ad blocker interference detected!
Wikia is a free-to-use site that makes money from advertising. We have a modified experience for viewers using ad blockers

Wikia is not accessible if you've made further modifications. Remove the custom ad blocker rule(s) and the page will load as expected.