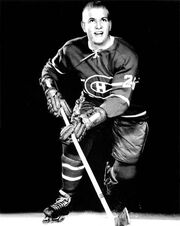 Vernon Keith McCreary
(b. June 19th
1940
in
Sundridge
,
Ontario
,
Canada
- d. December 9th
2003
) is a former professional
left winger
who played in the
National Hockey League
for the
Montreal Canadiens
,
Pittsburgh Penguins
and
Atlanta Flames
.
McCreary played only 10 games for the powerful Montreal Canadiens over the course of seven seasons in their organization, until the Penguins made him an NHL regular following the 1967 NHL Expansion. He was then picked by the Atlanta Flames in the 1972 NHL Expansion Draft and made captain of the expansion team. He retired from hockey in 1975.
His younger brother Bill McCreary Sr. also played in the NHL; his nephew Bill Jr. had a brief stint with the Toronto Maple Leafs. He is also related to referee Bill McCreary.
Following his playing days, he joined the NHL Alumni Association, over which he presided. He died of cancer in 2003.
Ad blocker interference detected!
Wikia is a free-to-use site that makes money from advertising. We have a modified experience for viewers using ad blockers

Wikia is not accessible if you've made further modifications. Remove the custom ad blocker rule(s) and the page will load as expected.