Ad blocker interference detected!
Wikia is a free-to-use site that makes money from advertising. We have a modified experience for viewers using ad blockers

Wikia is not accessible if you've made further modifications. Remove the custom ad blocker rule(s) and the page will load as expected.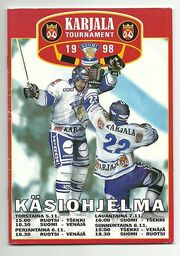 Karjala Tournament, also known as Karjala Cup, is an annual ice hockey event held in Finland. The name comes from the sponsoring beer brand Karjala ("Karelia").
The tournament started in 1996 is part of the Euro Hockey Tour (EHT) in which Czech Republic, Finland, Russia and Sweden participate. It is usually held in the first year of each EHT season, with the exception of 2002 when two Karjala Tournaments were held in the same year but were both part of different EHT seasons.
Karjala Tournament winners
Edit
1 Part of Euro Hockey Tour season 2002-03
2 Part of Euro Hockey Tour season 2001-02
Winner, runner-up and third place is determined by total standing after a round-robin style of play. If teams are tied in points, the standing is determined by won games between the tied teams.
Previous results
Edit
Karjala Tournament 2007
Edit
| Team | GP | W | L | T | GF | GA | Pts | OTW | OTL | PSW | PSL |
| --- | --- | --- | --- | --- | --- | --- | --- | --- | --- | --- | --- |
|  Russia | 3 | 2 | 1 | 0 | 8 | 4 | 6 | 0 | 0 | 0 | 0 |
|  Sweden | 3 | 2 | 1 | 0 | 6 | 5 | 6 | 0 | 0 | 0 | 0 |
|  Czech Republic | 3 | 1 | 2 | 0 | 6 | 10 | 3 | 0 | 0 | 0 | 0 |
|  Finland | 3 | 1 | 2 | 0 | 4 | 5 | 3 | 0 | 0 | 0 | 0 |
All times local (UTC+2)
Best players
Edit
The tournament directorate named the following players in the tournament 2007:
Karjala Tournament 2006
Edit
| Team | GP | W | L | T | GF | GA | Pts | OTW | OTL | PSW | PSL |
| --- | --- | --- | --- | --- | --- | --- | --- | --- | --- | --- | --- |
|  Russia | 3 | 2 | 0 | 1 | 11 | 8 | 8 | 0 | 0 | 1 | 0 |
|  Czech Republic | 3 | 1 | 1 | 1 | 8 | 9 | 4 | 0 | 0 | 0 | 1 |
|  Sweden | 3 | 1 | 2 | 0 | 9 | 10 | 3 | 0 | 0 | 0 | 0 |
|  Finland | 3 | 1 | 2 | 0 | 4 | 5 | 3 | 0 | 0 | 0 | 0 |
Best players
Edit
The tournament directorate named the following players in the tournament 2006:
Karjala Tournament 2005
Edit
| Team | GP | W | L | T | GF | GA | Pts | OTW | OTL | PSW | PSL |
| --- | --- | --- | --- | --- | --- | --- | --- | --- | --- | --- | --- |
|  Finland | 3 | 1 | 1 | 1 | 7 | 9 | 5 | 0 | 0 | 1 | 0 |
|  Sweden | 3 | 1 | 1 | 1 | 10 | 7 | 5 | 1 | 0 | 0 | 0 |
|  Russia | 3 | 1 | 0 | 2 | 9 | 9 | 5 | 0 | 1 | 0 | 1 |
|  Czech Republic | 3 | 1 | 2 | 0 | 12 | 13 | 3 | 0 | 0 | 0 | 0 |
Best players
Edit
The tournament directorate named the following players in the tournament 2005:
Statistics
Edit
Medal count
Edit
References
Edit
External links
Edit