Ad blocker interference detected!
Wikia is a free-to-use site that makes money from advertising. We have a modified experience for viewers using ad blockers

Wikia is not accessible if you've made further modifications. Remove the custom ad blocker rule(s) and the page will load as expected.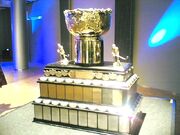 The Kanada-malja is an ice hockey club championship trophy, awarded annually to the SM-liiga playoffs champion. Kanada-malja is Finnish for "Canada Cup", and is so named because it was donated by Canada's Finnish community in 1951.
The winner of the regular season title receives the "Harry Lindbladin muistopalkinto", which is not considered as prestigious as the Kanada-malja.
Past champions
Edit
| Year | Kanada-malja Champion | Silver medal | Bronze medal | Regular season champion |
| --- | --- | --- | --- | --- |
| 1976 | TPS | Tappara | Ässät | TPS |
| 1977 | Tappara | TPS | Koo-Vee | Tappara |
| 1978 | Ässät | Tappara | TPS | Tappara |
| 1979 | Tappara | Ässät | TPS | Ässät |
| 1980 | HIFK | Ässät | Kärpät | TPS |
| 1981 | Kärpät | Tappara | TPS | Tappara |
| 1982 | Tappara | TPS | HIFK | TPS |
| 1983 | HIFK | Jokerit | Ilves | Jokerit |
| 1984 | Tappara | Ässät | Kärpät | Tappara |
| 1985 | Ilves | TPS | Kärpät | TPS |
| 1986 | Tappara | HIFK | Kärpät | Tappara |
| 1987 | Tappara | Kärpät | HIFK | Kärpät |
| 1988 | Tappara | Lukko | HIFK | Ilves |
| 1989 | TPS | JYP | Ilves | TPS |
| 1990 | TPS | Ilves | Tappara | TPS |
| 1991 | TPS | KalPa | HPK | TPS |
| 1992 | Jokerit | JYP | HIFK | JYP |
| 1993 | TPS | HPK | JYP | TPS |
| 1994 | Jokerit | TPS | Lukko | TPS |
| 1995 | TPS | Jokerit | Ässät | Jokerit |
| 1996 | Jokerit | TPS | Lukko | Jokerit |
| 1997 | Jokerit | TPS | HPK | Jokerit |
| 1998 | HIFK | Ilves | Jokerit | TPS |
| 1999 | TPS | HIFK | HPK | TPS |
| 2000 | TPS | Jokerit | HPK | TPS |
| 2001 | TPS | Tappara | Ilves | Jokerit |
| 2002 | Jokerit | Tappara | HPK | Tappara |
| 2003 | Tappara | Kärpät | HPK | HPK |
| 2004 | Kärpät | TPS | HIFK | TPS |
| 2005 | Kärpät | Jokerit | HPK | Kärpät |
| 2006 | HPK | Ässät | Kärpät | Kärpät |
| 2007 | Kärpät | Jokerit | HPK | Kärpät |
| 2008 | Kärpät | Blues | Tappara | Kärpät |
| 2009 | JYP | Kärpät | KalPa | JYP |
Teams by number of wins
Edit