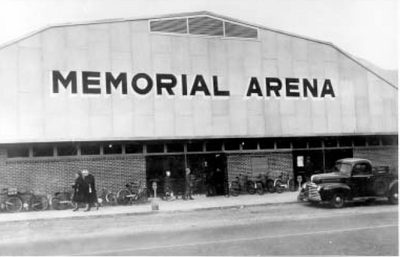 The Kamloops Memorial Arena is an ice hockey arena built in 1948 in Kamloops, British Columbia. It hosted the Western Hockey League teams including the Kamloops Chiefs, Kamloops Junior Oilers and, most notably, the Kamloops Blazers. It was replaced in 1992 by the new Riverside Coliseum (since renamed the Interior Savings Centre), however the old arena still stands and is used for other levels of hockey.
The arena is now home to the North Kamloops Midget AAA Lions who have won the British Columbia Midget AAA championship nine times (1959-69, 1960-61, 1965-66, 1975-76, 1991-92, 1992-93, 1994-95, 1998-99, and 1999-00); the arena is also home to Thompson Rivers University Hockey, who play their first seaon in 2009-2010.
Ad blocker interference detected!
Wikia is a free-to-use site that makes money from advertising. We have a modified experience for viewers using ad blockers

Wikia is not accessible if you've made further modifications. Remove the custom ad blocker rule(s) and the page will load as expected.