Ad blocker interference detected!
Wikia is a free-to-use site that makes money from advertising. We have a modified experience for viewers using ad blockers

Wikia is not accessible if you've made further modifications. Remove the custom ad blocker rule(s) and the page will load as expected.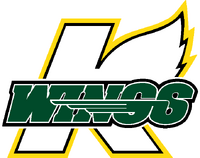 See also: Kalamazoo Wings
The Kalamazoo Wings (K-Wings) were an ice hockey team that began play in the International Hockey League for the 1974–1975 season. The team played in Wings Stadium for their entire IHL membership. While the team was originally known as the Kalamazoo Wings, most people shortened the name to K-Wings. On May 16, 1995, team owners changed the name of the team to the Michigan K-Wings, hoping to be able to compete for name recognition with the other teams in the IHL, which at the time was moving into larger markets such as Chicago. On April 17, 2000 the Dallas Stars announced that they were ending their affiliation agreement, and the franchise requested inactive status from the IHL. On July 27, 2000, the Madison Kodiaks of the United Hockey League announced that they were relocating to Kalamazoo for the 2000–2001 season, and would be known as the Kalamazoo Wings.
Team colors were originally red, white, and blue, but on June 1, 1988, they announced that they were going to change their colors to green, gold, black, and white in order to match the Minnesota North Stars, their NHL parent club.
Championships
Edit
Standings
Edit
| Year | GP | W | L | T/OTL* | PTS | GF | GA | Pct | Standings |
| --- | --- | --- | --- | --- | --- | --- | --- | --- | --- |
| 1974–1975 | 75 | 17 | 53 | 5 | 39 | 203 | 318 | .260 | 10 of 11 |
| 1975–1976 | 78 | 27 | 41 | 10 | 6 | 273 | 318 | .410 | 8 of 9 |
| 1976–1977 | 78 | 38 | 27 | 13 | 89 | 325 | 290 | .571 | 2 of 9 |
| 1977–1978 | 80 | 35 | 31 | 14 | 84 | 315 | 288 | .525 | 4 of 9 |
| 1978–1979 | 80 | 40 | 28 | 12 | 92 | 368 | 327 | .575 | 4 of 9 |
| 1979–1980 | 80 | 45 | 26 | 9 | 99 | 366 | 274 | .619 | 1 of 10 |
| 1980–1981 | 82 | 52 | 20 | 10 | 114 | 369 | 244 | .704 | 1 of 8 |
| 1981–1982 | 82 | 41 | 36 | 5 | 89 | 355 | 333 | .543 | 3 of 7 |
| 1982–1983 | 82 | 32 | 44 | 6 | 76 | 311 | 341 | .463 | 5 of 8 |
| 1983–1984 | 82 | 37 | 38 | 7 | 83 | 333 | 316 | .506 | 5 of 7 |
| 1984–1985 | 82 | 40 | 35 | 7 | 89 | 323 | 297 | .543 | 5 of 9 |
| 1985–1986 | 82 | 47 | 35 | 0 | 100 | 345 | 314 | .610 | 4 of 10 |
| 1986–1987 | 82 | 36 | 46 | 0 | 80 | 331 | 353 | .479 | 8 of 9 |
| 1987–1988 | 82 | 37 | 33 | 12 | 86 | 328 | 360 | .524 | 7 of 9 |
| 1988–1989 | 82 | 39 | 36 | 7 | 85 | 345 | 350 | .518 | 6 of 10 |
| 1989–1990 | 82 | 53 | 23 | 6 | 112 | 389 | 311 | .682 | 3 of 9 |
| 1990–1991 | 82 | 52 | 29 | 1 | 105 | 354 | 302 | .640 | 2 of 11 |
| 1991–1992 | 82 | 37 | 35 | 10 | 84 | 292 | 312 | .512 | 7 of 10 |
| 1992–1993 | 82 | 29 | 42 | 11 | 69 | 291 | 367 | .421 | 10 of 12 |
| 1993–1994 | 81 | 48 | 26 | 7 | 103 | 337 | 297 | .636 | 5 of 13 |
| 1994–1995 | 81 | 43 | 24 | 14 | 100 | 288 | 249 | .617 | 5 of 17 |
| 1995–1996 | 82 | 40 | 24 | 18 | 98 | 290 | 272 | .598 | 7 of 19 |
| 1996–1997 | 82 | 31 | 44 | 7 | 69 | 208 | 272 | .421 | 17 of 19 |
| 1997–1998 | 82 | 39 | 36 | 7 | 79 | 223 | 261 | .518 | 15 of 18 |
| 1998–1999 | 82 | 35 | 34 | 13 | 83 | 232 | 253 | .506 | 11 of 16 |
| 1999–2000 | 82 | 33 | 37 | 12 | 78 | 178 | 223 | .476 | 12 of 13 |
(*) - For 1987–1988 season Overtime Losses were tracked instead of Ties