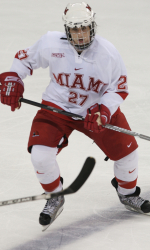 Justin Vaive (born July 8, 1989, in Buffalo, New York) is an American left winger playing for the Cincinnati Cyclones of the ECHL.
He played junior hockey for the Milton Icehawks in Ontario and for the United States men's national U-18 ice hockey team from 2004 to 2007. For the next four years Vaive played for the NCAA's Miami RedHawks.
The Anaheim Ducks chose him 92nd overall in the 2007 NHL Entry Draft.
He is the son of retired NHL star Rick Vaive.
Ad blocker interference detected!
Wikia is a free-to-use site that makes money from advertising. We have a modified experience for viewers using ad blockers

Wikia is not accessible if you've made further modifications. Remove the custom ad blocker rule(s) and the page will load as expected.