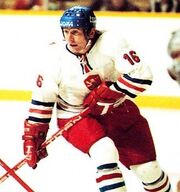 Josef Augusta (born 24 November 1946 in Havlíčkův Brod) is a former Czechoslovak ice hockey player and later coach, a silver medalist from the 1976 Winter Olympics. He is the father of Patrik Augusta.[1]
He played for Czechoslovakia at the 1976 Canada Cup.
He coached Czech national hockey team at the 2002 Winter Olympics and the World Championships in 1999, 2000, 2001 and 2002. Czech team won gold medals in 1999, 2000 and 2001.
References
Edit
Ad blocker interference detected!
Wikia is a free-to-use site that makes money from advertising. We have a modified experience for viewers using ad blockers

Wikia is not accessible if you've made further modifications. Remove the custom ad blocker rule(s) and the page will load as expected.